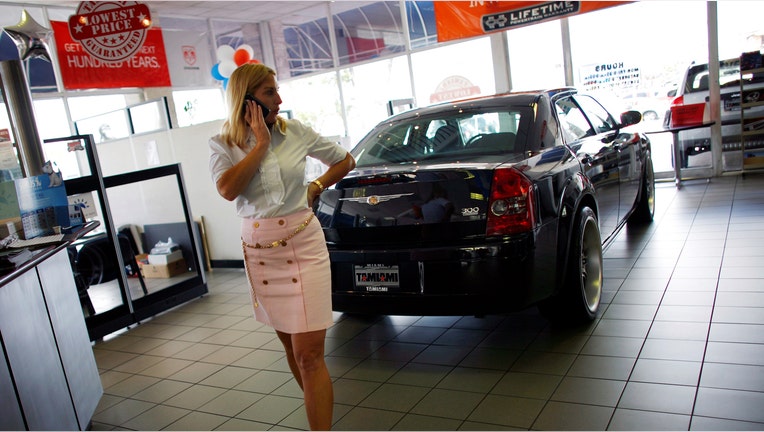 U.S. auto sales skidded toward their fourth consecutive month of declines in April, automakers reported on Tuesday, marked by a dramatic downturn for sedans.
General Motors (NYSE:GM) said its monthly figures slipped 5.8%, while Ford (NYSE:F) and Fiat Chrysler Automobiles (NYSE:FCAU) each reported sales declines of about 7%. Ford sold 21% fewer passenger cars versus the same month in 2016, compared to a 1.2% increase for SUVs and crossovers.
Industry observers have pointed to warning signs that consumer demand is cooling off. Manufacturers' inventories of new vehicles have grown, the industry is relying more on discounts, and used car prices are poised to fall as leased vehicles return to market. Analysts also note that higher interest rates will likely discourage car shoppers.
Interest rates on new-vehicle loans, which sat above 5% for the second month in a row, are on the rise. Edmunds said the last two-month run of interest rates over 5% came in 2010.
With interest rates expected to climb further, analysts believe more Americans will hold off on buying new vehicles.
"Low interest rates and longer loan terms have helped drive car sales growth over the past few years. But with interest rates rising, car loans are becoming less enticing for consumers, which inevitably creates further drag on new vehicle sales," Jessica Caldwell, executive director of industry analysis for Edmunds, said in an email.
The average length of a car loan reached a new record in April of 69.14 months, helping buyers keep their monthly payments affordable. Even as retail demand tapers off, transaction prices remain strong. In April, the average transaction price (ATP) for light vehicles climbed 1.7% year-over-year to $34,552, according to Kelley Blue Book. The car researcher attributed the steady increase to a consumer shift toward SUVs.
Some passenger cars are riding the pricing wave, too. During a conference call with analysts, Ford's Mark LaNeve, vice president of U.S. marketing, sales and service, noted that Blue Oval sedans are fetching higher prices as buyers choose higher trim levels that feature new technologies.
Still, sedans were the primary culprit as automakers rolled out disappointing monthly sales reports.
Like Ford, Honda (NYSE:HMC) saw a sharp drop in sales of its passenger cars, posting a 10.8% decline across Honda and Acura. Toyota's (NYSE:TM) car sales were down 10.4%, while SUV and truck sales rose 3.1% in April.
April had one fewer selling day compared to April 2016.
Kelley Blue Book forecasts total 2017 sales of 16.8 million to 17.3 million new vehicles. The industry set an annual record with 17.55 million vehicles sold in 2016.