Can Highway Charging Network Boost Electric Car Sales?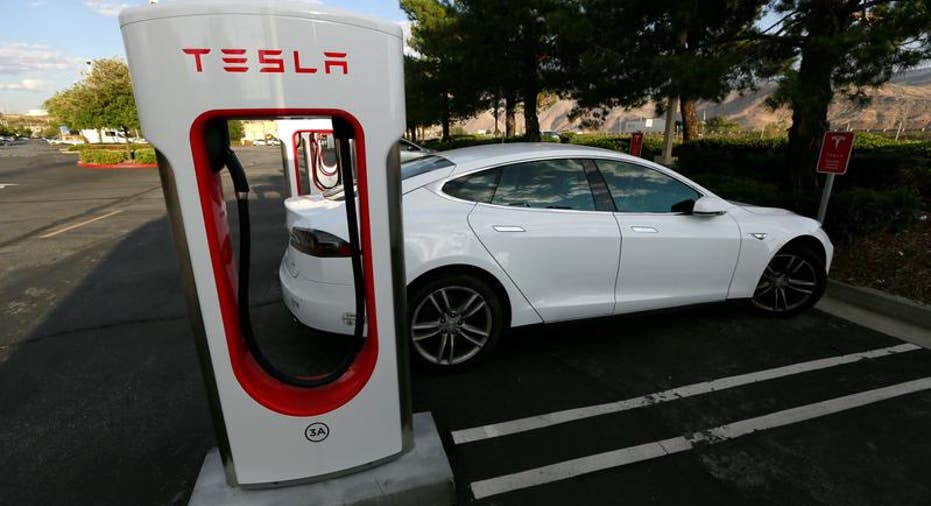 The U.S. Department of Transportation detailed plans to create a national network of electric charging stations along some of the nation's busiest highways, part of the Obama administration's efforts to give sales of electric vehicles a spark.
Electric vehicles have made only small inroads in the U.S. Plug-in cars account for less than 1% of auto sales, with analysts citing limited range as one of the main hurdles for mainstream adoption. Tesla (NASDAQ:TSLA), the top seller of electric cars, is developing a cheaper Model 3 sedan to join its stable of higher-end vehicles. General Motors (NYSE:GM) is also seeking wider appeal with the 2017 Chevrolet Bolt, which will travel 238 miles on a full charge. Most plug-in vehicles on the market today have a range of less than 100 miles.
The federal government is looking to further erase so-called "range anxiety" with 48 charging corridors that will cover about 25,000 miles in 35 states and the District of Columbia, according to an announcement on Thursday.
However, there are still a number of factors working against electric vehicle sales, from initial costs to the sharp drop in gasoline prices. Cheap gasoline and improved fuel economy have encouraged consumers to buy larger vehicles like SUVs and pickup trucks. Cars are down to 36% of the market for new-vehicle sales, an all-time low.
"There is some correlation to adoption rates and charging stations. Consumers feel better when they have a charging station nearby," said Rebecca Lindland, Kelley Blue Book's senior director of commercial insights. "I think these charging station corridors are necessary to increase adoption rates, but will they actually increase the adoption rate by much? It's probably unlikely."
Lindland added that electric range is not a major issue for prospective Tesla or Bolt owners, leaving automakers to search for other ways to improve demand among car shoppers.
The DOT's list of highways includes some that already have alternative fuel stations such as electric chargers and natural-gas stations in place. Those interstates will be outfitted with signs that direct drivers to charging stations, similar to existing signs that list the gas stations and restaurants located near highway exits.
"We have a duty to help drivers identify routes that will help them refuel and recharge those vehicles and designating these corridors on our highways is a first step," U.S. Transportation Secretary Anthony Foxx said.
A total of 55 interstates, including certain sections of I-95, I-80, I-10 and I-5, will be part of the national charging network, which was mandated as part of an infrastructure spending bill passed by Congress in 2015.
Officials said vehicle manufacturers and utilities offered commitments to expand current charging infrastructure along the newly designated corridors.
ChargePoint, EV Connect and other companies have installed car chargers along busy roadways. Tesla has developed its own network of "Superchargers" for Model S and Model X owners.