California and Florida Governors' Epic Fight Over the $15 Minimum Wage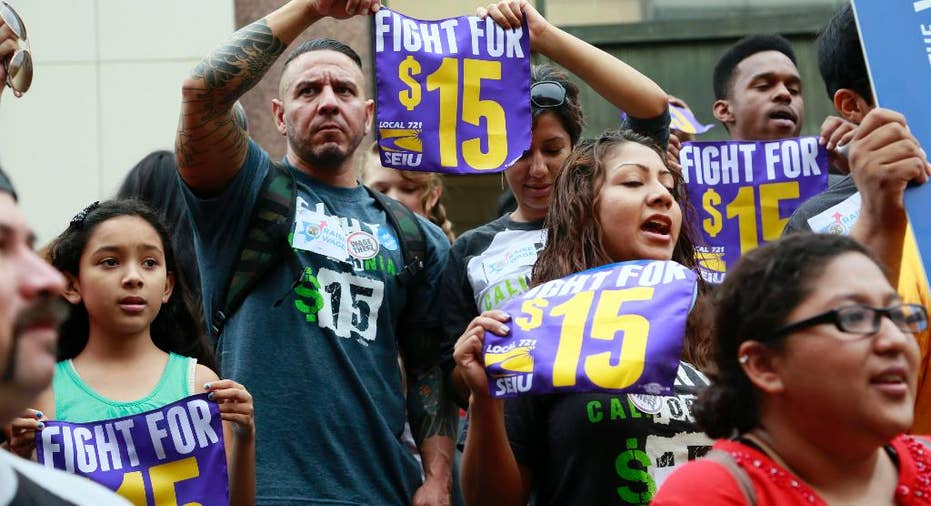 Florida Governor Rick Scott has been trolling through high-tax and regulatory states to steal businesses, and he's been in California making the case for why they should move to low-tax, business friendly Florida, arguing that when California's new $15 minimum wage finally kicks in by 2022, it will kill their companies and create big job losses.
Gov. Scott said: "By raising the minimum wage in California, 700,000 people are going to lose their jobs. There are a lot of opportunities for companies to prosper in Florida and compete here and that's what I'm going after." The governor also says that Florida has created more than a million jobs since 2010.
But California Gov. Jerry Brown fired back at Gov. Scott, saying California "in the last year has added more jobs than Florida and Texas combined."
He added: "If you're truly serious about Florida's economic well-being, it's time to stop the silly political stunts and start doing something about climate change – two words you won't even let state officials say. The threat is real and so too will be the devastating impacts."
Gov. Brown also pointed to a study suggesting that by 2030, $69 billion worth of Florida's coastal assets are at risk of high inundation from rising seas due to climate change, a position that has also been questioned.
However, even Gov. Brown worried earlier this year that raising "the minimum wage too much" would put "a lot of poor people out of work."
And Gov. Brown's Budget Summary for 2016-17, released in January, indicated that the new $15 minimum wage would create "major increased costs, estimated at more than $4 billion annually," by 2021, possibly pushing "the state budget to annual deficits" and possibly aggravating a "recession by raising businesses' costs, resulting in more lost jobs."
And the Federal Reserve Bank of San Francisco released a paper examining the current research on the impact of minimum wage increases, which said the "credible conclusion is a higher minimum wage results in some job loss for the least-skilled workers—with possibly larger adverse effects than earlier research suggested."
The Fed report also notes that minimum wage increases nationwide could create job losses of anywhere between 1000,000 to 200,000 versus the period just before the Great Recession in 2008. However, it noted that "small drop" should be "considered in light of increased earnings for those who remain employed because of higher minimum wages.
The 700,000 figure Florida's Gov. Scott uses comes from the American Action Forum, a center-right think tank. Its analysis suggests that California's historic minimum wage hike will cut employment by 692,235 jobs, based on the state's ten-year forecast. But that doesn't mean California will go into negative territory in terms of job growth. The analysis indicates that instead of 3.4 million new jobs created from 2012 to 2026 without that wage increase, that California instead will create 2.7 million jobs.
In February of 2015, the nonpartisan Congressional Budget Office released a report that indicated that increasing the minimum wage to $10.10 an hour, a level backed by the Obama Administration, and indexing it to inflation could create half a million job losses.  Though it added that such an increase would also pull 900,000 families above the federal poverty line.
Andy Puzder, chief executive of CKE Restaurants, the parent company of the Carl's Jr. and Hardee's chains, has said that: "To survive, more profitable businesses will have to reduce workers' hours to the bare minimum, automate as many positions as possible and raise prices as high as the market will bear."
As Puzder points out, Gov. Brown "did get one notable concession. For the last two years of his term, California's minimum wage will increase just 50 cents a year. For the next governor, it will increase $1 per year for each of the next four years. So, it will fall on Gov. Brown's successor to deal with the fact that, to quote Gov. Brown, 'there will be a lot of poor people out of work.'"