Bump stock maker's website goes down as Trump seeks ban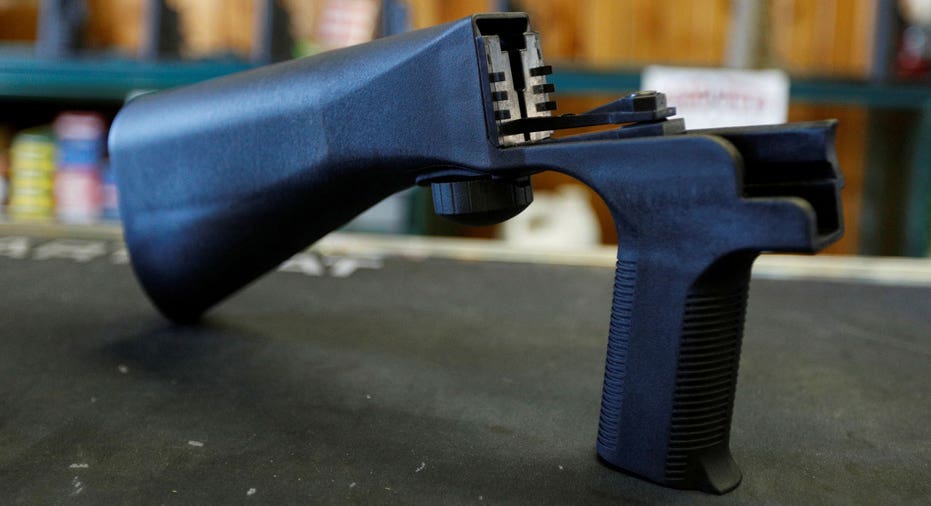 The online store for Slidefire remained unavailable Wednesday after President Donald Trump announced that he will seek to ban the sale of bump stocks.
Bump stocks, a device that allows users to quickly fire successive rounds from a semi-automatic rifle, have drawn scrutiny since the mass shooting in Las Vegas last year. Major retailers including Cabela's and Bass Pro Shops removed online listings for bump stocks following the deadly attack. Fostech, a firearm accessories manufacturer, no longer offers bump stocks on its website. Slidefire, the best-known maker of bump stocks, temporarily suspended orders amid strong demand following the Las Vegas attack. The company restored customer orders a month later.
Texas-based Slidefire took another blow when Trump directed the Department of Justice to draft new regulations that would ban bump stocks. In a memorandum signed by the president on Tuesday, Trump ordered the DOJ to propose a rule "banning all devices that turn legal weapons into machineguns."
Slidefire's website displayed a message saying it's "still currently experiencing extremely high traffic." Slidefire's owner, Jeremiah Cottle, didn't respond to an email requesting comment.
Trump held a meeting Wednesday with students, parents and teachers to discuss school safety and the shooting at Marjory Stoneman Douglas High School in Parkland, Florida. Trump backed tougher background checks, including mental health records, and suggested that states should consider concealed carry laws that allow teachers to be armed. He also said his administration will "go strong on age of purchase" amid calls to raise the minimum age for certain gun purchases.
Following the Las Vegas attack in October, House Speaker Rep. Paul Ryan (R-Wis.) said he would consider legislation that bans bump stocks but called for a regulatory fix. The National Rifle Association released a statement at the time calling on the ATF to review whether bump stocks comply with federal law.
"The NRA believes that devices designed to allow semi-automatic rifles to function like fully-automatic rifles should be subject to additional regulations," the organization said.
Retailers were quick to end sales of bump stocks. In addition to Cabela's and Bass Pro, Walmart (NYSE:WMT) pulled third-party online sales, saying bump stocks violate Walmart's prohibited items policy and never should have been sold online.
The ATF approved the sale of bump stocks in 2010, determining that they don't alter the mechanical function of a semi-automatic rifle. Bump stocks, which are made for rifle models like the AR-15 and AK-47, sell for around $200 to $300.
This story has been updated.