Boston Beer Co., Inc. Looks to End Its Drought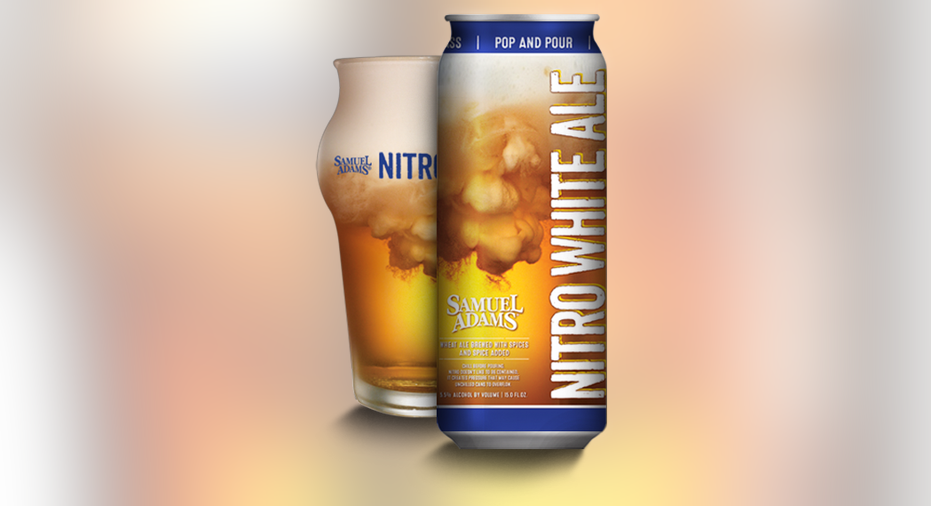 Boston Beer launched new Nitro Project cans this quarter. Image source: Boston Beer Company
After leaving the market thirsty for more with its fourth-quarter 2015 report in February, Boston Beer Co. investors sure could use a pick-me-up when the craft brewer announces first-quarter 2016 results next week.
Boston Beer stock has fallen more than 30% over the past year, including a 12% decline so far in 2016 after Boston Beer founder Jim Koch admitted last quarter the company likely lost market share,even as overall growth within its core "better beer" and craft categories remains healthy. Primarily to blame, Boston Beer says, is increased competition as new craft brewers enter the market while existing competitors expand regional distribution. Make no mistake: That's a great thing in terms of choice for today's beer-drinking consumer. But it stifles the growth of established brewers like Boston Beer as they attempt to maintain share in this increasingly crowded segment.
So what should Boston Beer investors be watching this time around?
First, Boston Beer management hasn't provided specific financial guidance for the current quarter. They did note, however, thatdepletions -- a key measure for how quickly Boston Beer's products travel from warehouses to consumer outlets -- fell a worrisome 3% year over year through the first six weeks of 2016. Nonetheless, Boston Beer CEO Martin Roper insisted the company intends to strategically maintain a "high level of brand investment" as it continues to pursue sustainable growth.
A glass half fullRelatedly, keep an eye on Boston Beer's full-year guidance. As it stands, Boston Beer's most recent 2016 outlook calls for depletions and shipments growth in the mid-single-digit percent range, indicating the figure should improve as the year wears on. At the same time, Boston Beer called for 2016 ad, promo, and selling expenses between $10 million and $20 million, capital spending between $60 million and $80 million, national price increases between 1% and 2%, and gross margin between 52% and 54%.
When all is said and done -- and assuming all else remains constant -- Boston Beer says that should translate to earnings per share this year between $7.60 and $8.00, good for year-over-year growth between 4.8% and 10.3%. To be fair -- and with the caveat that we don't lend much credence to Wall Street's near-term demands -- that guidance disappointed analysts at the time, who called (on average) for higher 2016 earnings of $8.05 per share. Now, however, Wall Street has ratcheted down its expectations, with consensus estimates modeling 2016 earnings of $7.78 per share.
Digging deeperBut it's not all about Boston Beer's bottom line. So what will actually drive these results?
This time one year ago, Boston Beer founder and Chairman Jim Koch partly credited the company's first-quarter 2015 earnings beat to the fact their spring seasonal, Samuel Adams Cold Snap, was not only "well received by drinkers, retailers, and distributors," but also segued into a smooth transition late in the quarter to its always-popular summer seasonal, Samuel Adams Summer Ale. In recent quarters, however, Boston Beer's depletions declines were led by decreases in its core Samuel Adams varieties, as well broader declines in the cider category which hurt its Angry Orchard brands.
Boston Beer also introduced several new varieties this quarter, including the introduction of its Samuel Adams Nitro Project beers -- the cans which contain a nitro widget to mimic the effect of a nitro tap on draft -- as well as the national roll out of Grapefruit IPA, and the narrower 16-state launch of its new alcohol-infused seltzer line, Truly Spiked and Sparkling. Listen for updates, then, from management on consumers' early response to these novel offerings. If Boston Beer's core beer brands continue to underperform in the near term, these new brands could offer just the edge Boston Beer needs to continue driving market-beating returns.
The article Boston Beer Co., Inc. Looks to End Its Drought originally appeared on Fool.com.
Steve Symington has no position in any stocks mentioned. The Motley Fool owns shares of and recommends Boston Beer. Try any of our Foolish newsletter services free for 30 days. We Fools may not all hold the same opinions, but we all believe that considering a diverse range of insights makes us better investors. The Motley Fool has a disclosure policy.
Copyright 1995 - 2016 The Motley Fool, LLC. All rights reserved. The Motley Fool has a disclosure policy.