Between the Lines: What Yellen Really Said About Trump Policies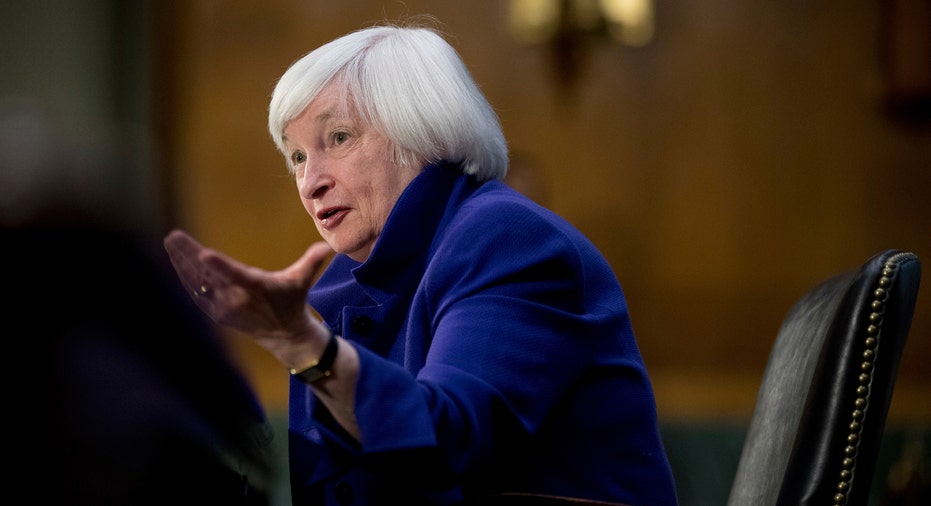 Federal Reserve Chief Janet Yellen gave her semiannual monetary policy report to the Senate Financial Services Committee on Tuesday. With stock markets at record levels, investors closely eyed her remarks for any clues about what will send rates higher and the central bank's outlook and expectations on fiscal policy under President Donald Trump's administration.
While Wall Street was closely tuned in to what the Fed chief discussed, they also parsed her testimony for meaning in the words she didn't say.
Fiscal Policy Curveball 
On the campaign trail, Trump vowed to lower taxes, increase fiscal spending through infrastructure investments, and work to decrease onerous business regulations. Now that he's in the White House, Wall Street is expecting Trump to follow through on those promises. But with the economy finally able -- as far as the Fed is concerned -- to withstand marginally higher rates, no one is sure how those fiscal policy changes will either work with or against the Fed's carefully choreographed monetary policy plans.
Senators pressed Yellen for answers on Thursday, but she was non-committal.
"FOMC members at the last meeting didn't want to speculate on what economic policy changes would be most likely to be put into effect and what the consequences would be," she said, adding Fed reaction will all depend on size, timing, and composition of the policy changes.
A Passive-Aggressive Warning to White House on Rates Timetable?
Markets are not predicting a rate rise at the Fed's policy meeting next month, but that hasn't stopped hawkish speculation. It is more expected to become a reality as the summer approaches, as federal funds futures, used as a tool to predict market expectations for changes in monetary policy, show Wall Street putting odds at more than 65% for a June rate rise.
Before Yellen took the hot seat Thursday, Richmond Fed President Jeffrey Lacker said it's "pretty clear" any new fiscal policies will require higher rates. Indeed, while Yellen declined to specify how fiscal policies will impact the pace at which the Fed will remove its monetary policy accommodation, waiting too long would be "unwise" and could potentially force the FOMC to raise rates too quickly, disrupting financial markets, and raising the risk of a U.S. recession.
Still, she added: "We're confident the economy is on a solid course and we have some ability to address weakness by cutting the federal funds rate, if needed."
Immigration Matters for the Labor Market
After signing an executive order temporarily banning immigration from seven predominately-Muslim nations during his first weeks in the White House, Trump caused an uproar from Americans who support a more open immigration policy. Though a preliminary injunction was issued on the executive order, the political battle rages on about how best to protect America's borders.
Senators pressed Yellen about the Fed's views on how limiting immigration would potentially impact the U.S. economy. While the Fed chief declined to comment directly on the president's actions saying immigration policy is "for Congress and the administration to decide," she seemed to offer a glimpse of her true colors on the issue.
"Labor force growth has been slowing and is one of several reasons our economy has been growing at a slow pace," she said. "Immigration has been an important driver of labor force growth, so slowing the pace of immigration would probably slow the growth rate of the economy."
Despite reasurances the economy is on stable footing with a labor market nearing full capacity and inflation moving closer to the 2% target, later in the hearing, Yellen called the 1.9% annualized economic growth rate "disappointing."
Automation in the Retail Industry
While the president fights against sending U.S. jobs overseas, another battle is brewing for the labor market: Automation of human jobs. The retail industry is just one example of the trend as more shoppers opt to stay at home and surf the web in their PJs from the comfort of their own couch. But that means fewer workers are needed in physical retail shops. You don't have to look far for the impact: Just this year many iconic brands like Macy's (NYSE:M), Ralph Lauren (NYSE:RL), Banana Republic (NYSE:GPS), and Tiffany (NYSE:TIF) have seen changes in the C-suite amid many quarters of struggling sales.
Yellen said automation has had "important effects over decades" on the U.S. economy and while there's no way to know exactly where it's heading, there are plenty of dramatic accounts of more changes on the horizon that could have "profound effects" on the labor market.
"Technological change has generally been a source of income growth, but has also created huge disadvantages for those with less education, and those in manufacturing industries that have seen outsourcing from globalization and automation," she said.