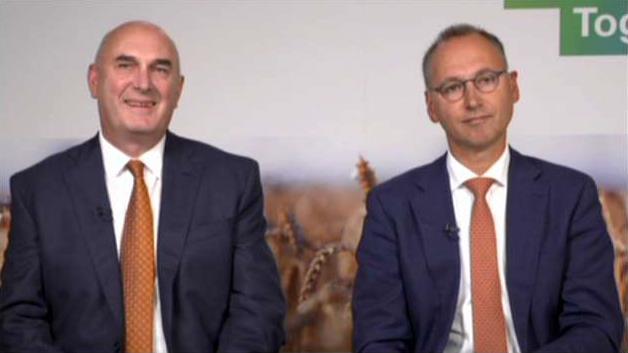 The biggest corporate mega-merger of the year has taken Wall Street by storm. On Wednesday, German chemical and pharmaceutical company Bayer agreed to acquire Monsanto (NYSE:MON), the world's largest supplier of genetically-modified seeds.
As first reported by FOX Business Network's Charlie Gasparino, Bayer agreed to pay $128 per share to acquire Monsanto in an all cash deal worth $66 billion.
In an interview with FOX Business Network's Countdown to the Closing Bell, Bayer CEO Werner Baumann and Monsanto CEO Hugh Grant weighed in on why this deal is beneficial to shareholders and farmers.
"If you look at humongous challenges that growers are confronted with of having to produce evermore on limited acreage in order to feed ever-growing population, our purpose is to bring better solutions faster to growers so they can increase yield and with that contribute feeding a rapidly growing population," Baumann said.
The two CEOs have been dancing around the deal since May when Monsanto challenged the German chemical giant, resulting in Bayer increasing its bid from an initial price of $122 per share.
"I think at the end of the day it's about opportunity. It is a great deal for our shareholders…but to Werner's point, more importantly, this a great deal for farmers because farmers are starving for innovations," Grant told host Liz Claman.
More From FOXBusiness.com...
The Monsanto CEO said he wants to unlock innovation while bringing seeds and chemistry alongside data science to shape the industry's future.
However, the deal faces intense scrutiny from European and U.S. anti-trust regulators with analysts predicting a 50% chance of approval of the new company, which will be presiding over 25% of the world's seed and pesticide supplies.
"We have certainly analyzed this whole question of how the company has come together also from regulatory perspective intensively, individually in both companies, beyond that together, supported by high level anti-trust lawyers support. We are very very confident that we will be able to this transaction to a close," Bayer's Baumann said.
Grant discussed how he plans to quell any backlash from European countries who question the company's genetically-modified seeds methods.
"In Europe, we have excellent seed business that doesn't have bio technology. So, we are number one or number two in many European areas. So it's the old story, we supply what the markets is looking for so I am optimistic also and I think we will have a fair shake with regulators as they look at the opportunities that this transaction represents," he said.