Auto Sales Cooling Off, But Another Big Year Ahead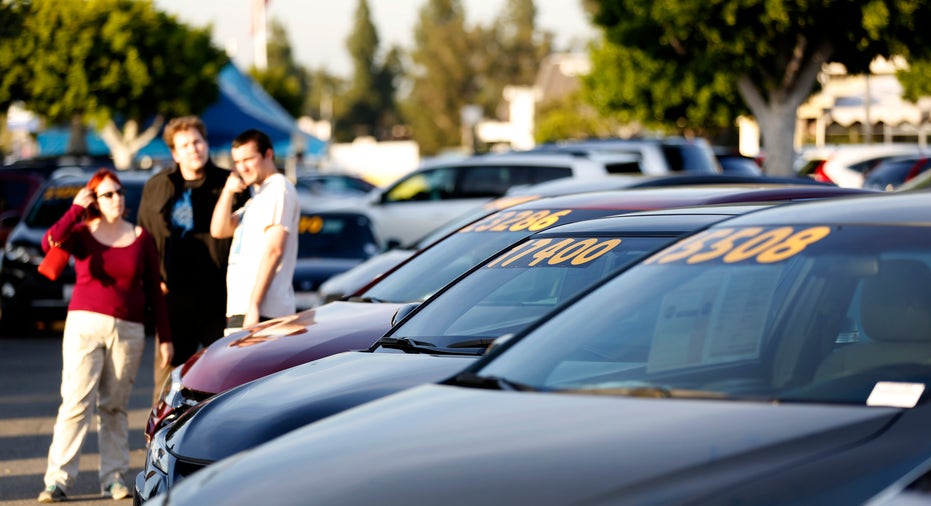 Automakers are likely in for another big year in 2017, even as consumer demand begins to cool off on the heels of a record year.
As the final month of 2016 comes to a close, automakers are within striking distance of a new annual sales record. The sales boom took off in 2015, when the industry set a new high of 17.47 million new vehicles sold in the U.S. Through November, deliveries are up 0.1% to 15.86 million units this year, putting 2016 on pace to set a new high mark.
Even if December sales fall short, automakers will enter the new year with plenty of tailwinds. Interest rates are rising but remain well below historical norms, while drivers continue to find cheap prices at the pump.
Kelley Blue Book is projecting between 16.8 million and 17.3 million vehicles will find a buyer in 2017, reflecting a modest 2% decline versus 2016. Automakers have already ramped up discounts to stoke demand, but showroom traffic has slowed. Car companies are more likely to cut production than risk repeating the heavy promotional spending of yesteryear.
"We've seen manufacturers spend a lot more on incentives this year. The results haven't manifested in more retail sales, which are slightly down compared to last year," Kelley Blue Book analyst Tim Fleming told FOXBusiness.com. "I think 17 million and above is a very healthy number for the industry. Even though we're expecting sales to come down, we want to keep in mind that they're coming down from record highs."
Fleet sales have offset much of the lost retail demand, Fleming added. However, some automakers are backing away from fleet sales, which offer smaller profits and dilute resale values. General Motors (NYSE:GM), for example, has turned its attention to the retail business amid a surge in demand for highly profitable crossovers, SUVs and pickup trucks.
Hot Market for SUVs
One of the big stories in 2016 was consumers' persistent appetite for larger vehicles. With one month to go, sales of light trucks are up 7% versus an 8.4% decline for passenger cars, according to Autodata.
Mainstream and luxury brands alike have raced to update their SUV portfolios to capitalize on this consumer shift. Meanwhile, GM and others are building fewer small cars. Fiat Chrysler Automobiles (NYSE:FCAU) pulled the Chrysler 200 off assembly lines, officially ending production of the midsize sedan.
"I think [2017] looks a lot like 2016 with more movement towards trucks. I said at the beginning of the year, I think the demand for trucks is over 60% of the market, and the only restriction has been [production] capacity," AutoNation (NYSE:AN) CEO Mike Jackson said during the company's earnings call in October.
Fleming said Kelley Blue Book expects more manufacturers to ship fewer cars in 2017 as they reassess production plans. In particular, customers looking for a high-end vehicle are flocking to small crossovers, not sedans. Small luxury SUVs are the fastest-growing segment in the industry with a 26% gain in sales through November.
"A common question we get is, have cars hit rock bottom yet? The answer is no," Fleming added. "On the luxury side, buyers want small SUVs, and they're shying away from traditional entry-level luxury cars."
Shifting Market
Despite the SUV craze, sales are bound to feel downward pressure from a decline in leases and used-car prices.
Leasing has risen to record highs in recent years, and many of those vehicles are starting to hit the used-car market. With greater inventories of used cars on dealer lots, analysts have predicted that prices will come down and more buyers will look for a deal on a pre-owned car, truck or SUV. Based on Manheim's Used Vehicle Value Index, wholesale used-car prices dropped 1% in November on a seasonally adjusted basis.
According to Kelley Blue Book, leasing has accounted for a larger portion of dealer transactions at about 30% this year. It's safe to assume that total sales will feel some downward pressure as leases become less desirable for consumers, Fleming noted. Like new-vehicle purchases, automakers have offered more incentives on leasing deals.
There's also a wildcard that could impact the industry next year and beyond. President-elect Donald Trump has targeted Ford (NYSE:F) and other companies for manufacturing in Mexico, threatening to impose tariffs as a means of keeping production in the U.S. It remains to be seen if the proposal will become reality. Following the election, Ford Chairman Bill Ford called Trump to inform him that one vehicle, the Lincoln MKC, will remain at a factory in Louisville, Ky., despite an earlier plan to move production to Mexico.