As Traditional Retail Struggles, Wall Street Cheers Canada Goose's Prospects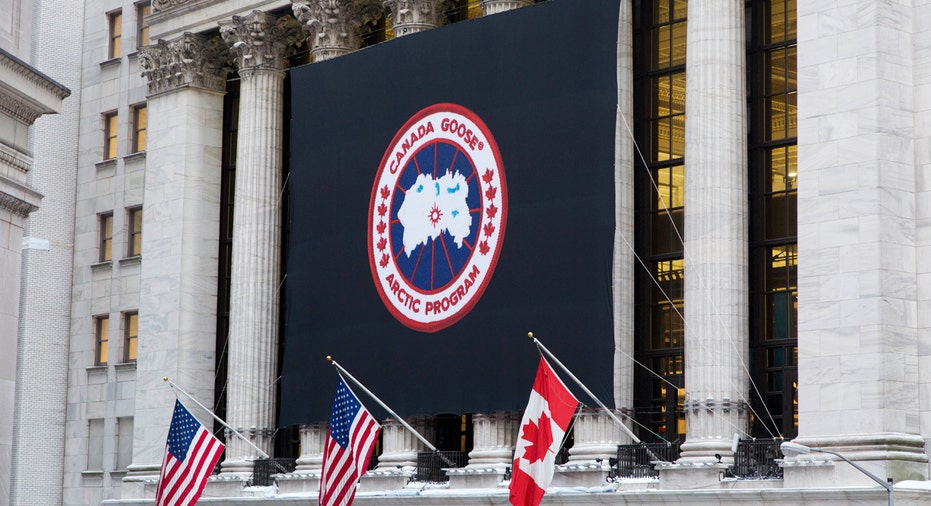 Wall Street thinks it might have found a golden egg in Canada Goose (NYSE:GOOS) – the Toronto-based pricey parka maker whose shares debuted on the New York Stock Exchange last month.
A number of equity analysts initiated coverage of the stock on Monday and were upbeat about the company's prospects in the struggling retail environment. Credit Suisse analysts, who see "an exceptional growth story" started an outperform rating alongside a $19.47 price target, as it projects continued success combining strength in the outdoor-apparel industry with luxury buyers, and in its online-first retail model.
It's no secret that rather than paying a visit to a bricks-and-mortar store, more consumers today flock online for purchases. Canada Goose has recognized this and, in a quest to bump the value of its average order while optimizing the product for specific markets, has implemented new online sort and filter features, added payment options and more targeted customer recommendations. That's helped the company see higher online volume, fewer returns and a higher average order value.
"Canada Goose's ability to drive its e-commerce penetration so rapidly in a short amount of time underlines for us the key power in building a brand digitally," the Credit Suisse analysts said in a note, adding they see the company becoming an industry leader with 23% of sales from online by 2018.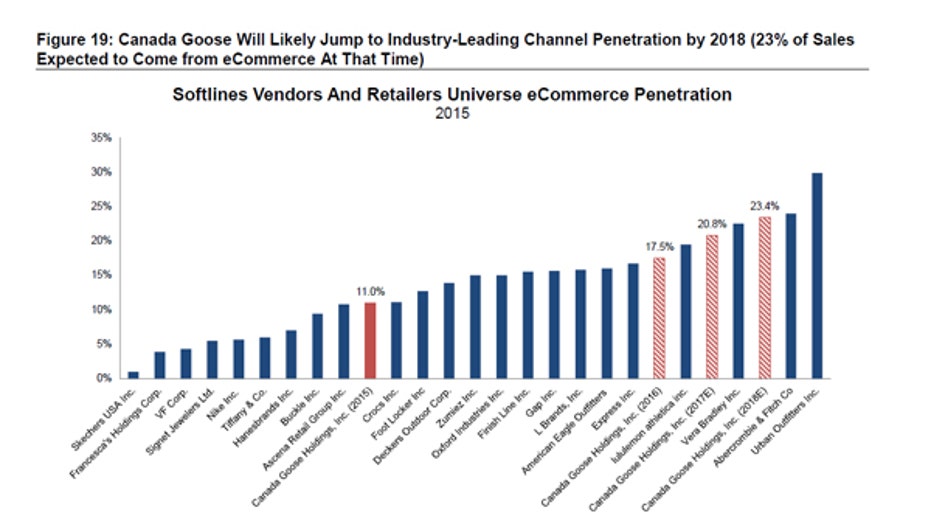 It's not just on the web where the group sees room for continued growth. For evidence of Canada Goose's place in the market, the Credit Suisse analysts zeroed in on pricing for black, mid-length down parkas in a women's size medium. Canada Goose – with its $900 Kensington Parka – fell in the middle of the road between low-end offerings (around $350) from outdoor companies like Columbia and North Face offerings and high-end products (around $1,885) from luxury companies such as Moncler and Burberry.
Because of that, the analysts see room for a higher price point, as the company markets its products as both functional and luxurious.
"We could see the company potentially taking average core product prices over $1,000 in the medium term (an 11% increase from current pricing), and into the $1,100-1,200 range in the longer term (at the high end, a 33% increase from current pricing)," they said in a research note.
However, analysts at Instinet, who started a neutral rating on the stock with a $17.97 price target, worry that with room for the company's prices to rise, it may be tempted to try increasingly promotional strategies in the longer term.
"In the current retail environment, in which it seems most [products] are continuously on sale, we remain wary that promotional pressures may steer the company away from its usual full-price positioning in the medium to longer term, eventually chipping away at currently high margins," they wrote.
What's more, they added the company's move to expand its product line from harsh-weather parkas to lightweight jackets, knitwear and the kids, babies and toddlers market, though a move in the right direction, comes with risk.
"There is concern among investors around new planned category launches as the company is moving into lesser-known territory in which customers may receive the new products differently…customer reception remains a potential concern that needs to be monitored," they said.
As it works to continue gaining market share and to complement its e-commerce and wholesale retail distribution, Canada Goose also plans to build out 30-50 physical shops where customers can see and try on products in person.
Canaccord Genuity analysts, who hold a buy rating on the stock, said the strategy, which is mostly focused on increasing brand awareness and providing a shopping experience for customers, has seen early successes and likely leaves room for a more aggressive physical footprint -- since other players in the luxury and outerwear space (like Columbia, The North Face and Patagonia) operate significantly more in retail stores.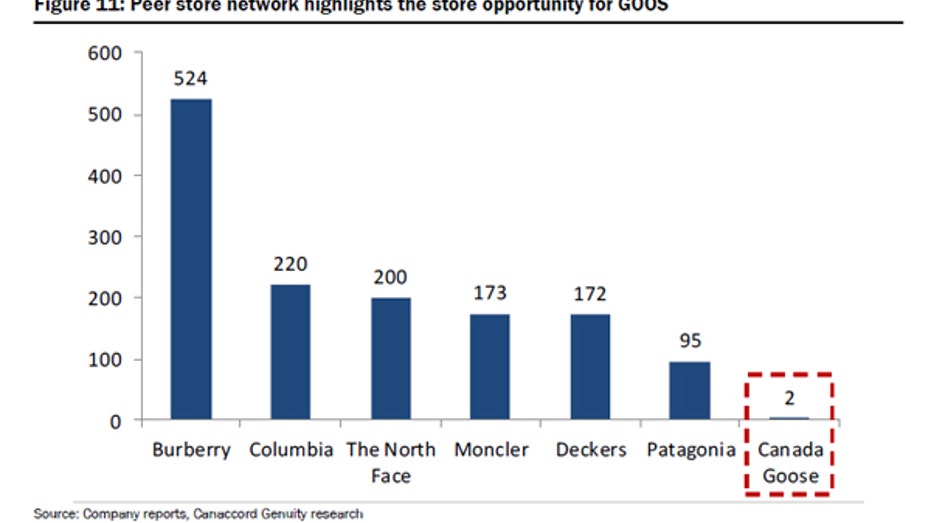 "That said, we prefer the vantage point [Goose] has to avoid amassing a store network that over time could need to be unwound," the analysts said. Other traditional bricks-and-mortar retailers like Macy's (NYSE:M), JCPenney (NYSE:JCP), and Sears (NYSE:SHLD) are working to reinvent existing real estate as they've suffered consequences from a large store portfolio as shoppers have gravitated toward online shopping platforms.
Shares of Canada Goose have fallen 6% to around $16.90 from their debut price of $18 last month.