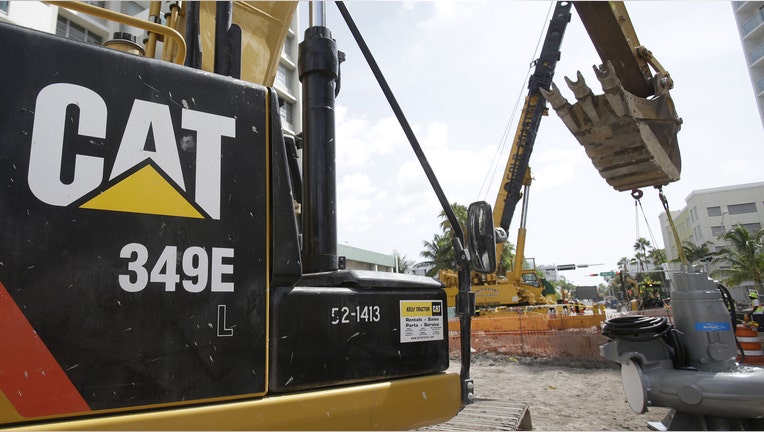 Optimism is giving way to impatience among makers of excavators and heavy machinery that hope their businesses will benefit from President Donald Trump's pledge to pump $1 trillion into infrastructure.
Some machinery makers are concerned over whether Mr. Trump will invest the time needed to win congressional backing for large road, bridge and rail projects. The president's budget, released Thursday, contained scant details of how such a plan might unfold.
"There's frustration that the infrastructure priority seems to be sliding," said Glen Calder, co-owner of Calder Brothers Corp. a Taylors, S.C.-based maker of road pavers and graders. "It's one of the campaign staples on both sides, and therefore you would expect that there's a fair amount of agreement on what should and could and needs to be done."
More public works projects could lift sales for equipment makers that have battled sluggish activity from construction, farming and mining clients in recent years. Stocks of companies that could benefit from a construction push rose sharply following Mr. Trump's election: Machinery giant Deere & Co.'s (NYSE:DE) stock is up 24%, crane and aerial work platform-marker Terex Corp. (NYSE:TEX) 32% and construction management firm AECOM (NYSE:ACM) 30%. Though those stocks are still up sharply from the fall, some have underperformed the broader S&P 500 this year as investors weighed the timing of more infrastructure spending.
The president's budget for the next fiscal year provided little guidance to machinery executives hoping to learn more about the timing or scope of an infrastructure push. The president's budget director, Mick Mulvaney, told reporters that infrastructure isn't the most urgent priority.
"We think the order is health care, tax policy and then infrastructure," Mr. Mulvaney said. The administration also hopes accomplishing regulatory reform first will allow "more bang for the buck" when it rolls out a more comprehensive plan.
Mr. Trump reiterated his commitment to the infrastructure plan in his February address to Congress, saying that his building boom will rely in part on private investors. House Speaker Paul Ryan has said as little as $25 billion in federal spending could be combined with $975 billion from the private sector.
Without significant increases in federal spending, there may not be many new projects beyond those state and local governments were planning anyway. Analysts say public-private partnerships may not be enough to tackle the country's infrastructure needs, in part because local officials are often reluctant to ask voters to foot the bill through tolls or taxes.
If Mr. Trump's plan runs into obstacles, he wouldn't be the first president to have his building ambitions stymied.
During his first month in office in 2009, President Barack Obama signed an $800 billion stimulus package that included over $100 billion in funding for infrastructure. Many of the projects didn't break ground for over a year. Some of the funding was never used because projects such as high-speed rail links were abandoned before the work even started.
"There are very few shovel-ready projects," said Glenn Hubbard, a Columbia University professor and former Chairman of the Council of Economic Advisers under President George W. Bush. "The first thing we have to do, if we're serious about infrastructure, is speed it up."
A big infrastructure build would benefit the entire economy. When respondents to The Wall Street Journal's survey of economists raised their averages forecasts for growth in 2018 to 2.5% from 2% before the election, many cited the lift an infrastructure package could provide.
A $1 trillion stimulus program, spread over a decade, would employ over 800,000 workers for five years, according to Moody's Analytics, but it would take two years before it reached that scale, and then would taper off in later years. The firm estimates that every $1 increase in federal infrastructure spending will increase gross domestic product by roughly $1.21 in the subsequent year.
But many executives don't expect to see effects of such spending, immediately. They anticipate regulatory reviews like environmental permitting can drag on for years; or, contractors may not need new equipment right away.
"Anything that the new administration did, even if they were there today, you won't see the benefit of that until 2018 at best," said Rob Charter, a group president at Peoria, Ill.-based Caterpillar Inc. (NYSE:CAT), the mining and construction machinery giant.
Legislating the spending push could take a back seat to priorities such as overhauling health-care laws and the corporate tax code.
"They stand in front of the other pieces of the agenda," Douglas Holtz-Eakin, former director of the Congressional Budget Office and president of the conservative American Action Forum think tank, said at a conference of the National Association of Business Economics. "Infrastructure is going to take a long time."
Moody's projection assumes the federal government would contribute roughly $250 billion. The firm believes a bigger barrier to implementing the plan quickly could be finding enough workers. "There is a dearth of construction workers in many parts of the country," said Mark Zandi, chief economist of Moody's Analytics, adding that the places with the highest demand for infrastructure are likely to be regions that already have few idle workers.
Still, construction industry executives are hopeful Mr. Trump's plans will spell good news for their companies, even if many details remain unclear.
"It's just an attitude right now," said John Garrison, chief executive of Terex, which is based in Connecticut. "People think that things are going to be better."