An Activist at the Whole Foods Table: What it Means for WFM's Turnaround Chances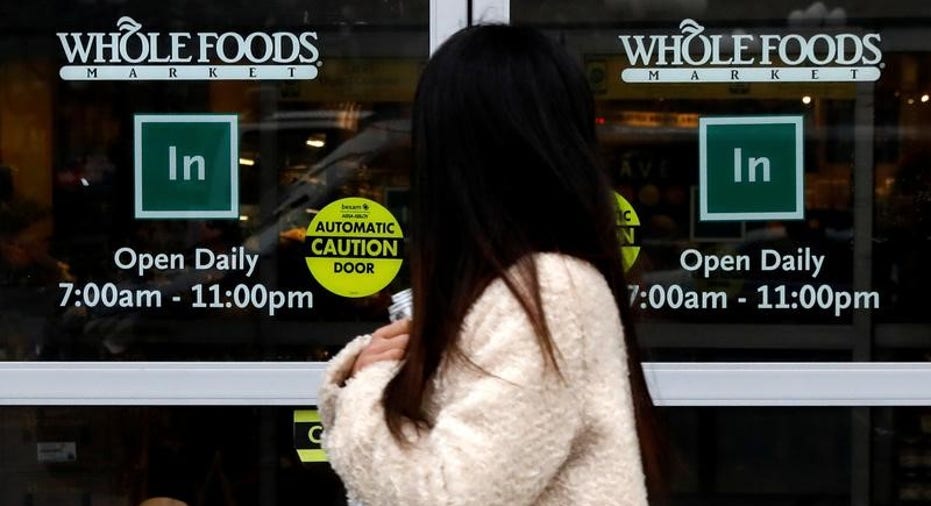 There's a food fight brewing at Whole Foods (NYSE:WFM).
Facing stiff competition from "main stream" rivals like Kroger (NYSE:KR) and Walmart (NYSE:WMT) and six-straight quarters of sales declines at stores open at least a year, the upscale grocer -- credited with kick starting the organic food craze – now has an activist investor interested in accelerating a turnaround and a potential sale.
Jana Partners this week disclosed a nearly 9% combined stake in the company and outlined a host of problems it wants Whole Foods management to address.  The New-York based hedge fund is calling for changes at the Texas-based grocer and, in turn, a reversal of "chronic underperformance" for Whole Foods shareholders.
To accomplish its goals, Jana said, if necessary, it would also consider nominating individuals for election to Whole Foods' board of directors. Though in its disclosure filing with the Securities and Exchange Commission, Jana said it wouldn't try to be a part of a Whole Foods merger or sale, the activist could still consider pressuring Whole Foods to take those actions on its own.
Whole Foods shares, which have gained 11% since the start of the year, leaped 10% on the news late Monday, though they fell along with the broader market on Tuesday to around $33 apiece.
In response to Jana's interest in the company, Whole Foods in a statement said it welcomes the investment and is "open to the views and opinions of all of our shareholders."
"We value constructive dialogue toward our shared goals of creating shareholder value, successfully executing on our strategic priorities and taking actions that will position the company for continued success," the statement read.
Tech, Taste and a Turnaround
Wall Street analysts were mixed on what Jana's interest in Whole Foods means for the future of the company – some groups, including a team at Credit Suisse, moved to an outperform rating and bumped up its price target on the stock to $40, while others – including a team at UBS, took a more pessimistic view through a sell rating alongside a lower price target of $34.17.
The Credit Suisse team, led by Edward Kelly, saw Jana's stake as a long-awaited catalyst the stock needed to move higher, and an opportunity for Whole Foods to either fix its problems once and for all, or sell the business.
"Part of our positive thesis on [Whole Foods] is that good brands don't underperform forever. We believe [Whole Foods] has superior brand value but has arguably been mismanaged as the company failed to adapt to the evolving food retail landscape," the team said.
Those issues – including a lack of cohesive technology platforms, customer data, and a weak pricing strategy – were among problems Whole Foods identified in its fiscal first quarter earnings call as it outlined plans to scale back on both the number of existing stores and planned openings alongside more investment in its core customer – dubbed the "Whole Foodie."
To that end, Morgan Stanley Research (NYSE:MS) data show lower prices at other grocers remains the primary reason for shoppers not to make the trip to Whole Foods. But analysts there believe a bigger focus on customer data -- through a previously announced partnership with dunnhumby (a consumer science company) and Nielson -- will help Whole Foods better understand its core customer and offer more deals, value opportunities and emphasis on quality to not only drive shoppers through the doors more often, but encourage them to up their spending once they're there.
"We believe 365 can be a part of Whole Foods' reset strategy and refocus on its core consumer," Morgan Stanley Research equity analyst Vincent Sinisi said. "In this new format, Whole Foods has a testing ground for new products, pricing strategies and technologies. We believe trying out new items such as per item pricing (versus per pound) and digital ordering kiosks can be done in a lower risk manner in 365 locations. This can provide [Whole Foods] with data and firsthand experience ahead of rollouts across its core store base."
Not everyone on the Street is on board, though.
The smaller, lower-priced 365 stores could cannibalize Whole Foods' full-line stores, warned a team of Credit Suisse analysts led by Michael Lasser. The biggest challenge they see boils down to competitive pricing, and the grocer's struggle to win not just the core Whole Foods shopper, but marginal shoppers as well. While the team views Jana's plans as "ambitious," it also said the challenges facing Whole Foods run deep and a more meaningful evolution of its business model is needed to see long-term success.