After Losing Customers to Walmart and Kroger, Whole Foods Fights to Keep 'Whole Foodies'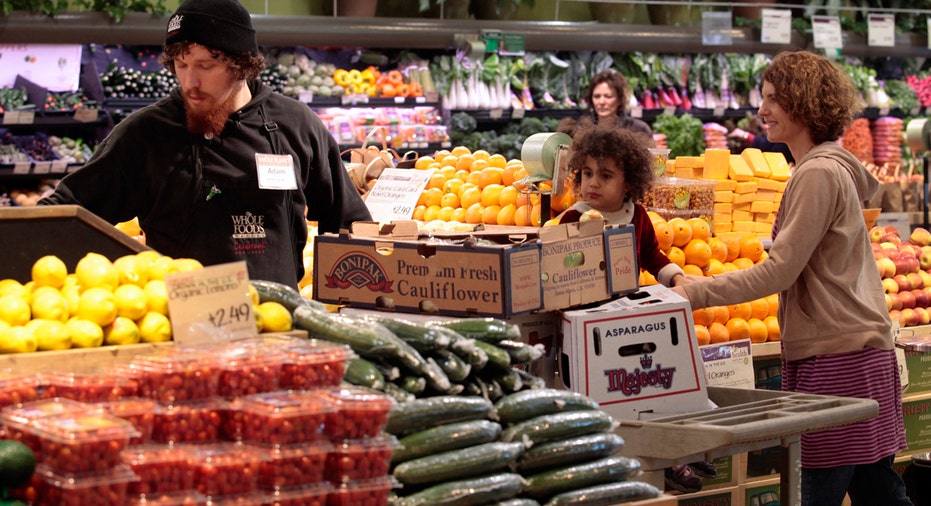 The battle over customer wallets is heating up at grocery stores across the country as the taste for natural and fresh food moves from fringe to mainstream.
Whole Foods, the upscale grocer that is given credit for kick starting the organic and fresh trend, has seen six-straight quarters of sales declines at stores open for at least a year. Though the rate of decline slowed a bit in the fiscal first quarter, as the company reported earnings this week that met Wall Street expectations, it revised its 2017 guidance lower amid continued soft sales and nine store closures.
Acknowledging the increasingly competitive marketplace, Whole Foods CEO John Mackey said the company has now focused its growth strategy not on acquiring new customers, but holding onto the ones it has. The brand wants to better serve its core customers by using more data to refine its merchandising, pricing and marketing strategies.
Mackey explained that at first most large-format grocery stores were focused on competing with the low-cost grocery aisles popping up in Wal-Mart (NYSE:WMT) and Target (NYSE:TGT) across the country, allowing Whole Foods to stoke the higher-priced fresh-not-frozen trend. Now, though, the CEO said as those larger grocers turn their focus more toward organic and fresh options, Whole Foods has seen a drop in the number of consumers willing to make a weekend drive to its stores.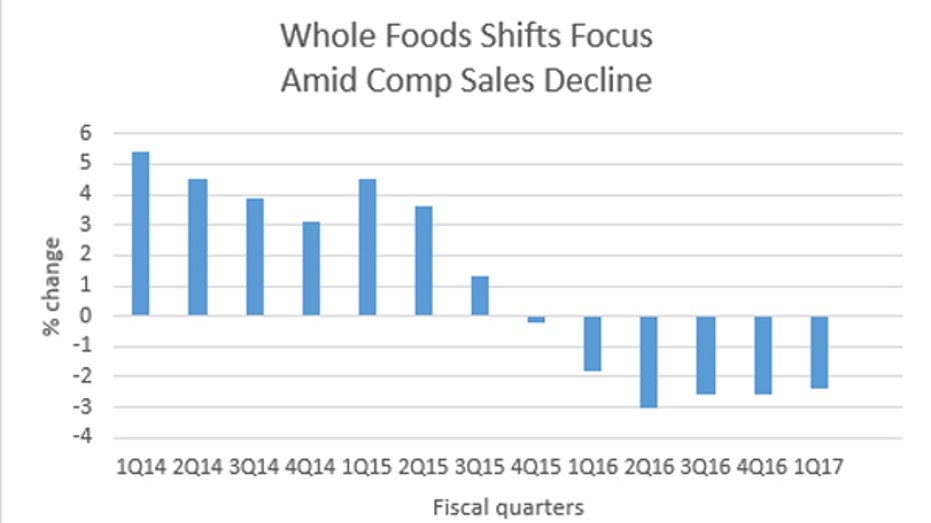 "We still see that our core customer, the 'Whole Foodie' customer, the person that's really dedicated to Whole Foods Market, they are still coming to us," Mackey said. "So, part of what our strategy here is … we're going to do the best job that we can to keep our core customers from migrating back over to those guys."
Investors gobbled up the prospects of more focus from the company that's struggled to grow its sales and retain customers. After losing momentum in after-hours action following the earnings announcement Wednesday, shares of Whole Foods jumped more than 3% Thursday.
"We continue to see value in the brand, believe there is a path for improved performance over time (especially with today's news of accelerated strategic change), and like the stock's risk/reward," said a team of Credit Suisse analysts led by Edward Kelly in a note to clients.
Food Fight: Aisle 1
The grocery industry has been under pressure for the last year due to a drop in food prices, which, while good for consumer pocketbooks, is bad for corporate profits. For Whole Foods, that meant slightly lower selling prices for items like eggs, beef and organic apples. Though the company said it was able to make up for it a bit with more promotions around those items, and higher prices on avocados, which became a lot more expensive this year due to supply issues in Mexico.
However, while deflation concerns are starting to ease, said Joe Feldman, senior managing director at Telsey Advisory Group, the continued competition from lower-priced grocers will likely continue to pressure Whole Foods in the long run.
"If you can get all that at Kroger and it's the same product but at lower prices, why not? Kroger has stolen back share from the casual Whole Foods shopper," he said, noting that example is a microcosm of what's going on in the space as big grocery players are fighting harder to win customers.
In fact, Kroger (NYSE:KR) this week unveiled plans to buy New York's Murray's Cheese, a deal aimed at helping the biggest U.S. grocer ramp up its premium cheese offerings. What's more, Aldi, which operates in 35 states and targets low to middle-tier shopper, is also upping its game during a time when giants in the industry appear vulnerable. It announced a $1.6 billion nationwide store remodeling plan aimed at enhancing its customer shopping experience. The chain will not only give its basic store design a face lift, but add more produce, dairy, meat and bakery goods like its gluten-free foods brand, liveGfree, and organic SimplyNature products.
Aldi also said it plans to open 650 new U.S. stores by the end of next year, targeting new markets and new consumers. But it's not the higher-end Whole Foods stores Aldi is likely trying to compete with, Fedlman said.
"What's interesting is they locate stores close to Walmart but close enough to traditional grocers that it might draw some of those mid-income consumers," he explained. "Aldi is trying to get ready to step up their game in the space. It's going after that low to mid-income consumer and offer them a more complete experience with better fresh products."
Web-Based Competition Heats Up
Online orders are also a battleground for grocers as they try to attract younger demographics in densely-populated cities. Whole Foods continues its partnership with same-day delivery-service Instacart, as alternatives continue to coexist like Amazon (NASDAQ:AMZN) Fresh, and lower-priced alternatives like Jet.com, with backing from Walmart after acquisition of the e-commerce platform last year.
Feldman expects that more established grocery store chains located away from city centers will find success competing on buy online, pick up in store offerings rather than home delivery services.
"Logistically, there are a lot of issues and it's hard to make money doing [grocery delivery]," he said. "Kroger says 95% of its customers drive past a store on their way to work or to pick up their kids. If that's the case, it's a lot easier to have someone waiting for you with the basket and keep moving rather than having to set up time to go in and shop."