Activist facing riot trial seeks judge's help with evidence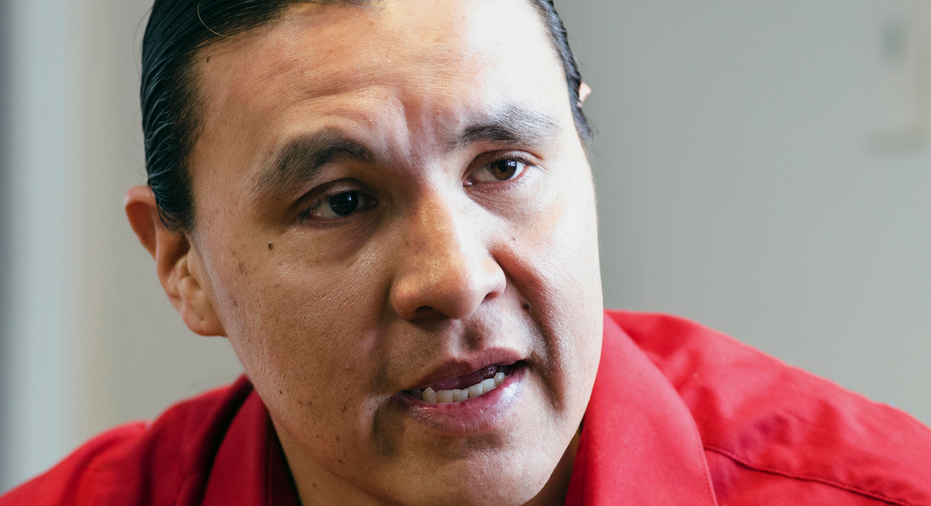 An American Indian activist accused of inciting a riot during protests in North Dakota against the Dakota Access oil pipeline wants a judge to force prosecutors to obtain and turn over evidence from private security firms.
The request by an attorney for Chase Iron Eyes says public law enforcement and private security worked together during the prolonged protests. That means private security workers were agents of the state and the government is obligated to turn over evidence from them that could benefit Iron Eyes, attorney Alexander Reichert argues.
Prosecutors Chase Lingle and Allen Koppy are fighting the effort, saying the defense team is trying "to avoid having to subpoena information at their own expense." They also say the defense is basing its claim largely on what prosecutors say are unreliable media reports about the interaction of public law enforcement and private security.
Iron Eyes and 73 others were arrested Feb. 1, 2017, after erecting teepees on land in southern North Dakota that authorities said is owned by Energy Transfer Partners. Protesters said they were peacefully assembling on land they believe rightfully belongs to American Indians under old treaties.
The Texas-based developer of the pipeline, Energy Transfer Partners, faced criticism from pipeline opponents over its use of North Carolina-based TigerSwan to help provide security. TigerSwan was founded by retired military special forces members. Internal company documents published by online news outlet The Intercept last year indicate that employees used military-style counter-terrorism measures, had a close working relationship with public law enforcement and used propaganda.
TigerSwan maintains it's the victim of a smear campaign. The company also contends it provided only consulting services in North Dakota and that on-the-ground security was handled by other companies.
Iron Eyes is seeking to gather more evidence to present a "necessity" defense, in which a suspect argues a crime was justified because it prevented a greater harm. Iron Eyes hopes to show that civil disobedience was his only option to resist a pipeline's incursion on his ancestral lands and to prevent a "civil rights conspiracy" to portray pipeline opponents as terrorists.
Iron Eyes has pleaded not guilty to felony inciting a riot and misdemeanor criminal trespassing. He could face up to five years in prison if convicted of the more serious charge. He's scheduled for a two-week trial beginning Aug. 13.
A judge during a November hearing gave the defense permission to request more material from the prosecution, including information that might give more insight into the efforts of law enforcement and pipeline private security. But Lingle at the time said he thought all available information had been given to the defense.
___
Follow Blake Nicholson on Twitter at: http://twitter.com/Nicholson