Walmart makes breaking up more bearable
Social media isn't taking too kindly to the Valentine's Day idea
Walmart has a solution for couples breaking up around Valentine's Day. 
Most retailers are focusing on filling store shelves and display cases with chocolate, flowers, new jewelry pieces and other gifts ahead of the major spending holiday. 
While Walmart will also carry such items, they are also selling a breakup bear. It's called the "Valentine's Day Sign and Dance Bear" and it comes with a pretty clear message. 
AMERICANS PLAN TO INCREASE VALENTINE'S DAY SPENDING DESPITE SQUEEZED BUDGETS
The bear is decked out in shirt that says "Bye Bye!" It's also holding a broken red heart that spells out love in both hands. 
When the red button on the bear's foot is squeezed, it will dance and sing to the song "Bye Bye Bye!" by the American boy band NSYNC. 
Walmart touted in the product description that it's the "perfect humorous Valentine's Day gift" for loved ones of all ages. 
"This bear is ready to wish your someone special a Happy Valentine's Day!," the description of the bear reads online. "Our Way to Celebrate! Animated Sing and Dance Bear the perfect item to add some humor and love to your special someone's Valentine's Day."
DEBT RELIEF INDUSTRY SEES SURGE AS CREDIT CARD BALANCES SWELL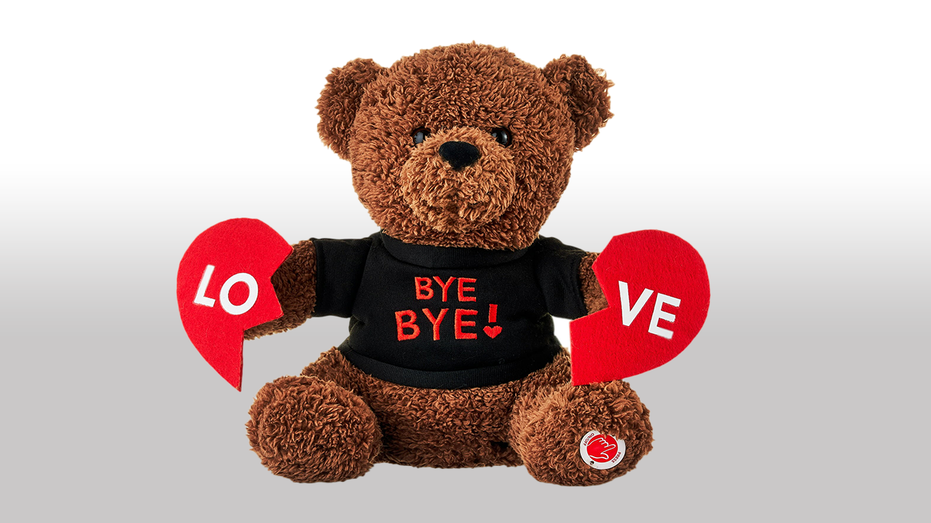 The Arkansas-based company posted a picture of the stuffed bear on Twitter Thursday saying, "it is cuter than a break up text." 
So far, it's catching a lot of buzz. 
"Honestly if I was given this it would hurt more than a text," one Twitter user commented on the post. 
Another Twitter user said, "that's just sick."  
It's an interesting way to lure in shoppers on a major spending holiday. This year, consumers are expected to collectively spend $25.9 billion, up from $23.9 billion last year, according to the National Retail Federation (NRF). 
More than half of consumers plan to celebrate and spend an average of $192.80. That's up from the $175.41 spent in 2022, and the second-highest figure since the NRF started tracking this data. 
GET FOX BUSINESS ON THE GO BY CLICKING HERE