Unilever considers unloading Lipton tea as consumers favor cold sparkling varieties
Unilever considers the sale of tea brands Lipton and PG Tips
Lipton is no longer the life of the tea party.
Unilever is considering the sale of its tea operations after years of lukewarm growth as consumers brew less black tea in favor of varieties like green tea, matcha and chai. The company is in the midst of a "strategic review" of its global tea brands that could result in the sale of its household names Lipton and PG Tips.
Black tea comprises two-thirds of Unilever's tea segment, which generates $3.3 billion in yearly sales globally for Unilever, however, sales have dropped in developed markets in recent years due to changing consumer preferences, the company told analysts on a conference call Thursday. Its premium herbal tea brand, Pukka, which has varieties like mint matcha green, ginger and turmeric, meanwhile, has performed well, said the company, which also owns elevated brands like T2 and Tazo.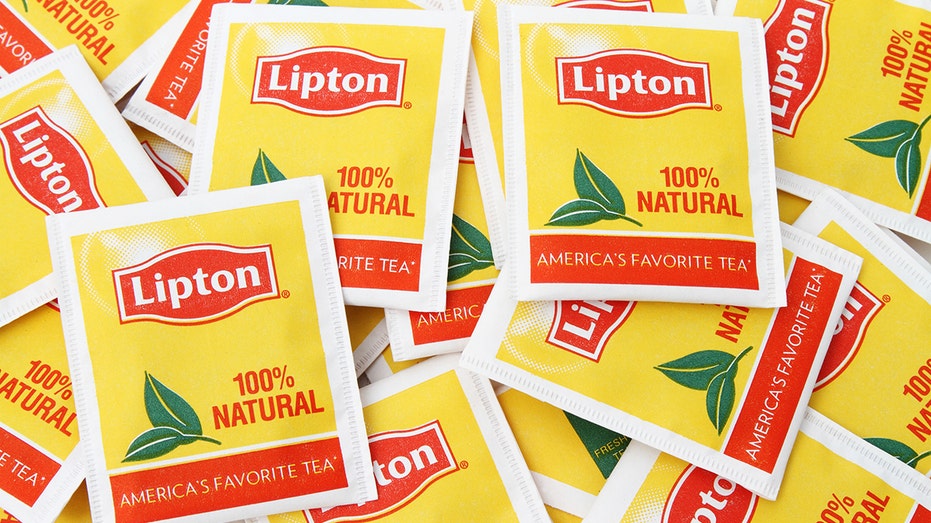 Tea had a global market value of nearly $50 billion in 2017, and the market is slated to surge to more than $73 billion by 2024. But consumers are increasingly seeking out beverages with functional ingredients – whether it's probiotics in kombucha (fermented tea) to boost gut health, anti-inflammatory benefits from turmeric teas or an energy boost from antioxidants loaded in green teas.
"We're seeing a declining interest in [black] tea, but a huge boom in specialty teas like matcha, yerba matte and all sorts of chai. What's doing well is functional ingredients like turmeric and ginger," Graham Fortgang, co-founder of MatchaBar, the celebrity-backed café and retailer known for its fine-ground green tea lattes, told FOX Business.
Cold sparkling teas have also been saturating the category. Unilever and PepsiCo teamed up in 2015 to distribute Lipton Sparkling Iced Tea in flavors like peach and lemonade and sales volume fell by 1 percent to 6 percent for its household brands like Coke and Pepsi. And the sparkling tea category featuring carbonated ready-to-drink teas is on track to grow by 9.24 percent in the next year.
ANHEUSER-BUSCH BANKS ON HARD SELTZER AS BEER DRINKING DECLINES
Fortgang bottled the brand's first carbonated, tea-based energy drink, Hustle, a matcha-based sip that contains as much caffeine as a Red Bull (120 milligrams). It's being sold at 5,000 stores across the country, including in mainstream retailers like CVS and Walmart. The business has more than doubled since it launched last year, as more demand for the energy-boosting tea grows.
A Chinese study published earlier this month in the European Journal of Preventive Cardiology suggests that drinking green tea three times a week can reduce the risk of developing heart disease or stroke or even dying of cardiovascular disease, and it is also said to lower the risk of dying by any cause. And other studies have said drinking tea -- specifically, green tea, which is packed with antioxidants -- can lower blood pressure, prevent cancer and increase longevity.
GET FOX BUSINESS ON THE GO BY CLICKING HERE
Emerging brand Minna Sparkling Tea also has a sparkling green tea beverage in its portfolio and has revamped regular black tea with flavors like orange peel, mango and lime infused in its sparkling canned beverage.