Starbucks store in Buffalo votes to unionize
The coffee chain has more than 8,000 company-owned U.S. locations
Starbucks employees at the coffee chain's Elmwood Village location in Buffalo voted 19 to 8 in favor of joining Workers United, a union affiliated with the Service Employees International Union.
A second Buffalo store on Camp Road voted to reject unionization by a vote of 12 to 8, while a vote at a third store on Genesee Street could not be determined on Thursday because of several challenged ballots. As a result, the vote count for Genesee Street will have to be resolved during a post-election proceeding with the NLRB.
The National Labor Relations Board gave the three cafes the green light in October to hold three separate votes. Starbucks filed an appeal to the labor board's decision in an effort to delay the vote and asked the NLRB to hold one vote for all 20 of its Buffalo-area stores. However, the board rejected that request, saying store-by-store votes were appropriate under labor law. 
Around 111 Starbucks workers were eligible to vote by mail starting last month. 78 ballots — including those that were challenged by the union and Starbucks — were counted Thursday.
STRIKING KELLOGG CEREAL WORKERS IN REJECT TENTATIVE AGREEMENT FOR NEW 5-YEAR CONTRACT
In addition to union representation, the workers want more input on pay and store operations. 
"We need to be able to give an input on what it's like to be in these stores every single day, what this working environment is like, what the conditions are like and then have that voice lead to changes that are better for our working conditions, not changes that are better necessarily for the shareholders or the profits of the company," Alexis Rizzo, a shift supervisor at the Genesee Street location, told reporters Thursday. "We really hope that the other stores in the area see this as a really positive example and are inspired by it."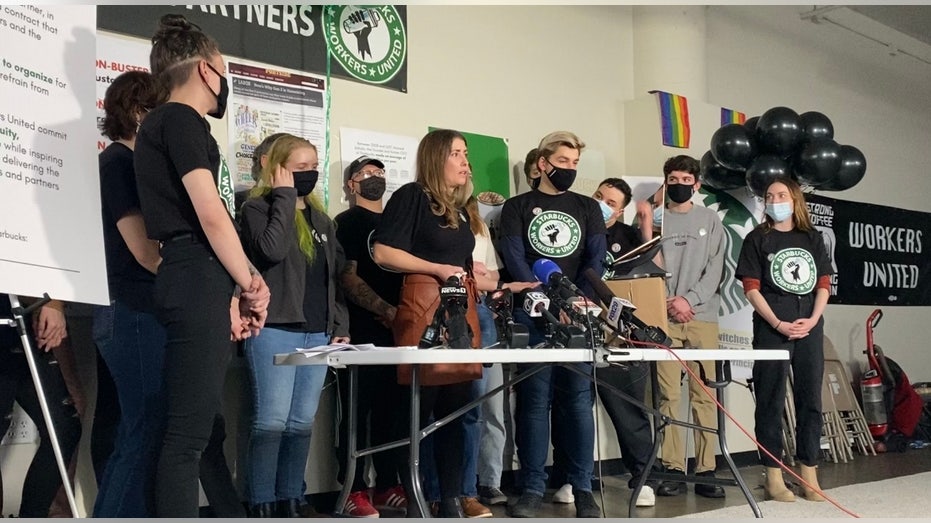 If the NLRB certifies the vote — a process expected to take about a week — Elmwood Village would be the first of the coffee chain's more than 8,000 company-owned U.S. locations to unionize. 
Both Starbucks and Workers United have five business days to submit objections to the election results, the labor board said. If objections are filed, there could be a series of hearings and appeals that delay certification of the votes. If no objections are filed, the results could be certified as early as Dec. 16.
The union's attorney, Ian Hayes, said an objection will likely be filed for the Camp Road result because it wasn't confident all of the eligible votes had been counted.
GET FOX BUSINESS ON THE GO BY CLICKING HERE
Giana Reeve, a shift supervisor for the Camp Road location, called the vote results at Elmwood "monumental" and emphasized that the next step is to bring Starbucks to the negotiating table.  
"We hope that [Starbucks] will come to the bargaining table with us and in good faith negotiate so we can make a better life for our partners, a better life for our communities and a better workplace all around," she said. 
Meanwhile, Natalie Wittmeyer, a barista at Starbucks' Elmwood location, claimed the results at Camp Road were due to "union busting tactics" and "blatant misinformation" spread by the company. Starbucks sent several executives, as well Howard Schultz, the company's top individual shareholder and former chief executive, to speak with employees from the Buffalo locations last month. 
"We are not going to let this divide us," Wittmeyer added. "We are still partners with one another, whether you voted no or you voted yes."
CLICK HERE TO READ MORE ON FOX BUSINESS
Starbucks North America President Rossann Williams said in a letter to employees that the vote results are preliminary and that there will be "no immediate changes to our partner relationship as the NLRB process continues."
"The vote outcomes will not change our shared purpose or how we will show up for each other," she continued. "We want to protect partner flexibility, transferability and benefits across all stores in a market or a district because we know that's important to partners. This is why we strongly believe that every partner in a district or market should have the opportunity to vote on such an important decision." 
She added that the company would "continue leading on wages and benefits, improve our listening and active partnership and keep building a company that matters."
In October, Starbucks announced that all of its U.S. workers will earn at least $15 per hour and up to $23 per hour by next summer. In late January, employees with two or more years of service will get a 5% raise, while those with five or more years of service could receive up to a 10% raise. In order to attract new employees, a $200 recruitment bonus will be offered.
Ticker
Security
Last
Change
Change %
SBUX
STARBUCKS CORP.
99.85
+1.15
+1.17%
The results come as calls for unionization at Starbucks continue to grow, with workers at an additional three Buffalo locations and a store in Mesa, Arizona, filing for their own elections. Those cases are still pending.
In the U.S., there are around 4,000 Starbucks outlets in grocery stores, airports, casinos and other locations that are unionized. However, they are licensed by Starbucks and owned and operated by separate companies.
The Associated Press contributed to this report.