SpaceX pushes back on 'unsubstantiated' COVID outbreak reports
At least 132 SpaceX employees in Hawthorne, California, tested positive for COVID, according to Los Angeles County's Department of Public Health
Elon Musk's SpaceX is pushing back on "unsubstantiated" reports of a COVID-19 outbreak at its corporate headquarters in Hawthorne, California. 
MISSOURI THREATENS TO SUE SCHOOL DISTRICTS MANDATING MASKS: 'PEOPLE HAVE HAD ENOUGH'
On Monday, Los Angeles County's Department of Public Health reported at least 132 of the aerospace giant's employees have tested positive for the virus, accounting for approximately a quarter of the total 496 cases recorded from local businesses.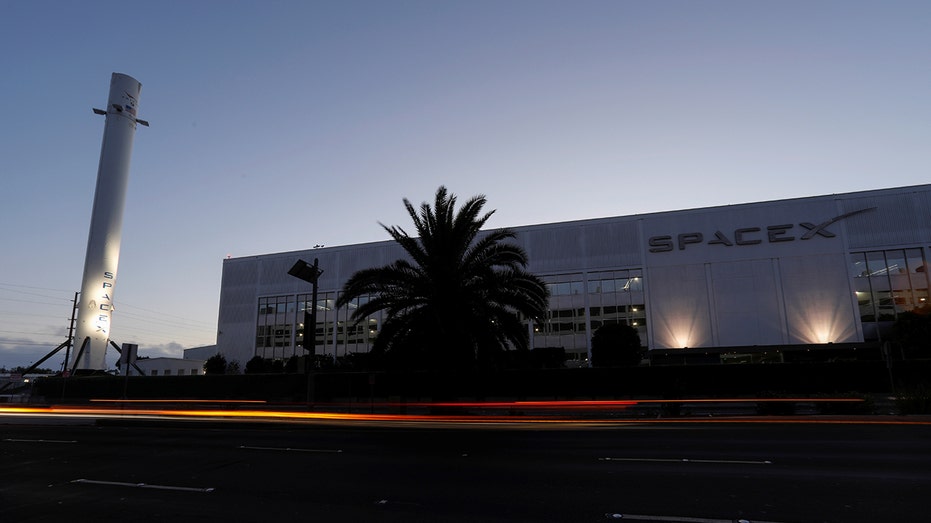 However, SpaceX told employees in a message obtained by FOX Business that the agency's figure is the aggregate number of cases reported since September, which includes employees who "may have been on vacation for several weeks, returned to work and received a COVID test at SpaceX that turned out positive."
The aerospace giant emphasized that, of the 132 cases, only one is suspected to have occurred at work in September, noting that "several employees who work in the same area contracted COVID outside of work at a non-work-related event."
"Because SpaceX has worked diligently to ensure testing is available to all employees, and have encouraged employees to get tested at work, these employees received COVID tests in Hawthorne, which triggered SpaceX to report these positive cases to LACDPH," the company explained. "It does not mean 132 employees in Hawthorne have COVID today or contracted it in the workplace. We will continue to work very hard to keep employees safe in the workplace. As always, the latest COVID stats are accessible to all employees on confluence."
Nearly 6,000 SpaceX employees have been working at the Hawthorne office as of May, according to court documents cited by the Los Angeles Times. 
ELON MUSK NAMED TIME'S 'PERSON OF THE YEAR' FOR 2021
The Los Angeles County Department of Public Health told FOX Business that it first received a report of a potential outbreak at SpaceX in Hawthorne in late July. The agency defines an outbreak as anytime a facility has three or more cases in a 14-day period. During an outbreak, all cases must be reported to the department until the impacted facility goes 14 days without reporting three or more positive COVID cases. 
"Public Health received a line list from Space X on August 18th and the outbreak team was able to begin their investigation," a LACDPH spokesperson told FOX Business. "An outbreak was opened on September 14th, with information posted on our website on September 15th detailing 5 cases." 
Following an in-depth investigation and site visit to determine potential sources of transmission, LACDPH made recommendations regarding screening for symptoms, quickly identifying positive cases, and keeping employees physically distanced from each other. It also identified a total of 126 positive cases among SpaceX employees at Hawthorne that occurred between July and November and posted that data on its website on Nov. 14. 
"To date, Public Health has identified a total of 132 epidemiologically linked cases among workforce members," the LACDPH spokesperson added. "Space X has been cooperating with Public Health on identification of cases and mitigation measures. Public Health continues to assist Space X with its ongoing outbreak monitoring efforts."
GET FOX BUSINESS ON THE GO BY CLICKING HERE
The clarification from both SpaceX and LACDPH comes after Musk has railed against the state's pandemic restrictions in the past. In May 2020, Musk said Tesla's manufacturing plant in Fremont, California, would defy stay-at-home orders and restart production despite not being cleared by Alameda County health officials. 
County level data obtained in March by legal transparency website PlainSite found that around 440 of the facility's roughly 10,000 employees were reported to have tested positive between May and December 2020. 
CLICK HERE TO READ MORE ON FOX BUSINESS
Los Angeles County currently requires all employees to wear face masks while working indoors, regardless of vaccination status, except for when they are actively eating and drinking or alone in a room. Unvaccinated employees are also required to undergo regular COVID-19 testing. 
The county also says employers should maintain a healthy working environment and business operations using methods such as increased ventilation, cleaning and disinfection, and social distancing. In addition, businesses should encourage their employees to stay at home if symptomatic, infected or exposed, and to get vaccinated.
The Centers for Disease Control and Prevention reports that more than 241.8 million Americans ages 5 and older have received at least one COVID-19 vaccine dose, while more than 204 million have been fully vaccinated. Over 60.6 million fully vaccinated American adults have also received a booster dose.   
On Monday, the U.S. reported 288,579 new COVID-19 cases. According to CDC director Rochelle Walensky, the coronavirus' new omicron variant accounts for around 73% of cases.