NYPD: Evidence of organized looting
'This is what our cops are up against,' says NYPD commissioner
The New York Police Department's top cop is calling out "organized looters," who he says are "strategically" leaving piles or buckets of debris on street corners citywide.
"This is what our cops are up against: Organized looters, strategically placing caches of bricks & rocks at locations throughout NYC," NYPD Commissioner Dermot Shea wrote in a Wednesday morning tweet, along with a video showing four blue boxes filled with gray debris.
There is an orchestrated attack specifically on members of law enforcement across the country
NY GOV. CUOMO APOLOGIZES TO NYPD BRASS OVER RIOT RESPONSE
Looters and rioters have reportedly used bricks, rocks and cinderblocks as tools to burglarize stores and small businesses, or even as weapons against law enforcement.
Shea was asked during a press conference on Wednesday, what evidence he had to indicate the debris was part of an organized effort.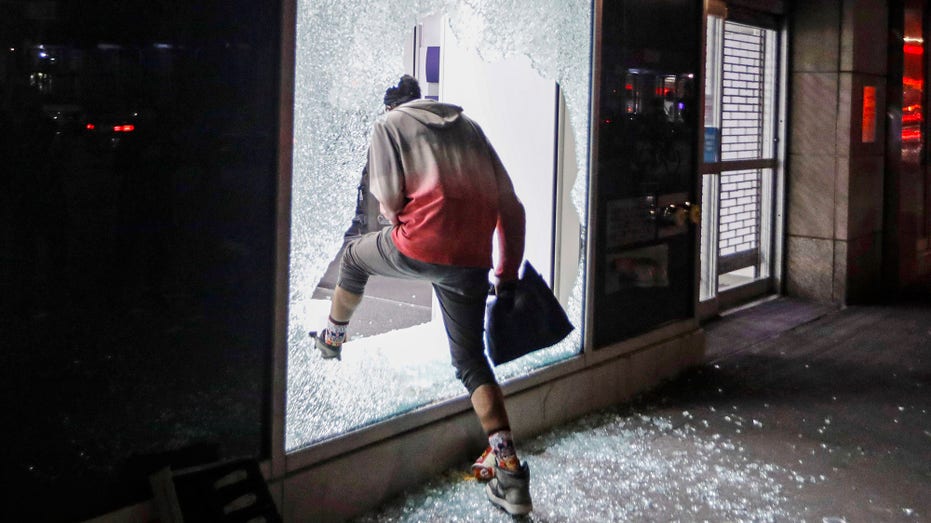 "Unfortunately, it's not an isolated incident, that's the latest," he said, explaining that one incident had been reported in Brooklyn and another in Queens.
"Pre-staged bricks are being placed and then transported to 'peaceful protests,' which are peaceful protests, but then used by that criminal group within," he said. "We've had construction sites burglarized in recent days in Manhattan … during a riot, it's interesting what was taken – bricks."
Shea explained how bricks had previously been thrown at NYPD members in the Bronx, and water bottles filled with cement have also been used as weapons.
"If anyone is questioning what is happening, your head is either in the sand or you're not paying attention," he said. "There is an orchestrated attack specifically on members of law enforcement across the country and we are seeing it, unfortunately, alive and well in New York City."
Shea added that over the course of the past three nights, the NYPD has seen "people taking advantage of a situation."
"I'd draw a line of distinction between the protests – overwhelmingly peaceful – and some people trying to disrupt that and cause mayhem. Then, when you get into the looters, I draw a distinction between the protests and the looting. These are people taking advantage," he said.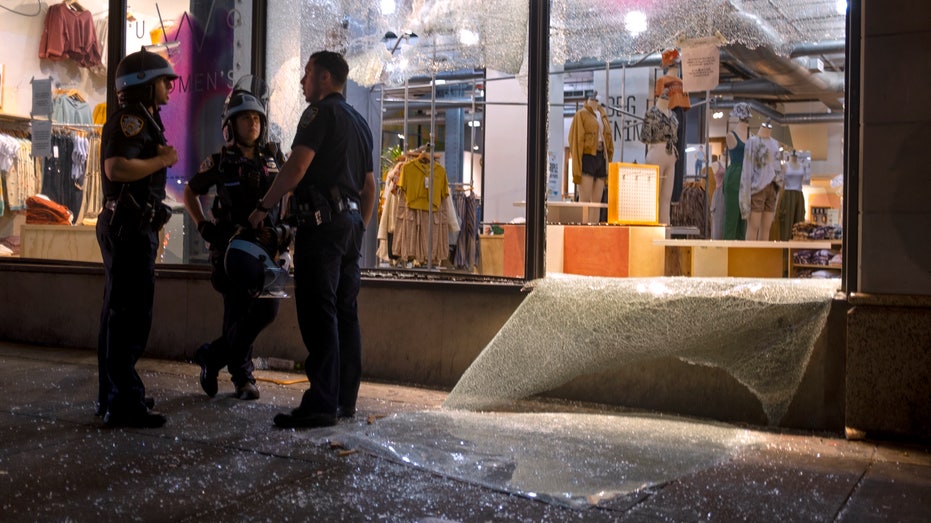 LOOTING DAMAGE AT MACY'S HERALD SQUARE 'LIMITED' AFTER NYPD RESPONSE
He said the department has seen people using vehicles, including rented U-Hauls, to look for possible looting opportunities, or transport people and stolen goods.
"We also see a lot of people just peeling off, using the protests as cover and then peeling off and, unfortunately, running around and doing some looting," he added.
Shea noted that the looters have typically been people from New York, particularly the Bronx and Brooklyn, who are traveling to Manhattan.
Police said nearly 700 people were arrested and several officers were injured during the chaos Monday night and early Tuesday. A department spokesperson said Wednesday that 280 people were arrested overnight.
Protests flared in response to the death of George Floyd, a black man who died last Monday after a white Minneapolis police officer pressed his knee on Floyd's neck for at least eight minutes.
Public and elected officials have said the peaceful protests have devolved in some cases into organized riots, including some led by white supremacy and antifa groups.
GET FOX BUSINESS ON THE GO BY CLICKING HERE
Floyd, who was in handcuffs at the time, died after the officer ignored bystander shouts to get off him and Floyd's cries that he couldn't breathe. His death, captured on video, sparked days of protests in Minneapolis that have spread to cities around America.
Earlier in Wednesday's press conference, New York City Mayor Bill de Blasio also emphasized that "the vast majority of people who have been out these last six days have been peaceful."
"A small number of people aim to do violence toward police – particularly that kind of anarchist group and some of whom, as we said, come from outside, certainly many of whom are protesting in communities they're not from," de Blasio said. "And then a organized group of criminals, doing things like looting for pure financial gain, pure criminal gain, nothing to do with protests whatsoever. No cause – just plain old crime, and they will be dealt with."
The Associated Press contributed to this report.