McDonald's takes on rivals Popeyes, Chick-fil-A, with new breakfast items
The chicken sandwiches will compete with Chick-fil-A, Popeyes and KFC
McDonald's is giving customers a wakeup call – with crispy chicken.
The Chicago-based chain is adding two new chicken sandwiches to its breakfast menu to compete with the likes of Chick-fil-A, Popeyes and KFC in the ongoing chicken sadnwich wars.
The chain will offer its Chicken McGriddle and McChicken Biscuit sandwiches across the U.S. after years of testing. The national rollout comes a week after it was revealed that franchisees were allegedly fed up with waiting for the chain's new fried chicken menu offering with nearly 90 percent of McDonald's franchisees saying Chick-fil-A is their No. 1 competitor when it comes to the chicken sandwich, according to a survey from Kalinowski Equity Research.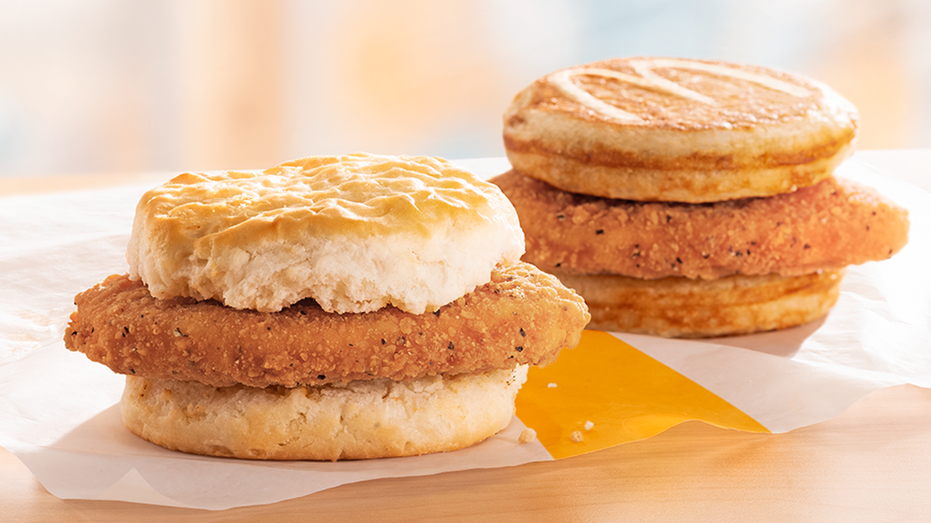 The new McGriddles are said to be "soft warm griddle cakes with the sweet taste of maple, paired with our fan-favorite crispy McChicken," McDonald's said in a statement. The McChicken Biscuit features a buttery biscuit paired with the crispy chicken.
MCDONALD'S FRANCHISEES STRATEGIZE FRIED CHICKEN SANDWICH WARS IN LEAKED EMAIL
Food sales at restaurants specializing in chicken-focused menus grew nearly 4 percent between 2018 and 2019 – from $25 million to $26 million – according to data from market research group Euromonitor International. Sales at burger restaurants, meanwhile, grew just 2.6 percent during the same time period from $113 million in 2018 to $116 million in 2019, data shows.
The urgency for McDonald's to roll out new chicken sandwiches comes amid an ongoing fast-food fried chicken sandwich war. It all started when Popeyes launched its iteration of the sandwich last August to compete with rivals like Chick-fil-A. It sparked an outcry among fast-food fans when it sold out, but the shortage only increased demand and hype on social media, leading competitor Chick-fil-A to peck back on Twitter for creating a similarly-styled menu item.
"We're currently in the middle of a fried chicken sandwich renaissance that extends beyond just fast food joints. The major chains that have recently added fried chicken sandwiches to their menus are doing this more so to adjust to changing consumer tastes than to wage war with their competitors," Jared Borislow, a food trend expert and content marketing manager at cookware company Made In, told FOX Business. "Fried chicken sandwiches specifically have benefited from the rise of trendy, long-queue joints in major cities serving Nashville hot chicken sandwiches, classic Southern buttermilk fried chicken sandwiches."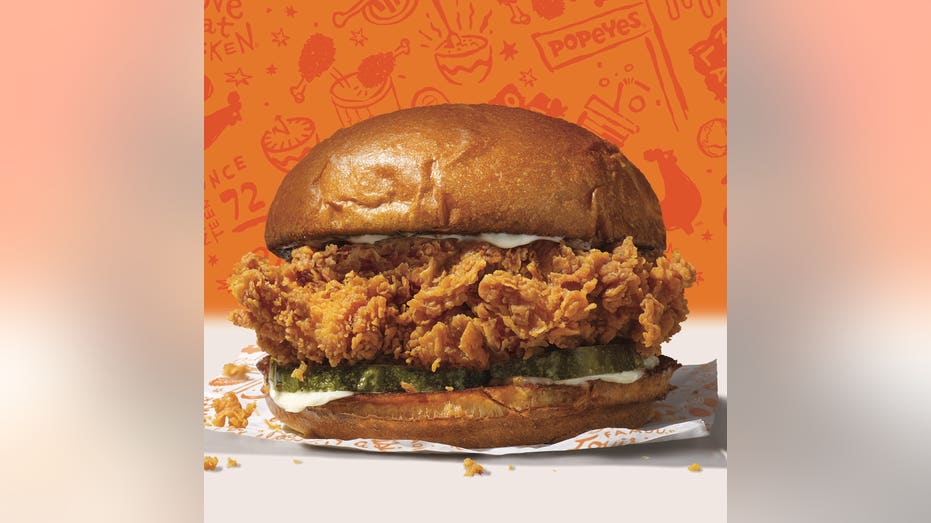 GET FOX BUSINESS ON THE GO BY CLICKING HERE
McDonald's, however, is capitalizing on breakfast, the fastest-growing meal category at quick-service restaurants. Indeed, morning meals, including breakfast and snacks, are the only food segment that has seen year-over-year growth, according to a report from the market research group NPD Group. Americans consumed nearly 102 billion breakfasts with another 50 billion morning snack meals, according to NPD Groups Future of Morning study.
Cafes are among the fastest-growing category in the fast-food space. Coffeehouse sales alone surged 41 percent to $23.4 billion from 2011 to 2017, and market research firm Mintel estimates those sales will increase to $28.7 billion by next year.
BREAKFAST IS THE FASTEST-GROWING MEAL CATEGORY, DESPITE DR. OZ CANCELING IT
"Consumers are looking for foods and beverages to meet their needs – not for food that fits a specific meal or snack daypart," David Portalatin, NPD food industry adviser, said in a statement. "Food manufacturers, retailers, and foodservice operators all have an opportunity to make breakfast and morning snack food acquisition seamless by focusing on consumer needs and offering daily solutions, including niche nutritional needs."