Breakfast is fastest-growing meal category, despite Dr. Oz canceling it
Intermittent fasting could be a replacement for breakfast, Oz says
Breakfast is the most lucrative meal of the day for some restaurateurs and fast-food chains, despite the rise of the intermittent diet trend and Dr. Oz's prescribing eaters to skip it.
The TV doc told FOX & Friends on Tuesday he doesn't think people should eat breakfast, but some businesses are banking on the morning meal category and disagree with the Doctor's orders.
"I totally disagree with Dr. Oz," Stathis Antonakopoulos, executive chef and culinary director of newly opened Carnegie Diner & Café in New York City told FOX Business.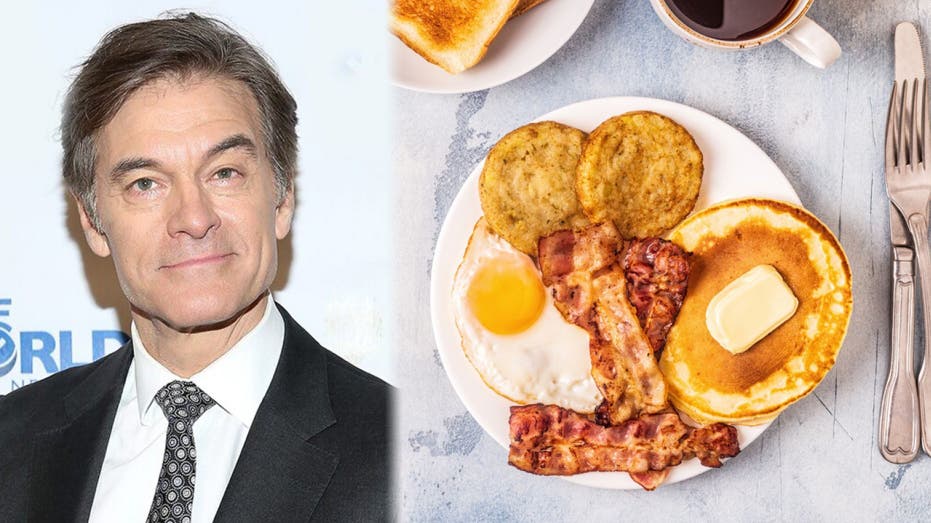 Antonakopoulos said 50 percent of the restaurant's business happens during breakfast hours between 7 a.m. and 11 a.m. on weekdays, and spikes to 80 percent on weekends.
"Breakfast is everything," Antonakopoulos said. "It's the start of your day, you have to have the proper energy — 8:30 a.m. is our busiest time of day. Dr. Oz is one voice, but it's very difficult to change human habits. I don't think people are going to skip it."
Indeed, while the doctor cited the health benefits of intermittent fasting, the morning meal is the fastest-growing category at restaurants, with a number of fast-food giants investing in the "the most important meal of the day."
Morning meals, including breakfast and snacks, are the only food segment that has seen year-over-year growth, according to a report from the market research group NPD Group.  And cafes are among the fastest-growing category in the fast-food space. Coffee house sales alone surged 41 percent to $23.4 billion from 2011 to 2017, and market research firm Mintel estimates those sales will increase to $28.7 billion by next year.
Wendy's is making a $20 million investment in breakfast nationwide, the company announced in September. In 2020, Wendy's expects to hire 20,000 workers to bring its breakfast menu — with items like a breakfast Baconator sandwich with Applewood smoked bacon across the country. Burger King introduced a $5 coffee subscription to customers last year as a way to lure in more consumers for its breakfast offerings competing with chains like Dunkin,' Starbucks and McDonald's. And Taco Bell beefed up its breakfast menu offerings this year after morning visits to the fast-food chain increased 7.7 percent with spending increasing 31 percent.
Ticker
Security
Last
Change
Change %
QSR
RESTAURANT BRANDS INTERNATIONAL, INC.
66.57
+0.38
+0.57%
WEN
THE WENDY'S CO.
23.56
+0.46
+1.99%
DNKN
n.a.
n.a.
n.a.
n.a.
And at grocery stores, cereal is the main driver of big brands', like Kellogg's, growth, particularly in the U.S. market. The company's net sales increased by 2.3 percent last year, Barron's reported.
Despite growth among the category, Oz cited research that suggests not eating up to 18 hours could have health and weight loss benefits, promoting the intermittent fasting regiment of maintaining an eating schedule where food is consumed between six and eight hours per day with fasting for the remaining 16 to 18 hours.
"We don't really have to eat when we first wake up," Oz explained. "When you fast, your endurance gets better, your resilience improves, you actually get mentally more focused. If you don't eat for a couple of hours before bedtime … by the time you wake up in the morning you've been fasting for 12 hours."
WHY AMERICANS ARE DRINKING LESS WINE FOR THE FIRST TIME IN 25 YEARS
Other research suggests that breakfast should be the most hearty meal of the day. A study from Loma Linda University's School of Public Health from 2017 found that people who ate their biggest meal for breakfast were more prone to weight loss than those who bulked up on food for lunch or dinner instead.
TOP 3 INTERMITTENT FASTING DIETS ON GOOGLE
And not everyone is a fan of #CancelBreakfast. Actor Mark Wahlberg was asked by TMZ earlier this week if he agreed with Oz's mantra of not eating the first meal of the day and had a dissenting food view.
"Listen, I don't care what Dr. Oz says, I got to have my breakfast before I work out," Wahlberg, who wakes up at 2:30 a.m. and eats breakfast at 3:15 a.m. every day, told TMZ. "That's my performance."