Low-alcohol cocktail sales spike as drinkers embrace lighter options
More beverage companies are pivoting to low-ABV cocktails with demand for drinks with less alcohol.
Drinks with less alcohol are proving to be the life of the cocktail party.
That's according to a trend report from Bacardi released this week that says more people are choosing to sip lighter drinks with lower calories.
Indeed, 20 percent of consumers say they typically drink no or low-alcoholic beverages at bars with the low-alcohol beverage market expected to increase at an 8 percent compound annual growth rate, according to Bacardi's 2020 Cocktail trends report.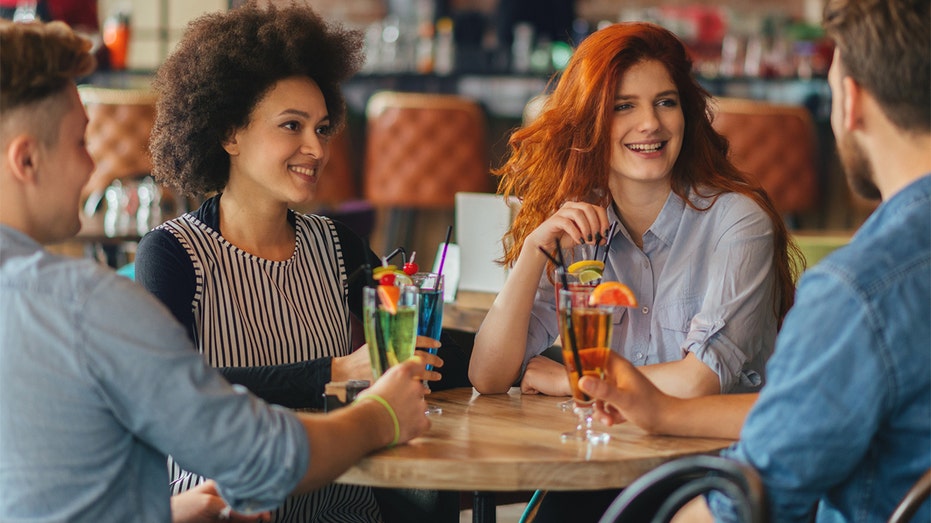 "One of the biggest bar trends in recent years is the growing popularity of low abv cocktails – drinks with a lower or no alcohol content, crafted with the same care as 'proper' cocktails," Jacob Briars, global advocacy director of Bacardi, told FOX Business via email, adding: "Fueled especially by the new Gen Z drinkers, today's consumer is embracing this trend for many reasons – lower-calorie choices, mindful drinking – and often low and no abv drinks fit into their wider repertoire."
The findings come on the heels of Dry January, the 30-day period in which drinkers opt to go dry for an entire month following the indulgent holiday season. And participation in the sober pledge has gone up. An estimated one in five Americans did "Dry January" in 2019.
And for those who have opted to drink again after the 30-day cleanse, Briars says people are still looking for low-proof beverages with few ingredients.
NON-ALCOHOLIC BEER DEBUTS AT BROOKLYN BREWERY AMID DECLINING ALCOHOL SALES
"Instead of mixing two to three fruit juices like the 'mocktails' of old, the current low and no abv drinks use low proof ingredients like St-Germain elderflower liqueur, vermouth, and sherry, or sodas mixed with herbs and tinctures that deliver flavor without punch. These drinks are taking pride of place on the cocktail menus too," Briars said.
More beverage companies have invested in low and non-alcoholic products. Global spirits and beer producer Diageo acquired Seedlip, which bills itself as a non-alcoholic spirit, in August, catering to consumers looking for a "zero-proof" spirit-like drink that's low in sugar. And smaller brands are also infiltrating the category. Mingle Mocktails is a line of bottled sparkling non-alcoholic cocktails that launched in 2018 with ready-to-drink bottled cocktails that are 40 calories. And the brand has been expanding to retailers like Whole Foods and Publix, and it's also available on Amazon.
ANHEUSER-BUSCH BANKS ON HARD SELTZER AS BEER DRINKING DECLINES
The ready-to-drink cocktail category is up 574 percent and accounts for $4.7 million in annual sales, according to Nielsen data. And hard seltzer with low-abv sales are up 193 percent, data show.
| Ticker | Security | Last | Change | Change % |
| --- | --- | --- | --- | --- |
| AMZN | AMAZON.COM INC. | 2,454.17 | -16.87 | -0.68% |
| DEO | DIAGEO PLC | 142.35 | -0.69 | -0.48% |
| HEINY | HEINEKEN N.V. | 47.04 | +0.13 | +0.28% |
And imbibers seem to be stirring up alcoholic cocktails at home. Online searches for the word "mocktail" are up by 42 percent, according to the trend report.
And less is more when it comes to ingredients in cocktail recipes. Consumers are looking for natural ingredients across the food industry, and that includes in cocktails, with 62 percent of drinkers saying they want natural beverage options, the report showed.
Consumers are seeking out cocktails made with natural ingredients, or which have a 'health halo.'
"Coming off similar 'wellness' trends to lower abv, consumers are seeking out cocktails made with natural ingredients, or which have a 'health halo' We are seeing bartenders making full use of teas such as matcha and herbal infusions, fresh berries and fruits, and using spices and herbs in homemade tonics and tinctures to deliver a big flavor in a more 'natural' way," Briars said.
Incorporating high-quality ingredients in mocktails can cost just as much as an alcoholic drink at some sober bars. Getaway in Greenpoint, Brooklyn, serves up drinks for around $13 each with ingredients like spicy ginger, grapefruit juice and fresh fruit.
GET FOX BUSINESS ON THE GO BY CLICKING HERE
Beer companies are also boosting portfolios to include lower-alcohol products. Sierra Nevada Brewing Company, the third-largest craft brewery in the U.S., acquired low-alcohol brand Sufferfest Beer Company, which makes brews with electrolytes and sea salts said to serve as a recovery drink. And more recently, Heineken rolled out its non-alcoholic beer, Heineken 0.0, with 69 calories.