Don't argue with anti-mask customers during coronavirus, CDC warns retail employees
'Workers may be threatened and assaulted,' the CDC says
The Centers for Disease Control and Prevention issued new guidance aimed at helping businesses prevent violence from arising when enforcing COVID-19 safety procedures.
Since the outbreak of the coronavirus in the U.S., the government agency has advised businesses and retailers to implement safety procedures like mandating that masks be worn by employees and customers, asking customers to follow social distancing rules and limiting the number of customers allowed inside a business at one time in order to limit the spread of the virus.
FLORIDA INSURANCE AGENT FIRED AFTER COSTCO CORONAVIRUS MASK CONFRONTATION
However, by putting such policies in place "workers may be threatened and assaulted," the CDC said, adding that these threats and assaults can come from customers, other employees or employers.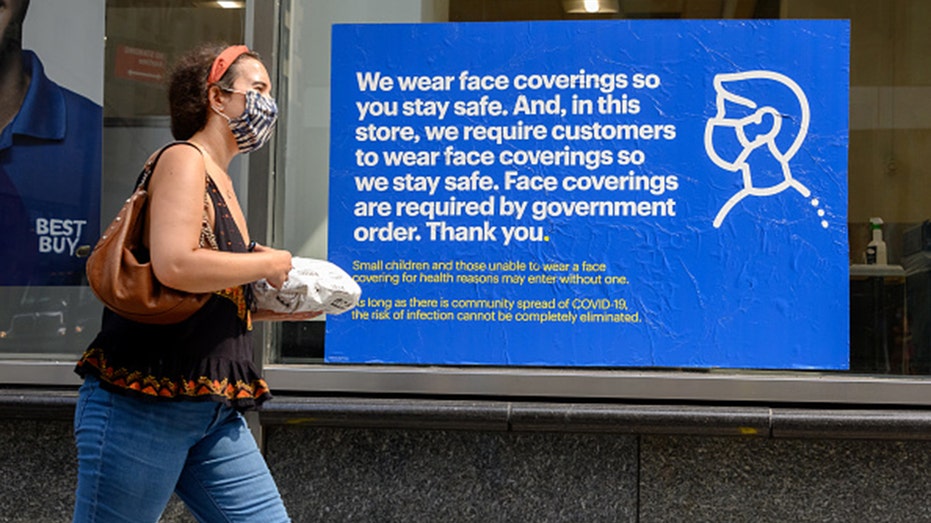 The agency has two big "don'ts" for businesses.
"Don't argue with a customer if they make threats or become violent," the CDC says, adding that if needed an employee should instead remove themselves and go to a safe area.
'PANERA KAREN' CLAIMS MASKS WON'T STOP COVID-19 SINCE PANTS DON'T CONTAIN FARTS
The agency also advises that employees should not "attempt to force anyone who appears upset or violent to follow COVID-19 prevention policies or other policies or practices related to COVID-19."
To be better prepared, the agency recommends that employees attend all employer-provided training sessions on how to "recognize, avoid, and respond to potentially violent situations."
It is also recommended that employees "report perceived threats or acts of violence" to a manager or supervisor "following any existing policies that may be in place."
ARIZONA 'KAREN' WITH '$40,000 ROLEX' TRASHES TARGET FACE MASK DISPLAY
Lastly, employees should be aware of and "support coworkers and customers if a threatening or violent situation occurs."
The agency issued its guidance after reports of violent incidents specifically relating to mask requirements have occurred around the country.
In some cases, customers are even seen on video screaming in expletive-ridden tirades when being asked to wear a mask inside some stores.
GET FOX BUSINESS ON THE GO BY CLICKING HERE
Some customers have even gone as far as destroying face mask displays while screaming at employees.
The incidents have given pause to retailers now grappling over how best to handle such situations. While some chains have told employees to let maskless customers inside despite the local and state mandates, others have called in law enforcement, the Wall Street Journal reported.