World Water Day: This Handheld Device Can Disinfect Water Anywhere
Over 780 million people worldwide do not have access to an improved water source (piped or protected water) reports the Center of Disease Control (CDC).  It's estimated that diarrhea, caused by waterborne illnesses, kills 1.5 million to 2.2 million people annually, according to the World Health Organization (WHO).
"You need water. Everyone needs water and if it's not safe, it can make people sick and safe water is this precious commodity. We all need it to live and tend to take it for granted,"  Eric Mintz, MD, CDC Global Water, Sanitation, and Hygiene Epidemiology Team Lead tells FOX Business.
Waterborne illnesses are not just a problem in third world countries.  A report by the CDC also shows that in the U.S. alone, 431 cases of illness, 102 hospitalizations, and 14 deaths were all caused by waterborne illnesses.
From cholera to dysentery, Mintz explains that water can carry all sorts of viruses, bacteria and parasites that, if ingested, can make people sick.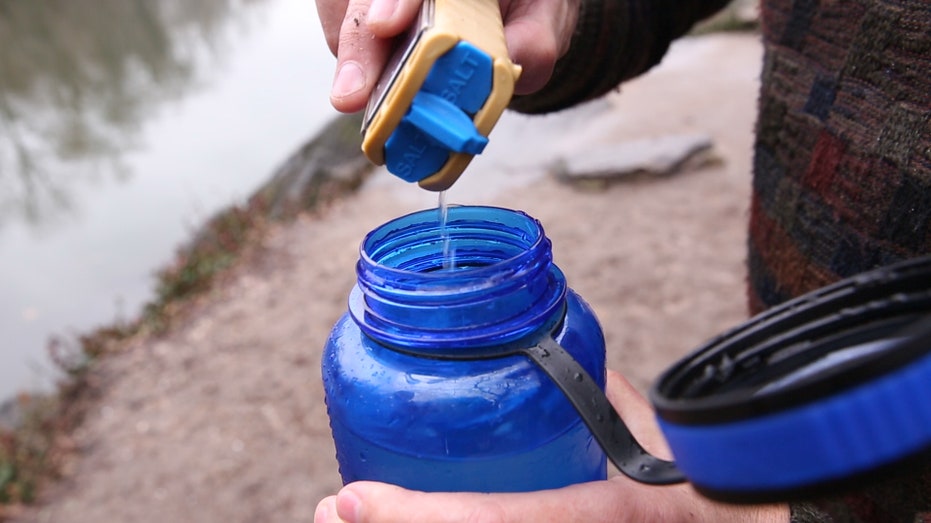 "The cost of fixing piped water treatments is expensive, and it's not something you can do quickly or cheaply," adds Mintz.
Rodney Herrington, CEO of Aqua Research, has developed a hand-held device he thinks can help.
"The H2Go Purifier takes salt water, sodium chloride, and removes the electrons from the chloride to make chlorine; a very strong disinfectant that kills virus, bacteria and protozoa. Everything in the water," Herrington tells FOX Business.
Originally developed for the military, the second generation handheld device was made with helping developing nations in mind. It runs off of a rechargeable or solar-powered battery, and for just 50 cents a year, it can provide clean water to a family of four for a year.
"This little device can disinfect water that comes out of a mud puddle" says Bill Horan, President of Operation Blessing. Operation Blessing is a global humanitarian charity organization that is teaming up with Aqua Research to distribute and educate people on the devices worldwide.
"We've used the H2gO in over 20 counties… most of what we have done with them is in a disaster relief setting and they have been especially useful in refugee camps with so many people running from ISIS," says Horan.
Most recently, Operation Blessing has distributed the device in Peru, which is suffering from catastrophic and fatal flooding.
According to the CDC, water and sanitation interventions are cost effective across all world regions and can produce economic benefits from $5 to US $46 per $1 invested.
Mintz says devices like H2gO are commonly used to help treat contaminated water at its source. While still considered temporary and not an ideal solution, "they are very helpful during emergencies or people who don't have access to water source… they are not ideal, but they are getting better and they can be used as interim solutions."
Wednesday is World Water Day and the call for clean water is being heard globally.
"Water is the root of public health. If you don't have clean water, how can you stay healthy?" asks Horan.
"We have to value it [water] and not waste it… we don't want to waste water and take all that good water that comes at a cost… and not conserve it," says Mintz.
Watch Rodney Herrington's demonstration of the H2gO Purifier when he disinfects a lake in Central Park, NY and click here for information about Operation Blessing.