Will Trump Shake Up the Auto Industry?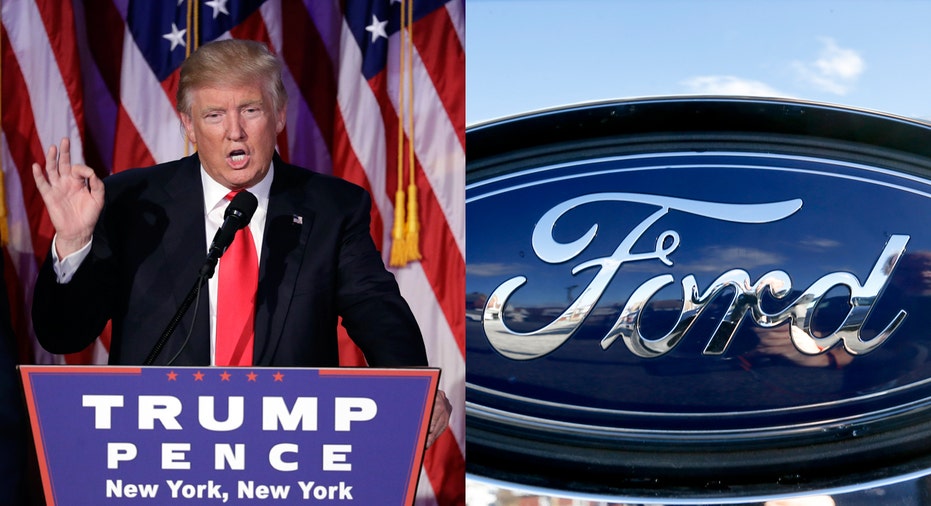 Donald Trump's agenda on trade and environmental regulations has raised major questions about the road ahead for car companies.
On the campaign trail, Trump frequently criticized Ford (NYSE:F) and the North American Free Trade Agreement (NAFTA), saying trade deals have cost American jobs, especially in the manufacturing sector. The transition team currently forming the Trump administration has already signaled that reforming U.S. trade deals will be one of the first tasks undertaken by the President-elect next year.
The incoming administration also has its sights on environmental regulations imposed by President Barack Obama and the Environmental Protection Agency. For car companies, this means fuel-efficiency rules that some in the industry view as overly burdensome could be up for significant changes.
The Alliance of Automobile Manufacturers, a trade group that represents top automakers including General Motors (NYSE:GM) and Ford (NYSE:F), sent Trump's transition team a memo that highlighted its positions on issues like the federal government's emissions standards. The organization has pushed for reform amid cheaper gasoline prices and weak sales of electric vehicles.
Federal agencies recently began a midterm review of the 2012 Corporate Average Fuel Economy (CAFE) program, which stated that automakers would have to more than double their fleet-wide fuel economy to 54.5 miles per gallon by model-year 2025.
Mitch Bainwol, president and CEO of the Alliance of Automobile Manufacturers, told Congress that federal rules can't ignore a consumer shift from passenger cars to sport-utility vehicles, while electric cars struggle to gain traction. Plug-in electric cars make up less than 1% of sales.
"Much has changed in four years – most notably, fuel prices and changes in consumer purchasing habits. These changes are important to keep in mind because automakers are ultimately judged not by what they produce but by what consumers buy," Bainwol said in his congressional testimony.
The CAFE deal allowed for both sides to take a second look at the regulations in 2017, coinciding with Trump's rise to the White House. Final rules are expected in early 2018.
Ticker
Security
Last
Change
Change %
GM
GENERAL MOTORS CO.
38.57
+1.15
+3.07%
F
FORD MOTOR CO.
13.63
+0.51
+3.89%
FCAU
n.a.
n.a.
n.a.
n.a.
Other potential changes coming next year and beyond may throw a wrench into the auto industry's supply chain.
Trump's attacks on Ford focused on the automaker's plan to construct a $1.6 billion factory in Mexico, where it will hire 2,800 additional people. Ford expects to begin assembling small cars at the plant in 2018. Eventually, all of Ford's small-car production will be concentrated in Mexico. Ford CEO Mark Fields has argued that new models in the U.S. would replace car production going south of the border, thus preventing any loss of jobs. He confirmed this week that Ford's Mexico plans have not changed.
Even before Inauguration Day, Trump is touting progress on the issue. On Thursday evening, Trump posted a message on Twitter (NYSE:TWTR) saying he spoke to Ford Chairman Bill Ford, who told the President-elect that Lincoln production would remain at the company's Louisville, Ky., plant.
Just got a call from my friend Bill Ford, Chairman of Ford, who advised me that he will be keeping the Lincoln plant in Kentucky - no Mexico

— Donald J. Trump (@realDonaldTrump) November 18, 2016
Under terms of a new labor deal negotiated last year, the United Auto Workers union gave Ford the green light to build the Lincoln MKC compact SUV at a factory in Mexico. The production move would allow Ford to build more Ford Escapes in Louisville. But sales of the Escape have slipped in recent months, and demand since the start of 2016 has been roughly flat compared to last year.
Ford also said it looks forward to working with the Trump administration to "support economic growth and jobs," according to a statement provided after Trump's victory over Hillary Clinton.
Trump has argued that NAFTA, a wide-ranging trade agreement with Canada and Mexico, is an unfair deal that hurts American jobs. Cars shipped from Mexico to the U.S. face no taxes, while Mexico imposes a tariff on cars imported into the country. During the campaign, Trump proposed implementing tariffs as high as 35% to encourage automakers to keep production in the U.S.
Shares in Ford and GM slipped in the wake of Trump's win, but the stocks soon recovered as traders plowed into equities in the hope that the incoming administration will be a sparkplug for the economy.
Efraim Levy, an analyst at CFRA Research, believes Trump will back away from his toughest stance on U.S. trade policies.
"Even with some potential tariff costs to automakers, we believe GM and Ford will have time to flex production and regional sales to mitigate the impact," Levy wrote in a note to clients.
As for the UAW, which publicly endorsed Clinton, the union suggested it will work with the Trump administration on trade policy. During a press conference following Trump's victory, Williams called Trump's position on trade "right on."