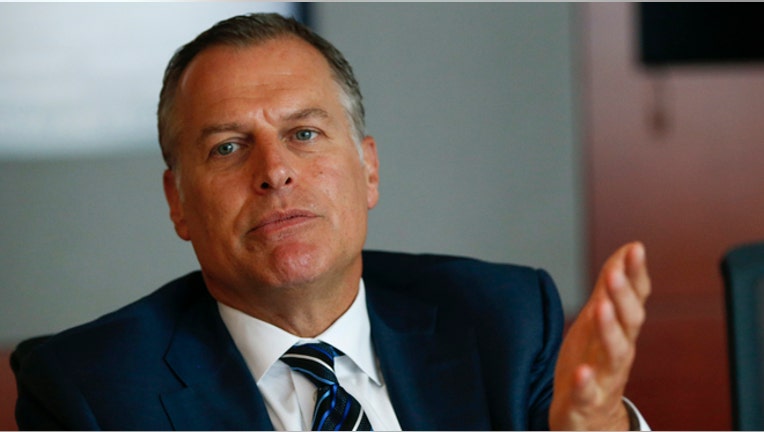 The era of wheatgrass and meditation may be coming to an end at Merrill Lynch. The bigger question is whether the executive who ushered in the touchy-feely cultural change at the nation's premier brokerage firm will go with it.
Merrill's brokerage chief, John Thiel, skipped an important dinner meeting on Tuesday night with top-producing financial advisers in Orlando, Fla. His actions came just days after the FOX Business Network was first to report Thiel's efforts to soften the once hard-driving culture of Merrill's brokerage unit have begun to backfire, as advisers leave the firm in increased numbers, and clients start to bolt as well.
Known inside Merrill as the "wellness initiative," Thiel has been advocating his employees embrace a New Age cultural lifestyle that includes meditation and drinking wheatgrass and cucumber juice during firm gatherings.
Thiel has also encouraged brokers to embrace a "noble purpose" while selling stocks and bonds to their clients, take naps during the day and play bongo drums. Brokers were also forced to sit through seminars by Davidji, a self-described "internationally recognized meditation expert" who studied at the Chopra Institute.
But at the meeting on Tuesday night, without Thiel present, the old Thundering Herd, as Merrill's brokers are known, was back on display. Speeches from management included testimonials about veteran brokers, and remarks about financial markets. Also noticeably absent: Any trace of wheatgrass or cucumber juice on the menu, or any of the so-called wellness gurus or New Age lifestyle experts Thiel featured at past events.
Instead, brokers feasted on "meat, potatoes and booze," according to one person who was present. "It's the way you're supposed to feed the Thundering Herd."
Thiel didn't return a telephone call for comment.
A Merrill spokesman said Thiel hosted what is a four-day training seminar that began on Monday, but confirmed he didn't attend the dinner meeting. The spokesman wouldn't say why the executive decided to skip the dinner meeting, which in the past has been hosted by the firm's brokerage chief.
Thiel became head of Merrill's brokerage unit in 2011 after a long career at the firm. Merrill, once regarded as Wall Street's premier brokerage firm, was purchased by Bank of America (NYSE:BAC) in the fall of 2008 during the height of the financial crisis. Since then, brokers have been under pressure by management to adapt to a jarring cultural change that includes selling products the bank is pushing on its salesforce.
All this occurred while Thiel, a devotee of self-improvement expert Dale Carnegie, has attempted to bring another cultural change to Merrill. The problem for Thiel is that many brokers, already frustrated by the bureaucracy of working at a big bank, are growing even more frustrated with the lifestyle changes he is advocating.
Some major producers are now calling for Thiel to be replaced, pointing to the increasing low morale among many financial advisers and the loss of major brokerage teams to rivals, such as the veteran team from Miami that recently left for Wells Fargo.
Brokers also appear to be fleeing the firm in even larger numbers of late; internal brokerage statistics from a rival obtained by FOX Business show when you take away advisers working on Merrill's online trading system, known as Merrill Edge, the number of brokers at the firm falls significantly below the 15,000 level that's generally advertised to around 14,000.
One Merrill Lynch internal document reviewed by FOX Business also shows the firm lost more brokers than it brought in for 12 of the past 13 weeks. The firm is also having difficulty winning accounts from investors known as "priority households," or those with more than $250,000 in assets. These accounts are the most lucrative for the brokerage industry, and Merrill's rate of winning them, the document shows, recently fell to its lowest level in years.
A Merrill spokesman declined to comment on Thiel's future.