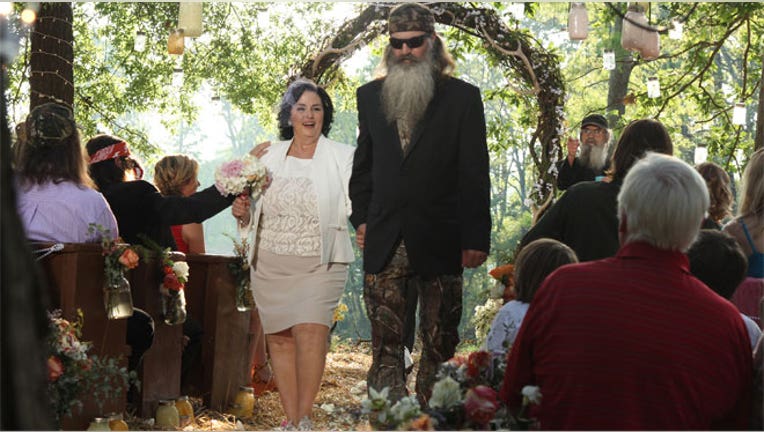 The multi-million-dollar Duck Dynasty franchise might have made its last call.
The Louisiana bayou family, which climbed to fame on the A&E reality show "Duck Dynasty" has sold millions of guns, books, duck callers and even fake beards since the show launched in 2012. But the cash flow could take a hit after family patriarch Phil Robertson's anti-gay remarks in the latest issue of GQ Magazine.
Robertson told the magazine homosexuality was "illogical," and said, "Everything is blurred on what's right and what's wrong... Sin becomes fine. Start with homosexual behavior and just morph out from there. Bestiality, sleeping around with this woman and that woman and that woman and those men."
A&E announced it had suspended Robertson from the show indefinitely.
The show averages 14 million viewers an episode, and its fifth season kicks off on Jan. 15. The 20-member family makes $200,000 an episode, divided amongst the nine adults and 11 children. E! News reports the family was projected to have made more than $44 million on the Duck Commander alone in 2013.
Forbes reports that by the end of 2013 that Duck Dynasty merchandise will have raked in $400 million in revenues, nearly half of which come from Wal-mart stores alone.
Robertson , who is a No. 1 best-selling author, with his memoir "Happy, Happy, Happy," told FOX 411 in a statement: "I myself am a product of the 60s; I centered my life around sex, drugs and rock and roll until I hit rock bottom and accepted Jesus as my Savior. My mission today is to go forth and tell people about why I follow Christ and also what the bible teaches, and part of that teaching is that women and men are meant to be together. However, I would never treat anyone with disrespect just because they are different from me. We are all created by the Almighty and like Him, I love all of humanity. We would all be better off if we loved God and loved each other."
Peter Shankman, branding expert and author of Nice Companies Finish First expects the family's empire to take a hit from the remarks.
FOXBusiness.com reached out to Wal-mart (NYSE:WMT) which sells a variety of "Duck Dynasty" inspired gear,  firearms manufacturer Mossberg, who has a gun partnership with the family, and Howard Publishers, who handled the memoir.
At press time, Mossberg said it had no comment on the situation and the other two companies had not returned requests for comment.
Shankman says sales on products might not see an immediate sell off following the comments because "those who were planning to buy 'Duck' merchandise for the holiday season likely already spent their money."
He says the biggest loss could come from advertisers pulling out of the show.  "The people who buy that stuff are their audience. What they should be worried about are advertisers. I wouldn't want to be A&E right now."
Robertson's comments about his remarks to the magazine didn't include an apology, Shankman notes. "…I don't think the activist groups will take anything less than that. This is a No. 1 show and it will hurt A&E big time if that happens," he says.
Fans of the show know that Phil plays a central role on the show. .
"The problem is, he is the leader of the show," Shankman says. "Without him, you don't really have a show. The premiere is in four weeks, and if A&E backs down, they are seen as weak."
GLAAD slammed Robertson's comments and called on the network to take action. A&E responded saying, "His personal views in no way reflect those of A&E Networks, who have always been strong supporters and champions of the LGBT community. The network has placed Phil under hiatus from filming indefinitely."
Some free-speech advocates and fans have rallied behind Robertson, but only time, ratings and sales, will tell if Robertson's remarks will have long-term financial consequences.