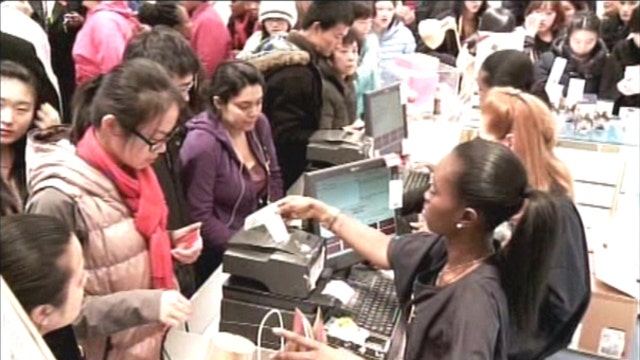 A new study out of Nielson shows that 40% of Black Friday shopping will take place online. This comes as stores such as Target (NYSE:TGT), Kohls (NYSE:KSS), Best Buy (NYSE:BBY) and others are opening their doors as early as 6 a.m. on Thanksgiving.
"The channel where consumers are shopping more is online," James Russo, Senior Vice President of Global Consumer Insights at Nielsen told Fox Business. "That has been the case for the past several years, with a jump of 19% planning to spend more online this year."
This has many asking why retailers are opening their doors so early if consumers will be shopping online rather than venturing out to the physical stores. Some industry experts say the answer is both that opening early makes it more of an event and retailers want consumers to come in to the store in hopes they make impulse purchases.
"Retailers are going out earlier and creating buzz in a tough but improving marketplace," Russo added. "Brick-and-mortar continues to drive traffic and sales but online is now a key player as well."
Others say this is because retailers are catering to all customers. "What we found when we surveyed online customers about purchases is that 23% like seeing the physical product before they buy," Neil Patel, co-founder of Crazy Egg, Hello Bar and KISSmetrics said in an interview. "Additionally, we found that 61% of the people who shop during Black Friday don't know what they want to purchase, instead they are just looking for deals."
Whether creating buzz or attempting to please a greater portion of shoppers, there is no denying that retailers are continuing to expand the holiday shopping season, which accounts for more than one-fifth of their sales for the year. Many are even airing holiday ads as soon as the back to school shopping season comes to an end.
Outside of ads, another tactic used to create buzz comes in the form of doorbusters, the super-cheap but limited in quantity deals aimed at getting shoppers inside stores on Black Friday. In the past these deals had been so limited in quantity that shoppers were often opting to just stay home. But in an attempt to lure those shoppers off the couch and into the store, DealNews, a website that specializes in finding the best retail markdowns, expects more retailers to offer a handful of "guaranteed" doorbusters this year. This means qualified shoppers will get a voucher that ensures they get the item even if supplies run out. Walmart (NYSE:WMT), the world's largest retailer, did this last year with great success.
Cyber Monday has also emerged as the busier day of the two. According to Nielsen's survey, 55% are planning to shop on Cyber Monday while 52% said they will be shopping on Black Friday.
But consumers planning to buy a majority of their gifts on either of these two days may not be getting the best deal. This year, Adobe Systems, a digital marketing and digital media solutions firm, predicts that the season's best deals will occur before Black Friday has even begun, saying Thanksgiving itself will likely offer the best deals. The firm expects an average discount of 24%.
Adobe Digital Index (ADI) predicts that retailers are going to try to lengthen the shopping period by targeting consumers with great deals as early as the Monday before Thanksgiving. The firm is predicting that both the Monday before Thanksgiving and Thanksgiving Day itself will be the best days to shop online.
"In the United States, especially, consumers have been conditioned to wait for Black Friday deals before they start holiday shopping," Tyler White, an analyst at ADI said. But since this this holiday shopping season will be just one day longer than last year, which was the shortest shopping season since 2002, "retailers will concentrate on lengthening the season, beginning it on the Monday before Thanksgiving by offering deals then."