Why Your Next Car May Be an App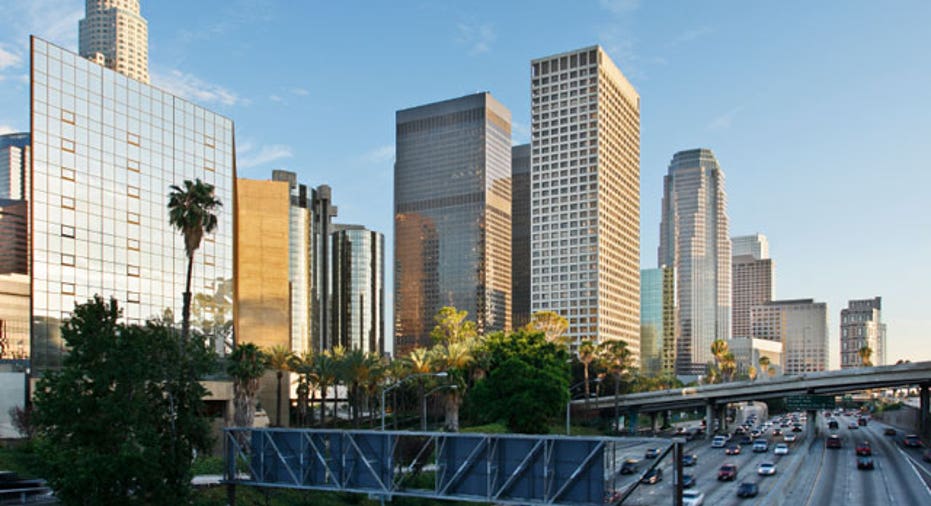 First computers took up entire rooms. Then they turned personal and went mobile. Soon, they will drive us from place to place. And life will never be the same.
Over the next four or five years, a who's who of car and tech giants will go head-to-head in a colossal collision over autonomous vehicle technology that promises to completely reshape the automotive and transportation services industries.
Accelerating the massive mashup are three disruptive technological shifts, all coming together at the same time: the transition from human to self-driven cars, from gas to electric vehicles that more easily adapt to computer control, and from automobile ownership to ride sharing and public transportation apps.
When the dust settles, there may be little reason for many, if not most of us, to own cars. The same may go for long-haul trucking. Transportation of people and goods will be just another service with a simple ride hailing app at our fingertips and all the logistics in the cloud.
Perhaps the biggest hurdle that companies face is consumer acceptance of the technology, which is pretty low at present. Polls show that most of us are dubious of going driverless. Besides, Americans like to drive and tend to become very attached to our cars. For many, they're our most prized possessions.
Concern over the technology's safety will likely subside as it becomes widely accepted in society. But giving up the wheel is another matter entirely. That's why ride-sharing and public transportation services make sense as initial applications for autonomous vehicles. In that case, you're less likely to care if your driver is human or not.
Google has been developing the technology for many years, logging millions of test miles, mostly in the San Francisco Bay Area. But the program, now under parent company Alphabet, has been hemorrhaging talent, including the loss of three key executives since hiring former Hyundai USA CEO John Krafcik to run the operation.
The company recently began testing a carpool ride-sharing service based on its Waze navigation app. That might turn out to be a strong entry-point for commercialization of a fleet of 100 self-driving minivans that Fiat Chrysler is slated to build using Google's autonomous technology.
That would put the search giant on a head-on collision with Uber. The irony is that Google invested $258 million in the ride sharing startup back in 2013 and SVP David Drummond sits on Uber's board. I expect that awkward situation to be relatively short-lived, as Uber's uber-competitive CEO Travis Kalanick has clearly indicated that the battle lines are drawn.
Over the past couple of years, Kalanick has amassed an enormous team of experts in the field of driverless car technology, many of whom came from Google and Carnegie Mellon University's vaunted robotics department, which explains why the unit is based in Pittsburgh, PA.
Last month, Kalanick agreed to acquire driverless truck startup Otto and named co-founder Anthony Levandowski, also an ex-Googler, to head up Uber's entire autonomous vehicle program. He also inked a deal with Volvo to outfit 100 self-driving Volvo XC90 SUVs and deploy them as Uber cars this year in Pittsburgh, albeit with a human overseer in the driver's seat. Fully autonomous deployment is expected in 2021.
Uber may have an additional advantage over its rivals. One of the ways a smart vehicle anticipates problems is by comparing what its sensors detect in real-time with known mapping of the street or highway it's travelling. Anything new is something to avoid. And Uber cars have reportedly been mapping about 100 million miles of road every day.
Of course Apple has its own self-driving electric car program, which Tesla CEO Elon Musk has called Silicon Valley's worst kept secret. In May, Apple announced a $1 billion investment in Didi Chuxing, a Chinese ride-sharing company that also counts Internet giants Alibaba and Tencent as investors.
Back in Detroit, GM has invested $500 million in Uber-competitor Lyft and $1 billion in Cruise Automation, a driverless technology company based in Silicon Valley. The partners plan to begin testing a fleet of self-driving taxis next year. And recent reports indicate that GM is considering acquiring Lyft outright.
I don't know what it is about 2021, but in a big announcement last week, Ford said it plans to roll out fully autonomous vehicles for ride sharing the same year as Uber and practically everyone else. The company claims to have been developing and testing such technology for a decade, with a dedicated team in Palo Alto.
Meanwhile Toyota, which beat everyone to the punch with its Prius hybrid, has been less aggressive on this front. For the time being, the world's biggest and most profitable automaker will be focused on what it calls "guardian angel" technology that will learn a driver's patterns and advise corrective action to prevent accidents from occurring.
This is definitely shaping up to be a battle for the ages. One thing's for sure. Our cars are going to become a whole lot smarter. Let's hope they never develop emotions like road rage.