Why Your credit Card May Not work Overseas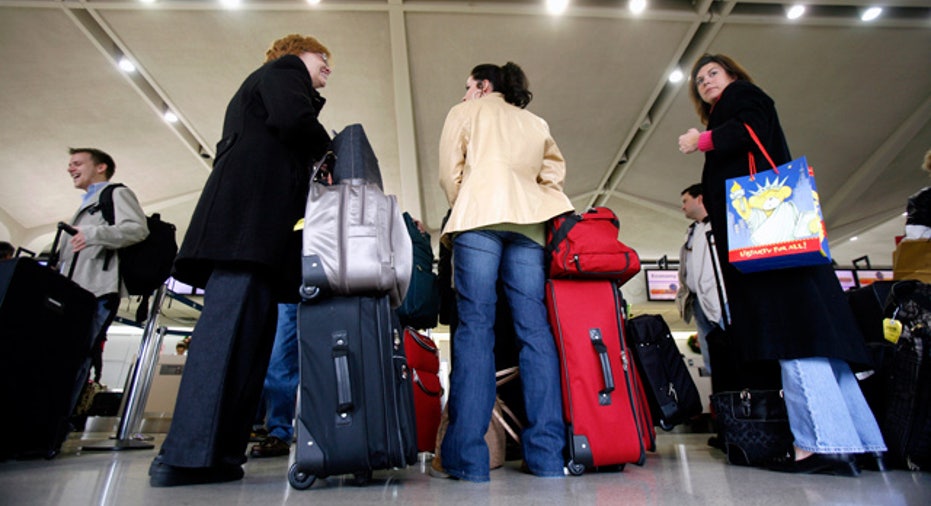 In addition to the weak dollar and rising airfare, travelers headed overseas this summer have yet another headache to contend with: the possibility that their credit card might not work, especially at unattended kiosks in train stations or tollbooths. That's because the United States is one of the few countries that has not adopted the chip and PIN credit card system in place of magnetized strips.
The U.S. pay infrastructure is set up so after you swipe your credit card, "the terminal instantly contacts the bank's servers and asks for authorization," says Philippe Benitez, a vice president of secure transactions for Gemalto, a digital security firm that also provides chip-based cards. "This mechanism has worked well for the U.S., and they've been able to keep fraud at an acceptable level for banks."
However, that process hasn't worked as well in other parts of the world where telecommunications is more expensive, so "they decided to prevent fraud by deploying chip technology on the cards," Benitez says. "They basically moved some of the intelligence to the card itself."
Instead of contacting the bank's servers for authorization, the card's chip stores information such as its number and amount of transactions, credit limit and expiration date. The cardholder typically enters a PIN -- separate from an ATM PIN -- instead of signing a receipt, so the user experience is similar to a debit card transaction. Security problems like having card information scanned and stolen through a wallet are not an issue with this type of card -- also called EMV, named for original developers Europay, MasterCard and Visa. "(These problems occurred in) U.S.-based contactless cards that were not fully EMV-compliant," Benitez explains.
First standardized in 1995, chip and PIN credit card technology caught on with version 4.0, which became effective in June 2004. More than 130 countries have adopted the system. The United States is the only holdout among the G-20 nations, according to Benitez.
In fact, a 2009 survey conducted by Aite Group, a financial research and consulting company, found that a majority of cardholders surveyed who had traveled outside the United States within the last three years had experienced some difficulty using a U.S.-issued credit card while abroad.
"This is something we're starting to hear more about from our customers and cardholders alike, but it hasn't reached a fever pitch yet," wrote Sarah Ely, vice president of communications at MasterCard Worldwide, in an email. MasterCard is assessing customer needs, and a few other card issuers are rolling out EMV-enabled cards this year.
The United Nations Federal Credit Union, in New York, and the State Employees' Credit Union, based in Raleigh, N.C., already offer EMV technology to members.
And Chase Card Services announced plans earlier this year to deploy it. It would be the first major U.S. bank to do so.
"Card members who currently have the JP Morgan Palladium card will have the option to request a card as early as June," said Chase Card Services spokesman Rob Tacey. "The chip-enabled cards will be made available to other Chase branded cards and co-branded cards before the end of the year."
Meanwhile, Wells Fargo is pilot testing the Visa Smart Card, which includes a magnetic strip and EMV chip technology, this summer. About 15,000 current customers who travel abroad will get their cards in July or August of this year, says Lisa Westermann, assistant vice president of public relations for Wells Fargo & Co. "If all goes well, we hope to offer the card to more customers," she says.
Although card issuers say their non-chip-enabled, magnetic strip cards are still accepted by overseas merchants who've adopted the newer technology, problems can arise when an attendant doesn't know how to process a magnetic strip card or when a credit card terminal is unattended. "We have heard of cases where some U.K. shops don't accept these cards, usually caused by misunderstanding by that shop's management as to the situation regarding non-EMV cards," wrote Mark Bowerman, spokesman for the UK Cards Association, in an email.
Benitez recalls a trip to France last year when he gave a few euros to help out a New Yorker who was stuck on a road median, "because he didn't have cash or a chip and PIN card" to pay the toll. He adds that some merchants are reluctant to accept magnetic strip cards, "because they're afraid they'll get a charge-back if it's a fraudulent card."
Still carrying a magnetic strip card? Here are three ways to avoid problems while traveling abroad.
Notify your card issuer about your plans. It's a good idea to alert your bank before traveling internationally, as some will freeze your credit card as a security measure after it detects unusual activity. While you're on the phone, it can't hurt to ask if it offers chip and PIN credit card technology to customers who travel internationally, as some issuers are starting to do so.
Carry cash. One surefire way to ensure you never wind up like the New Yorker mentioned above is to carry the local currency in addition to a credit card and debit card. Even if a merchant can't (or won't) accept your card, cardholders have other options. For instance, "Visa cardholders can also access local currency at 1.7 million ATMs around the world," wrote Ted Carr, a Visa spokesman, in an email.
Find an attendant. Automated ticket machines at train stations or gas stations might save time, but if the machine doesn't recognize your credit card, you're better off dealing with a real person. "In the rare instance that a cardholder encounters a problem, such as at an unattended ticket machine that does not recognize nonchip cards, cardholders should present their card to an attendant or agent (e.g., at ticket windows)," wrote Carr. Allow extra time for waiting in lines or even better, try to order tickets online before you go.