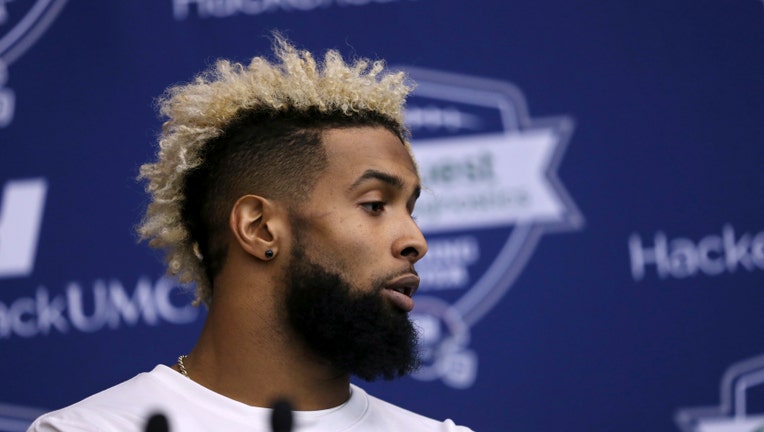 New York Giants star Odell Beckham's new endorsement deal with Nike this week reportedly shattered the previous record for the richest NFL shoe deal, but it still pales in comparison to the type of money that top NBA stars like LeBron James or James Harden command for their basketball sneaker contracts.
Beckham, who is one of the NFL's most recognizable names, signed a five-year deal worth about $5 million annually – more than twice the amount Nike previously shelled out for its most expensive NFL deal, according to ESPN. By comparison, James' lifetime deal with Nike is worth a purported $1 billion, while Harden's deal with Adidas is worth $200 million over 13 years – and they're just two among many NBA players who have nine-figure shoe deals.
The difference in asking price between top NBA players and top NFL players is primarily a result of "basic supply and demand," according to Jonathan Jensen, a sports sponsorship consultant and assistant professor at the University of North Carolina at Chapel Hill. With just five starters per team, the NBA has far fewer players than the NFL, whose teams have 22 starters and 53-man rosters.
"When a brand wants to connect with consumers using an athlete endorsement, there is just a far greater supply of baseball and football players, which drives prices down for them," Jensen told FOX Business. "Basketball players and individual athletes like tennis players and golfers are always going to command higher prices given there's so many fewer of them."
Beckham re-signed with Nike after the sports apparel giant engaged in a bidding war with Adidas, the German brand that has grown rapidly in the North American market in recent quarters. The 24-year-old boasts a massive following on social media platforms like Instagram and Twitter, a cadre of celebrity friends that includes rapper Drake, and a solid portfolio of marketing deals with companies like Head and Shoulders.
As trends have shifted away from performance categories and towards fashion-first retro and classic styles, apparel brands have sought to partner with celebrity influencers – and athletes – who can appeal to all consumers, not just sports fans.
Nike's deal with Beckham reportedly calls for the Giants wide receiver to serve as a brand ambassador in campaigns beyond football – a rarity for players in his sport. Top basketball players are generally considered more "instantly recognizable" on the field of play than football players, who wear helmets, Jensen said.
Beckham is among the first NFL players to sign with an apparel brand to endorse more than just footwear. New England Patriots star Tom Brady, who has an equity deal with Under Armour, has collaborated with the brand on a clothing line, including high-end "athletic sleepwear."
Jensen notes that it is inherently harder to sell footwear in sports like football and baseball, which require cleats, compared to basketball, where players use sneakers that can be worn in any environment.
"Cleats aren't worn in public. In terms of shoe deals, that has always made the basketball market that much stronger than baseball and football," Jensen said.