Why Ferrari May Be Worth $11 Billion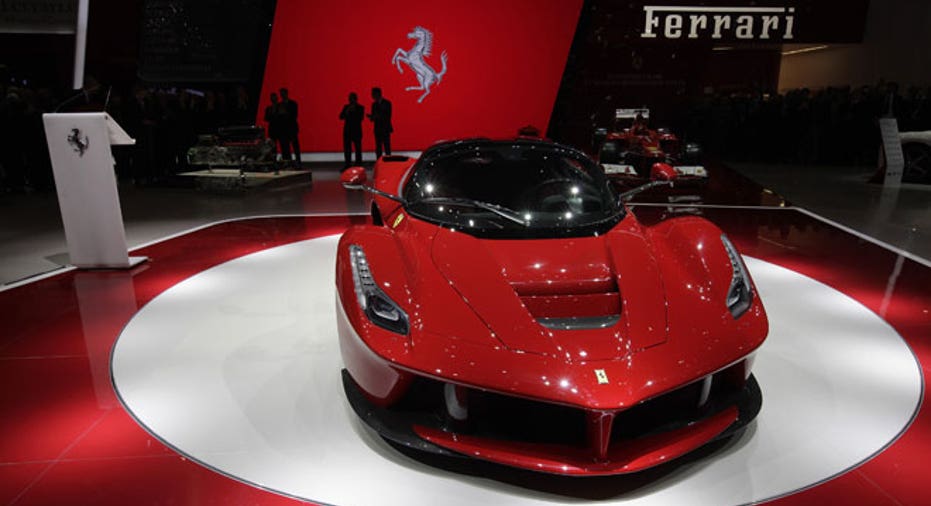 Ferrari has officially filed for its highly anticipated initial public offering. But how much is the supercar maker worth?
Sergio Marchionne, CEO of parent company Fiat Chrysler Automobiles (NYSE:FCAU), has said Ferrari could be valued at more than 10 billion euros, or about $11 billion. Most analyst projections are lower. Morningstar has estimated a valuation of $7.4 billion.
Financial information provider Sageworks noted that Ferrari "is a luxury brand with the financials to match its clout." The manufacturer behind the $1 million-plus LaFerrari has nearly half a billion dollars in cash flow from operations and a net profit margin approaching double digits.
At a valuation of $11 billion, Ferrari would be going public at roughly 14-times earnings before interest, taxes, depreciation and amortization. Another iconic motoring brand, Harley-Davidson (NYSE:HOG), trades at a lower multiple.
"[Ferrari] should trade at a premium to most car makers, given its strong brand and licensing revenue," said Renaissance Capital analyst Matt Kennedy. Renaissance Capital manages IPO-focused ETFs.
Sageworks chairman Brian Hamilton said Ferrari is shaping up to be a reasonably priced offering, "as long as the valuation doesn't outrageously pop ahead of the IPO."
Ferrari shipped 7,255 cars in 2014 and booked approximately $3 billion in revenue, an 18% increase over the prior year. Its profit rose 7.7% to $291 million. First-quarter results showed an uptick in revenue and income for the first three months of 2015.
Leather Jackets and Theme Parks
Fiat Chrysler first revealed plans to spin off Ferrari in October. Given the differences between the company's mainstream and luxury brands and its Ferrari marque, most analysts were clamoring for the move.
Marchionne has repeatedly stressed that Ferrari's growth prospects extend beyond the supercars themselves, and a split from Fiat Chrysler would allow the subsidiary to maximize its value.
For instance, Ferrari operates a museum at its Maranello, Italy, headquarters and sells a wide range of licensed merchandise. Ferrari-branded sportswear, watches and other gear are sold online and through 32 stores (23 of which are franchised). Ferrari is "one of the world's most recognized premium luxury brands," the company said.
Leather jackets on Ferrari's online store are priced as high as $1,700. Replica Formula 1 hats go for $48.
Ferrari also has a theme park in Abu Dhabi and another one in the works near Barcelona. More Ferrari World parks could be on the way. The company hopes to open a Ferrari World in each of Ferrari's main geographic locations, including North America and Asia.
As for the cars, there has been speculation that Ferrari may lift its annual production cap of around 7,000 vehicles. In Thursday's filing with the Securities and Exchange Commission, Ferrari revealed that it plans to gradually increase shipments to approximately 9,000 cars per year by 2019.
Brand loyalty is sky-high, as 60% of all new Ferraris sold last year were purchased by current owners. Ferrari said 34% of its clients own more than one Ferrari car.
Formula 1 Racing
Ferrari does not spend on traditional advertising. It chooses to instead concentrate its marketing resources on Scuderia Ferrari, the company's prestigious Formula 1 racing team. Roughly 425 million television viewers watch Formula 1 annually, according to Ferrari.
Scuderia Ferrari had a rough season last year with zero wins in 19 races. In March, driver Sebastian Vettel won the Malaysian Grand Prix to record Ferrari's first win since May 2013.
Formula 1 factored into Marchionne's decision to take over the position of Ferrari chairman from Luca Cordero di Montezemolo, who was forced to resign after leading Ferrari since 1991.
Ferrari also named a new Formula 1 managing director, Maurizio Arrivabene, in January. Arrivabene is the fourth executive listed in the IPO filing, trailing only Marchionne, Chief Executive Officer Amedeo Felisa and Chief Financial Officer Alessandro Gili.
NYSE Listing in October?
The Ferrari IPO is expected to conclude later this year, although Fiat Chrysler was looking to spin off Ferrari earlier in 2015. Due to a tax ruling, the process has to wait until a year has passed since Fiat Chrysler officially merged and hit the U.S. stock market.
So Ferrari shares will be listed on the New York Stock Exchange on Oct. 13 at the earliest. When trading does begin, the power of the Ferrari brand may offer an extra boost.
"It should have a bit of a cult following, a stock that people just want to own," said Kennedy, an analyst at Renaissance Capital.
Fiat Chrysler said it will offer 10% of Ferrari to the public, while 80% will be distributed to Fiat Chrysler shareholders. Piero Ferrari, the son of founder Enzo Ferrari, owns the remaining 10%.
Ferrari, whose corporate residence will be located in the Netherlands, has yet to disclose the number of shares it will sell, the expected price range or a ticker symbol.