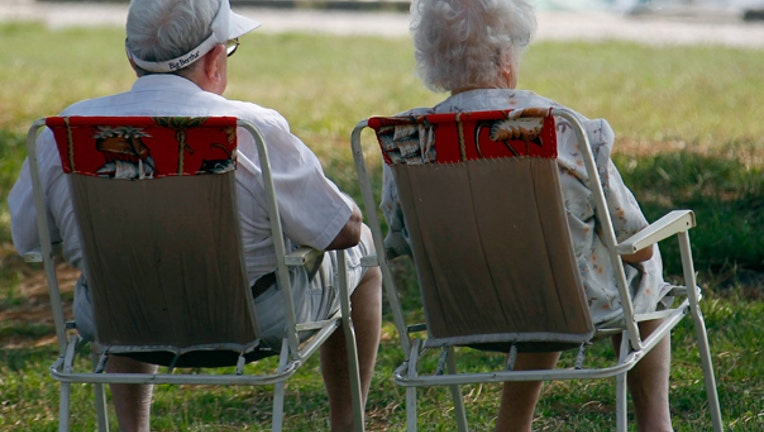 Baby boomers are rewriting the history books when it comes to retirement. Advances in technology and medical care along with our lifestyle changes means we are staying healthy and living longer than our parents and grandparents.
Boomers have also pushed back the normal retirement age, whether it's for personal or economic reasons, which has changed the landscape of life after work.
The National Council on Aging (NCOA), UnitedHealthcare, and USA Today recently released a survey that finds seniors and boomers are upbeat about aging, but uncertain about the long-term outlook of their health and finances. The United States of Aging Survey was conducted to examine seniors' outlook and preparedness for aging and their perceptions of their community's ability to meet their needs as they age.
I spoke with Dr. Rhonda Randall, chief medical officer at UnitedHealthcare Medicare & Retirement, about the survey, and here is what she had to say:
Boomer: The survey finds that many baby boomers, age 60 – 69, expect their quality of life to stay the same or improve over the next five to 10 years – why?
Randall: Boomers have a positive mindset about growing older. Because of advances in health care, people are living longer and living healthier well into old age, so when boomers look around at their peers and at their parents' generation ahead of them, they see many examples of people who are thriving well into their 80s, 90s and even 100s. I think that experience has given boomers optimism and hope for their future.
Boomers also have a better understanding of how to maintain their health, and have greater access to health-care, preventative care and other resources than generations past. The survey shows 91% of Americans aged 60 to 69 feel they communicate very well or somewhat well with their physicians about their health questions, concerns and prescription medications. This clear communication decreases the risk of medication mismanagement and stress that can accompany aging.
We also know that remaining engaged with family, friends and the community is important to our well-being as we age, and we see from our survey and from other studies that seniors have a desire to remain active and vibrant for as long as possible. One in five seniors over the age of 65 who we talked to said they're still employed either full or part time, and the sense of productivity and enjoyment they derive from their work was ranked as more important than income when deciding to stay in the workforce. Maintaining your sense of purpose and your network of relationships, whether through work, volunteering, or simply spending time with your loved ones, is one of the best things you can do as you age.
Boomer: Do boomers feel that they will have to delay retirement due to the recent economic downturn?
Randall: Our survey confirmed what we've seen in other studies – that is many older adults are choosing to continue working past the traditional retirement age of 65. But interestingly, as adults age, their desire to work because they need the money decreases. From the survey, we see that of those older Americans who are still working, boomers ages 60 to 64 cite income as the top factor keeping them employed (80%). This percentage drops to 60% for respondents in their late 60s and 54% for those aged 70 and older.
Respondents aged 65 and older report wanting to stay active and productive as their main reasons for still working (84 percent of those aged 65-69, 77%of those aged 70 and older). Delayed retirement is often thought of as a negative thing, but in many respects, I think it can be good for a person's health and well-being to remain engaged mentally and physically.
Despite seniors' desire to keep working, it is disappointing to note that only 28% of respondents believe their communities offer enough job opportunities for people their age.
Boomer: Why are nearly half of the low and moderate income survey respondents not confident that their income will be sufficient to meet their monthly expenses over the next five to 10 years?
Randall: There's no doubt that the recession has hit the lower middle class the hardest. The survey found that middle- and low-income seniors, or those making $30,000 a year or less, are the least confident of all respondents that they will be able to get the help they need in terms of health care and support services in the years ahead. Nearly half of the low- and moderate-income respondents report difficulties paying their current monthly expenses.
A medical factor that could be contributing to this lack of confidence is that the low- and moderate-income group is the most plagued by chronic conditions. They were considerably more likely than survey respondents with higher incomes to report having a chronic condition. Managing chronic conditions such as diabetes and heart disease can be difficult physically, emotionally and also financially. For many seniors, monthly expenses only increase with health bills, medications and other services needed to support them as they age.
It's because so many older adults struggle with chronic conditions that I emphasize the importance of living a healthy lifestyle to help reduce the chances of developing a chronic condition. Adults of all ages should take a look at the choices they make each day and ask themselves if those choices are supporting their desire to have health and well-being as they age. It's never too late to make a change in how you live. You can make the choice today to take a walk this evening instead of sitting on the couch, or to pick up produce at the grocery store or farm stand instead of grabbing some fried food on the way home. These little decisions all add up and can make a significant difference in how you live as you age.
Boomer:  Do those aged 60 - 69 seem concerned about financial instability in the future?
Randall: Most of our survey respondents seem comfortable with their current financial situation and confident in their future financial solvency. The majority of seniors aged 60 to 69 (65%) reported being able to easily pay their monthly expenses. Seniors aged 60 to 69 also reported that they are very or somewhat confident that their financial plans will last them through retirement (66%) and that they would be able to afford long-term care or support services if needed in the future (51%). But it's important to look at the opposite end of the spectrum as well. A significant portion of seniors (23%) are either not confident in, or do not have, a financial plan for their retirement years.
Boomer: How do boomers feel about having Social Security and Medicare to help them make it through their retirement years?
Randall: The survey found that all of the age groups are somewhat or very confident in their knowledge of the government benefits for which they are eligible. The majority of boomers (68%) reported having confidence in their abilities to afford their Medicare premiums, deductibles and co-payments in future years.
Given the likely reality of what aging will look and feel like for boomers, we should anticipate that they'll be seeking health coverage that helps them stay healthy, manage chronic conditions, maintain an active lifestyle and afford their care. There is an incredible opportunity for Medicare to evolve in a way that allows seniors to access higher-quality care at a lower cost than they are able to today