Wholesale Gasoline Jumps 2.5% as Isaac Sweeps Across U.S. Gulf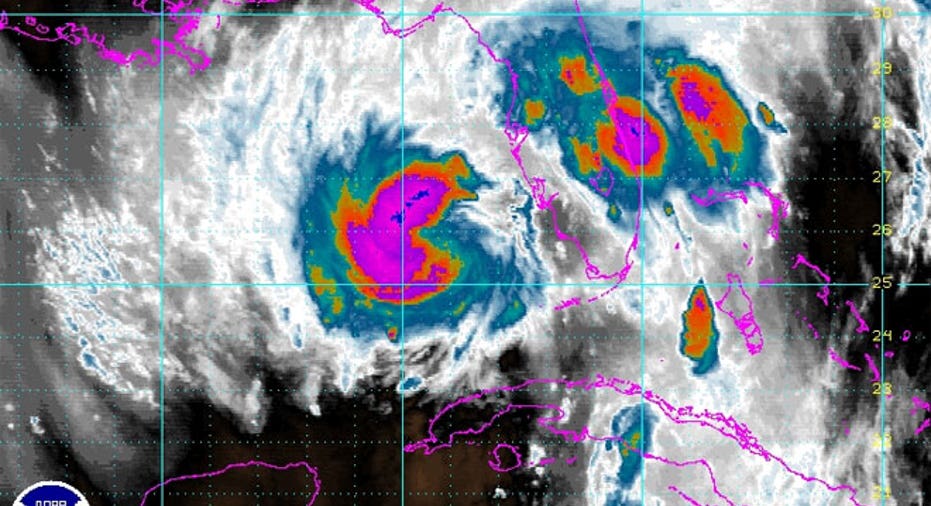 Brent crude oil futures fell toward $112 a barrel on Monday, reversing early gains as Tropical Storm Isaac shuttered refineries on the U.S. Gulf Coast, which reduced demand for crude.
Traders were also eyeing the possibility of western governments releasing strategic oil reserves to moderate prices, with some analysts suggesting the storm could provide the trigger.
While crude prices fell as much as $2 a barrel, gasoline prices jumped due to the storm's threat to the Gulf Coast, home to almost 45 percent of refining capacity in the world's largest oil consumer.
Tropical Storm Isaac churned across the Gulf of Mexico and headed for the Louisiana refining hub, prompting U.S. energy companies to start shutting refineries ahead of the storm and raising prospects for a jump in crude oil stocks. The storm is expected to make landfall by Wednesday.
Brent crude futures fell $1.33 to settle at $112.26, well off the session high of $115.50 a barrel. Traders said they were watching the front-month contract's 200-day moving average of $111.43, a key technical indicator.
U.S. crude fell 68 cents to settle at $95.47 a barrel, off the session high of $97.72. RBOB gasoline futures hit a near four-month peak of $3.2050 a gallon, before settling at $3.1548 a gallon, up 2.5 percent.
Trade was light due to a holiday in London, with volumes for both major crude benchmarks almost a quarter below the 30-day average.
"Traders realize that there is more refining capacity at risk from this storm, and that the risk is also to oil consumption," said analyst Tim Evans at Citi Futures Perspective in New York.
"That's why we see today that crude prices are off and near-term gasoline prices are rising. It is similar to the price action we had ahead of Hurricane Katrina."
Isaac is forecast to become a hurricane on Tuesday and make landfall in Louisiana by Wednesday, seven years to the day since Hurricane Katrina devastated New Orleans and knocked out around 4.5 million barrels per day of U.S. refining capacity.
Isaac is expected to be far weaker, however, with the National Hurricane Center (NHC) saying it is not expected to strengthen beyond Category 1, the weakest type on the five-step Saffir-Simpson scale of hurricane intensity. Katrina was a Category 3 hurricane when it made landfall in Louisiana.
Oil prices have risen nearly 30 percent since June with international sanctions hitting Iranian exports and maintenance affecting North Sea oil flows.    Reuters reported that the White House was "dusting off" old plans for a possible release on fears that rising oil prices could undermine the effect of sanctions on Iran.
"With refineries shutting down along the U.S. Gulf Coast, traders are weighing this up and seeing there may be a glut of crude oil in the market," said Carl Larry, analyst at OilOutlooks in New York.
"Isaac is also adding to talk of a possible release from the Strategic Petroleum Reserve, so traders are cautious at these levels after a two-month long rally," he added.    The International Energy Agency, whose chief recently dismissed the need for a coordinated release, is now thought to have agreed to the idea, an industry journal said on Friday.   
ISAAC IMPACT
Companies including Marathon Petroleum, Chevron and Phillips66 had closed -- or were in the process of closing -- at least 1.1 million barrels per day (bpd) of capacity in Louisiana, according to industry and government estimates.
In another indication that regional crude stocks could rise, a fire burned for a third day at Venezuela's biggest refinery on Monday, raising doubts about a speedy restart to operations.
U.S. oil production has fallen, however, as U.S. energy companies shut offshore rigs in the Gulf of Mexico, home to 23 percent of total U.S. production.
More than 78 percent of Gulf of Mexico oil production was shut-in, the U.S. Bureau of Safety and Environmental Enforcement said, up from 24 percent the previous day.
Oil prices hit a session high of $115.50 a barrel partly on hints of another round of monetary stimulus by the U.S. Federal Reserve ahead of a meeting with Fed Chairman Ben Bernanke later this week.
Oil prices fell from highs after German business sentiment dropped for a fourth month in a row in August to reach its lowest level since March 2010, stoking concerns about the impact of the euro zone crisis on Europe's largest economy.
(Additional reporting by Emma Farge in Geneva, additional reporting by Robert Gibbons and Joshua Schneyer in New York; Editing by James Jukwey, Sofina Mirza-Reid and Bob Burgdorfer)