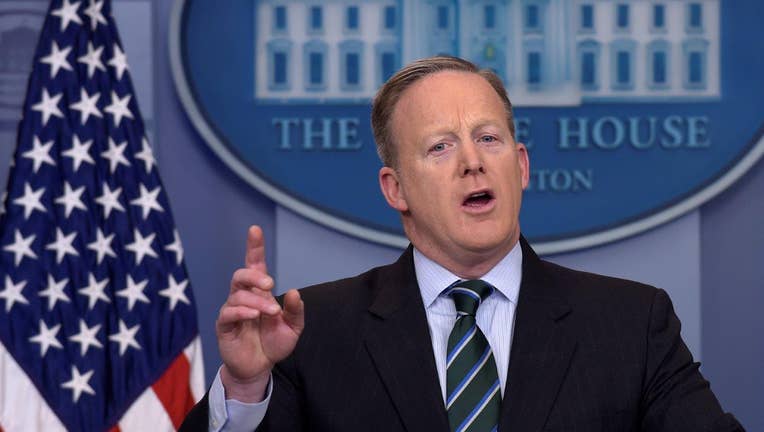 The White House seemed to debunk media reports Wednesday that the Trump administration instructed the Environmental Protection Agency to remove the climate change page from its website.
"No, there is nothing that has come from the White House. Absolutely, not," White House Press Secretary Sean Spicer said Wednesday when asked if there was a broader mandate going out to federal agencies about stopping all speech on climate change. Later Spicer told FOX News' John Roberts that federal agencies have been told to "adhere to their own policies."
Reuters was the first to report that Trump's team instructed EPA's communications team to remove links containing scientific global warming research, as well as detailed dates on emissions. The page was still online as of 3pm ET Wednesday. Before the statement from the White House, InsideEPA.com, an online environmental newsletter, reported that the EPA was temporarily suspending its plans to remove the main climate page amid reports the Office of General Counsel (OGC) is reviewing the "implications" of getting rid of that material. The EPA and OGC declined to provide further comment to FOX Business.
Amid the back and forth on Wednesday the idea of climate change topics being removed from the government agency's website fired up several environmental activists.
"This is a disaster waiting to happen for the climate and it's also a disaster for our democracy when the Office of the President is promoting false information and further more eliminating and censoring all the discussion around it," Jill Stein, former Green Party candidate, told FOX Business in reaction to the Reuters report. "The claim that there are these tens of thousands of jobs waiting here with Pipelines, is absolutely false. We would have a bonanza of jobs with clean and renewable energy."
The non-profit Environmental Working Group also fired off a statement saying the "EPA, like all federal agencies, is funded by taxpayer dollars, and Americans have the right to know what's being done to protect or harm public health and the environment."
"The Kremlin may be able to get away with this kind of iron-handed censorship, but Americans of all political stripes should be furious," EWG's President Ken Cook wrote.
However, whether the site gets an overhaul or not, some EPA critics argue the agency became overgrown under the Obama administration, and its policies created more roadblocks for job growth than they did for reversing rising temperatures – and it is time for change.
"Passing clean air, land, and water to future generations of Americans is one of the most important things we can do as inhabitants of this earth. But, like with all things, there must be a balance. An overzealous, idealistic EPA that asserts its power ignoring the economic realities of regulation only makes the shared goal of protecting our environment more difficult," Rep. Sam Graves wrote in an op-ed last week for the Hannibal Courier-Post.
As soon as Trump took office, all information on climate change was removed from the official White House website. The Obama team had transferred most of the information to www.obamawhitehouse.gov. Additionally, shortly after Trump was elected in November, the Centers for Disease Control and Prevention quietly "postponed" a climate change summit originally scheduled for next month in Atlanta, a CDC spokesperson told FOX Business.
"We are exploring options to reschedule the meeting while considering budget priorities for fiscal year 2017, including the current continuing resolution, and potential overlap with an APHA conference on the same topic also being held later in 2017," a CDC rep told FOX Business.
Trump spoke about his take on climate change in November in an interview with The New York Times, saying that he does think there is "some connectivity" with human activity and climate change, but when it comes to how much government can help fix the problem, it "depends on how much it's going to cost our companies."
"You have to understand, our companies are noncompetitive right now," Trump reiterated to the New York Times at the time.
Former vice president Al Gore, a vocal activist on climate change, told the Hollywood Reporter earlier this month that Trump "was receptive to some of what I had to say [on climate change], and I appreciated that," when the two met in December.