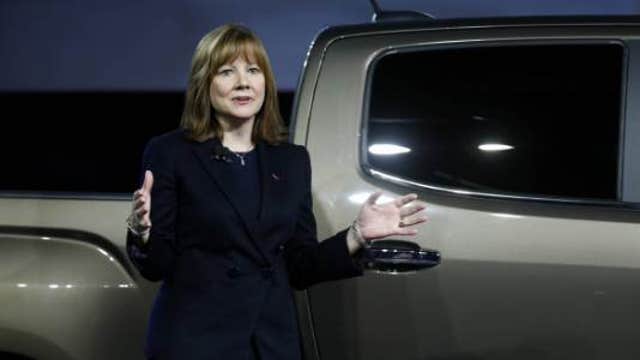 Editor's note: GM announced Monday afternoon that CEO Mary Barra will receive $14.4 million in total compensation this year, including $10 million in long-term compensation. 
Has General Motors' (NYSE:GM) new narrative on chief executive Mary Barra's compensation hit the wall faster than a crash-test dummy?
FOX Business has reported as it stands now, Barra will get $4.4 million in compensation, including $2.8 million in short-term awards and a base salary of $1.6 million in 2014. GM said long-term pay will be forthcoming after or around the time of its shareholder meeting.
However, GM has immediately awarded millions of dollars in long-term pay upon hiring of past CEOs and other senior executives ahead of annual meetings.
GM's silence about Barra's long-term pay is puzzling to executive pay experts, given that major companies routinely disclose long-term compensation details ahead of such meetings.
GM's outgoing CEO and chairman Dan Akerson and U.S. President Barack Obama have applauded Barra for her solid work as head of global product development and for her 33-year career at the company. The president has used GM as an example of successful federal bailout policies started under President George W. Bush that went full throttle under the current administration. At the same time, President Obama decried in his State of the Union address studies that show women make 77% of what men make.
Setting aside the political atmospherics, as GM makes Barra and other executives wait for their long-term pay component, that $4.4 million is less than what Akerson got. He has been getting $9 million, with a larger $1.7 million base salary and $7.3 million in short-term incentive pay, representing a shift away from long-term stock awards because they vest more quickly given his pending retirement. Akerson is a former private equity and telecom chief executive who had no prior experience running an automaker.
As FOX Business has previously reported, a GM spokesman said the automaker is holding off on disclosing long-term compensation figures for Barra and other executives until shareholders vote on this portion of their pay at the company's annual meeting in June, with disclosures expected in its proxy filing with the Securities & Exchange Commission in April (see here: http://www.foxbusiness.com/economy-policy/2014/02/03/white-house-missteps-on-gm-pay-gap/).
However, other publicly-traded companies like IBM (NYSE:IBM), Lockheed Martin (NYSE:LMT), and Archer Daniels Midland (NYSE:ADM) routinely announce their compensation plans, including long-term incentive pay, for chief executives ahead of their shareholder meetings.
The list also includes GM. Unlike Barra, GM immediately gave Akerson $2 million in long-term stock awards upon hiring him as CEO in September 2010. Akerson's total pay package for 2010 amounted to $9.57 million on an annualized basis, a similar pay package granted to his predecessor, Ed Whitacre, who got $9 million for nine months of work in 2010, including promptly getting $2 million in long-term pay upon his appointment as interim CEO. In fact, numerous executives, including at least four GM CEOs and chief financial officers, promptly got multi-million long-term pay packages well in advance of shareholder meetings.
Executives also got pay packages, including solid long-term pay, that was awarded during a time when the government owned 60.8% of GM. At that time, a U.S. Treasury pay czar restricted compensation due to GM's $49.5 billion bailout, a rescue package that left taxpayers in sticker shock.
Even as GM's earnings were falling, Akerson got a 44% increase in compensation in 2012 versus 2011, as the company repeatedly complained about Treasury limitations in SEC filings while he was running the company.
The delay in announcing Barra's long-term pay has executive compensation experts scratching their heads.
"What's the big secret about her long-term incentive pay? There is no law preventing disclosure," said James Reda, managing director of Arthur J. Gallagher, an executive compensation firm.
GM has said in a statement: "The discussion of pay inequality between Barra and her predecessor is premature and flawed." GM also said it is coming up with a new long-term incentive plan to replace its existing 2009 long-term incentive plan.
What's Really Behind GM's Pay Practices?
Setting aside the shrill absolutism of corporate statements, ask yourself, are there other realities behind GM's pay practices?
While it's unclear at this point what long-term compensation GM is considering for Barra, will GM quietly increase her compensation in advance of its shareholder meeting due to media coverage? Given the $9 million compensation given to Akerson and Whitacre upon becoming CEO, will Barra get, say, $5 million more in compensation?
Have reporters gotten lost in the weeds of GM's statements, without seeing the broad-zoom issues around GM's pay practices? Has Barra broken through the glass ceiling, only to find herself in an iron cage?
Is GM's approach to its executive compensation practices for Barra "premature and flawed"?
'What's the Big Secret?'
Executive compensation consultants tell FOX Business GM's lack of disclosures is mystifying.
"There is no federal law, rule, or regulation that says companies must not or are prohibited from announcing or discussing long-term incentive compensation prior to their annual shareholder meetings," said executive compensation expert Reda.
Executive compensation analysts at the consultancy Hay Group also "confirmed that there is no law that would prohibit a company from disclosing long-term incentive pay for senior executives prior to a shareholder meeting."
That lack of transparency is even more puzzling given GM says Barra was crucial to the battered carmaker's revival.
"With 33 years of experience at GM, Barra has risen through a series of manufacturing, engineering, and senior staff positions," GM said in a statement. "She is a leader in the company's ongoing turnaround, revitalizing GM's product development process resulting in the launch of critically acclaimed new products while delivering record product quality ratings and higher customer satisfaction."
Outgoing CEO Akerson also said the appointment of Barra to the top job would transform GM. According to Automotive News, Akerson said in a speech that Barra, 52, was chosen "because of her contributions and solid performance over three decades." (see here: http://www.autonews.com/article/20140108/OEM02/140109868/akerson:-barras-selection-transforms-gms-image).
So if Barra is that transformative, why the wait?
Barra is the first female CEO of GM, a global automaker. But her pay as it stands now ranks below 17 other female executives of major companies, many of which are smaller than GM in terms of revenues, including: Hewlett-Packard (NYSE:HPQ), IBM, Avon (NYSE:AVP), Xerox (NYSE:XRX), PepsiCo (NYSE:PEP), Mylan (NASDAQ:MYL), TJX Cos (NYSE:TJX)., ADM, Duke Energy (NYSE:DUK), Sempra Energy (NYSE:SRE), General Dynamics (NYSE:GD), Campbell Soup (NYSE:CPB), Lockheed Martin, Yahoo! (NASDAQ:YHOO) and Dupont (NYSE:DD). Many of these companies also disclose the full package of executive compensation, including long-term pay, ahead of shareholder meetings.
CNN Retread
Since FOX Business broke the story, the media has followed with coverage. But in one curious story short on details and reporting, CNN's Chris Isidore did a retread of what FOX Business already has reported, that GM said Barra's long-term pay will be voted on at its shareholder meeting.
It is a story that provided no context or reporting on corporate pay practices, and no history on GM's executive compensation (a story which also oddly misspelled this author's last name, see here: http://money.cnn.com/2014/02/04/news/companies/gm-ceo-pay/). Bloomberg's Sheelah Kolhatkar also delivered a story short on details and perspective on GM's compensation practices.
GM Announced Long-Term Comp Before Annual Meetings
A check of GM's filings shows it has disclosed executive compensation, including changes to long-term pay, ahead of its annual shareholder meetings.
For instance, in 2006, GM announced there would be no annual or long-term pay given to GM's global executives for 2005 performance, as the company was undergoing a deep restructuring. And GM has announced increases to executive pay ahead of annual meetings, including long-term compensation.
Ed Whitacre was named interim CEO in December 2009. He stepped down in  September 2010. For his nine months' worth of work, Whitacre got $9 million, including promptly getting $2 million in long-term compensation and $5.3 million in salary stock, for a total of $7.3 million in stock awards.
Even GM's new chief financial officers immediately got long-term compensation in advance of shareholder meetings. Dan Ammann promptly got $1.4 million in long-term compensation when he assumed the job in April 2011, government filings show (total compensation: $4.2 million).
So did his predecessor, Christopher P. Liddell, who immediately got $2 million in long-term pay, or restricted stock, in January 2010, with another $3.45 million in salary stock for a grand total of $6.2 million in total compensation. Akerson, Whitacre, Amman and Liddell were promptly awarded long-term compensation--and unlike Barra, well in advance of shareholder meetings.
After replacing Whitacre as GM CEO in September 2010, Akerson steered GM to profitability and a public offering, after it got $49.5 billion in taxpayer funds. Akerson is a respected former top executive who led global buyouts at the private equity firm Carlyle Group (NYSE:CG), and the former CEO and chairman of Forstmann Little, XO Communications and Nextel Communications. At the time, Akerson had no experience running an automaker.
Akerson's 2010 compensation for those four months of work amounted to $3.19 million, or $9.57 million annualized, far more than Barra's initial compensation as it stands now. That included, unlike Barra, getting nearly $2 million in long-term pay that vests over a period of years. The sum of his stock compensation eventually rose to $2.43 million after his appointment.
GM Increases Akerson's Pay as it Posted Losses
Also, during a time when it was posting lower earnings, GM increased its compensation for former CEO Akerson.
As profits and its market share fell, GM adjusted its mix of short-term and long-term compensation apparently a way to get around Treasury's limits in order to get Akerson compensated, as GM languished in the protective custody of the U.S. government.
Even though there was fresh smoke coming from GM's recovery engine, as its 2012 earnings fell by $2.73 billion from 2011 to 2012, Akerson got a 44% increase in compensation to $11.1 million in 2012 versus 2011, GM's SEC filings show. Early in 2012, GM's North American market share fell to an estimated 16.4%, one of its worst performances ever.
Initially, GM's proxy reported that Akerson's total compensation was $7.7 million for 2011, including base pay of $1.7 million and $5.95 million in stock awards, which included $1.99 million in long-term pay that takes longer to vest.
But then, in 2012, GM reported that it increased Akerson's compensation 44% to $11.1 million, including $1.7 million in base pay and $9.3 million in stock awards, of which, $7.35 million, were short-term stock incentives which vest more quickly, "in acknowledgement of the possibility of his retirement before the completion of the three-year vesting period" for restricted stock.
Since it got a $49.5 billion bailout, GM apparently also made the switch to salary stock because GM's long-term compensation was limited by Treasury restrictions for bailed-out companies to no more than one-third of total compensation, according to a letter from the Treasury Special Master's to GM..
GM routinely complained about the Treasury restrictions in its filings, noting that Akerson's compensation was either stuck in the lowest tenth or lowest quartile of compensation for peer executives at companies like Ford Motor (NYSE:F) or Chrysler, despite his "significant contributions to operating performance and outstanding leadership."
The Chairman Role
After FOX Business's story, GM also argued that Barra's salary is lower than Akerson's because Akerson was chairman.
The automaker also said Akerson's 2012 pay was based on "the last publicly available record of his compensation." Even though GM has already released information about Akerson's 2014 compensation of $4.68 million for his new role as a consultant to GM in a January 2014 Form 8-K/A, and GM's 2013 proxy also had noted that Akerson's compensation structure for 2013 would remain the same as in 2012).
However, GM has previously backed the combined chairman and CEO role, but apparently not for Barra. Its proxy has noted the dual role delivers a "clear, unified" vision, "focused leadership" and better "accountability."
"Our current leadership structure consists of a combined chairman and CEO. Our Board  believes that the company and its stockholders are well served by this leadership structure...Mr. Akerson is best positioned to chair regular board meetings at which the directors discuss key business and strategic issues. Having one person serve as both chairman and CEO permits a clear, unified, strategic vision for GM that ensures alignment between the board and management, provides focused leadership for the company, and helps ensure accountability for the company's performance."
Glass Ceiling to Iron Cage
Has Barra broken through the glass ceiling, only to find herself in an iron cage?
Barra is now surrounded by other male executives with designs on her job, notes Edward  Niedermeyer, an auto-industry consultant.
"In addition to having to answer to self-described 'activist chairman,' Tim Solso, Barra also shares responsibilities with former chief financial officer [Dan] Ammann, who has been given the newly-resurrected position of president," Niedermeyer says, adding: "So is that justification for lower pay, or just more evidence that GM's male-dominated executive corps has  paternalistically elevated Barra as a token female figurehead?"
After Akerson stepped down, GM split the role of chairman and CEO and named a president,  one step below CEO. So, GM has four people -- Barra, chairman Solso, president Amman, with ex-CEO Akerson along for the ride -- helping out with the tasks that Akerson handled.
Full faith in a female running a company?
Companies Routinely Disclose Long-Term Compensation
A number of companies routinely disclose long-term compensation before shareholder meetings.
For instance, IBM announced prior to its annual meeting that its new CEO Virginia "Ginni" Rometty would get double her salary, plus that Rometty was eligible for $10 million in a long-term bonus that IBM calls "performance share units," (PSUs), which don't mature until 2015, according to an SEC filing.
Lockheed Martin also disclosed prior to its annual shareholder meeting last year in an SEC filing dated January 23, 2013, proposed changes to its long-term compensation for its top executives, including chief executive, Marillyn Hewson.
The new "long-term incentive ("LTI") award packages" as recommended to the board "differ materially from LTI [long-term incentive] packages granted in prior years," the filing says. "The changes are intended to increase the percentage of long-term incentive compensation that is performance-based versus time-based." (Read more: http://www.getfilings.com/sec-filings/130128/LOCKHEED-MARTIN-CORP_8-K/#ixzz2sSuU3UsO)
Likewise, Archer Daniels Midland also routinely announces ahead of its shareholder meeting  estimates for CEO Patricia Woertz's long-term incentive compensation, typically a mix of stock options and restricted stock that has a "strong alignment with our financial performance," its SEC filing notes.
Newmont Mining (NYSE:NEM) also disclosed in September 2013, prior to its annual meeting,  that its new chief financial officer, Laurie Brlas would have a base salary of $700,000, and that she would "be eligible for annual short-term incentives (cash bonus) and long-term incentives (equity bonus)," which "includes annual target levels of 100% of base salary for short-term incentives and 375% of base salary for long-term incentives."
This past January, Fifth & Pacific Cos. (NYSE:FNP), with brands Juicy Couture and Kate  Spade, announced ahead of its annual shareholder meeting in a regulatory filing details about its long-term incentive compensation for its top executives.
The company said Craig Leavitt, the incoming chief executive, is expected to be paid $1.5  million and Deborah Lloyd, the incoming chief creative officer, $1.9 million. Beyond the base salaries, the company said Leavitt will receive $5 million as part of a long-term incentive award and Lloyd will receive $3.275 million.