What's the Road Ahead for Shutdown U.S. Auto Makers?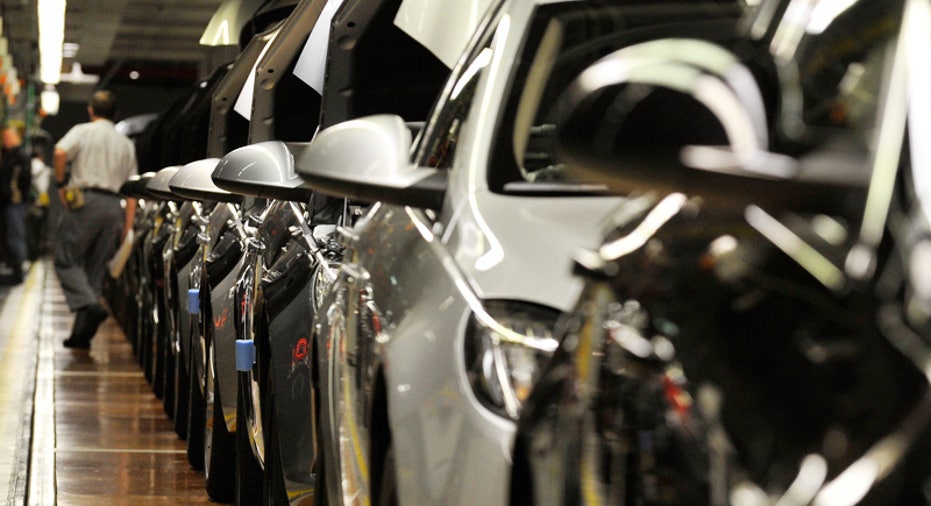 Shutdown dealers say the dust in Detroit has done anything but settle. Six months later, Colleen McDonald is still seething.
"It's so wrong, but they got away with it," the ex-Chrysler dealer said. "I feel like I'm living in another world, because this can't happen in the U.S. You just can't take someone's property without just compensation."
Another casualty of the recession that brought about the worst U.S. auto sales since 1981, McDonald is one of 789 Chrysler dealers whose businesses were shut down this year as part of the auto-maker's bankruptcy reorganization. The mass closures, which amounted to nearly 25 percent of the company's total, were approved by a bankruptcy judge as well as the Obama administration's auto task force.
"I know it's wrong, it's illegal, it's unconstitutional" McDonald said. It's a sad time in our country when this can happen to independent businesspeople."
Chrysler announced and filed the closings in bankruptcy court May 14, and gave the affected dealers until June 9 to close up shop. General Motors, also in bankruptcy, subsequently announced plans to shut at least 1,300 dealerships, but is allowing them to remain open until late 2010. GM also agreed to pay $600 million to terminated dealers, and through an appeals process, reversed its closing decisions in about 70 dealerships.
Chrysler took a harder line, offering no appeal process and giving shutdown dealers no cash.
"There are no winners and there are no losers" said Chrysler Deputy CEO Jim Press.  "This is the way it is. This is a company working its way out of a Chapter 11 situation."
Before its entrance into Chapter-11 territory, the Treasury Department had funneled more than $7.2 billion in bailout money into the failing U.S. auto maker after ruling it could no longer survive as a stand-alone company. Sales were down 46 percent from a year earlier and 64 percent from 1999, its peak sales year. Chrysler said the dealers that were shut down represented 14% of its total sales.
Chrysler had been negotiating with Italian-carmaker Fiat about a potential partnership, and Treasury did end up creating a new company owned by a combination of the government, the United Auto Workers Union and Fiat. But, Press said, this new company didn't have any say in the decision of which dealerships would be shut down.
"While we made Fiat and the U.S. Treasury aware of the methodology, they were not involved," he said. "We're the ones responsible solely."
They used a methodical process in making the critical calls. Most industry observers agree that both GM and Chrysler had no choice but to slim down the number of dealerships, which had grown much more than sales demanded.
"The decision, though difficult, was based on a data-driven matrix that assessed a number of key metrics," said Steven Landry, Chrysler's executive vice president for North American sales.
McDonald had been in the car business in Detroit for 28 years, and she grew up working in her father's dealership. She owned three dealerships in the Detroit area. One sold Chryslers and Jeeps, another sold Dodges - also Chrysler-owned - and the third sold GM's Chevrolet line. She chose to terminate the Chevy dealership rather than keep it open through next year.
"I decided to close it all down" she said. "I didn't want to go through GM's 'wind-down' process. I was gun-shy after Chrysler. Wind-down is a slow death."
"One day I own a franchise worth $4 million, and they destroyed it," McDonald said. "Now I have empty buildings, liabilities, taxes and all the people I had to put out of work."
She said after being forced to lay off 170 employees, she's unsure of her next business move.
"Right now is not the time to get into a new business in Michigan," she said. "I might get into politics."
The National Automobile Dealers Association estimates that the average U.S. dealership employs about 50 people. With Chrysler shutting nearly 800 dealers and GM another 1,300, the after-shock spread to more than 100,000 employees.
"The majority of these dealerships are going to continue on and prosper, either selling used cars or other brands," said Landry in May, adding that more than 80 percent of the targeted dealers already sold more used vehicles than new ones. But the notion that the targeted dealers could retain many employees while converting their operations to selling used cars hasn't panned out well for at least a handful.
"Used cars? I opted not to," McDonald said. "When I crunched the numbers, there was no way I felt I could do it. Four of my colleagues tried it, couldn't make it and are closed now. I didn't want to hemorrhage any more just to test it."
As is the norm, most of the targeted new-car dealerships had much larger showrooms and service operations than the average used-car dealership – and that kind of overhead cost is usually too high for a used operation. Plus, lenders today are warier of extending credit to customers of dealerships with no new-car franchise.
Richard Mealey is one former Chrysler-Jeep dealer who is trying to sell left-over used cars at an auto-dealers' mega mall in suburban Troy, Mich.
"It's absolutely very tough," he said. "I have huge facilities and large mortgage obligations I'm finding very difficult to meet. We're trying to reinvent ourselves in a very different market."
Mealey had to let 60 employees go, while employing 30 at a used-car operation with a body and maintenance shop. With his new-car dealership closed, Troy's mega-mall now sells cars from 27 manufacturers but no longer any Chryslers, Jeeps or Dodges. Mealey said his current strategy is to sell used cars until he can negotiate a franchise deal with another manufacturer.
The city of Troy doesn't even allow used-car-only dealerships in its zoning laws, but "is accommodating me," Mealey said. "I've been a strong taxpayer for many years and they are sticking behind me while I try to get a new car franchise. Obviously with 27 other manufacturers already represented here, my options are limited. But I'm optimistic and hopefully very close to some good news on that front."
When Mealey learned in May that Chrysler was terminating his franchise, "I felt totally betrayed," he said. "I had owned this dealership and repped for Chrysler for 43 years in this market. They gave us three weeks to liquidate. They used the conveniency of bankruptcy to bypass all state franchise laws."
The termination was not done on the basis of fair-and-equitable analysis, he argued.
"I've been an outstanding dealer forever. By all measures we were at the top of the pile. I never got a straight answer from them other than I didn't meet their criteria, which they won't disclose and which sits as a sealed document in their bankruptcy proceeding," he said.
Both Mealey and McDonald are strong supporters of the Automobile Dealer Economic Rights Restoration Act of 2009, which carries more than 281 Congressional cosponsors in the House and 43 in the Senate. Neither of the senators from Michigan is onboard, and the White House is strongly opposed to it. The House bill, HR 2743, is identical to the Senate bill, S 1304. Both would reverse the Chrysler dealership closings and the planned GM closings.
GM and Chrysler argued in subsequent Congressional hearings that the closings are essential. GM has said it will save $2.5 billion, and Chrysler warned it could have to liquidate if the dealer closings were reversed.
But the terminated dealers argue they still deserve more.
"They stole our livelihood," Mealey said. "Restitution should be coming from someplace. I feel betrayed by the government, which was heavily involved in the decision-making process. I would hope someone would step up to make us whole."
Under Michigan franchise law, McDonald said, Chrysler could terminate a dealership "any time they wanted to. But they would have to compensate me under terms of a formula in the law."
The Committee to Restore Dealer Rights is a lobbying group composed of auto dealers, many of them affected by the closings. They act as a watchdog on any related-pending legislation and formed a guerrilla marketing campaign on YouTube.com, in which affected dealers are videotaped making their cases for reversal.
Chrysler and GM have been meeting with such types of groups, including the CRDR. As a sign of good faith, Chrysler agreed to stop giving dealers new franchises in areas vacated by rejected dealerships, but only for the duration of the talks. The CRCR had requested a moratorium.
Rep. Chris Van Hollen, D-Md., assistant to House Speaker Nancy Pelosi, also supports making sure that Chrysler give first consideration to closed dealerships any time it re-enters their former area. After an initial negotiation session on the Hill, Chrysler lobbyist John Bozzella said: "We're talking. We're working through tough issues."
Back in Detroit, Colleen McDonald said she doesn't see any signs of light at the end of her nightmare tunnel.
"I keep thinking I'm gonna wake up one day and say I just had the craziest dream," she said. "But this is harsh reality. Someone's gotta wake up and right this wrong.
"I want to put it behind me so badly. I want to go forward, but you don't do it overnight. You don't just close up your store and walk away after 30 years in business."
(Rob Reuteman is a freelance journalist in Denver, where he was business editor at the Rocky Mountain News.)