What's in a Name? Pro Sports Teams Say Big Bucks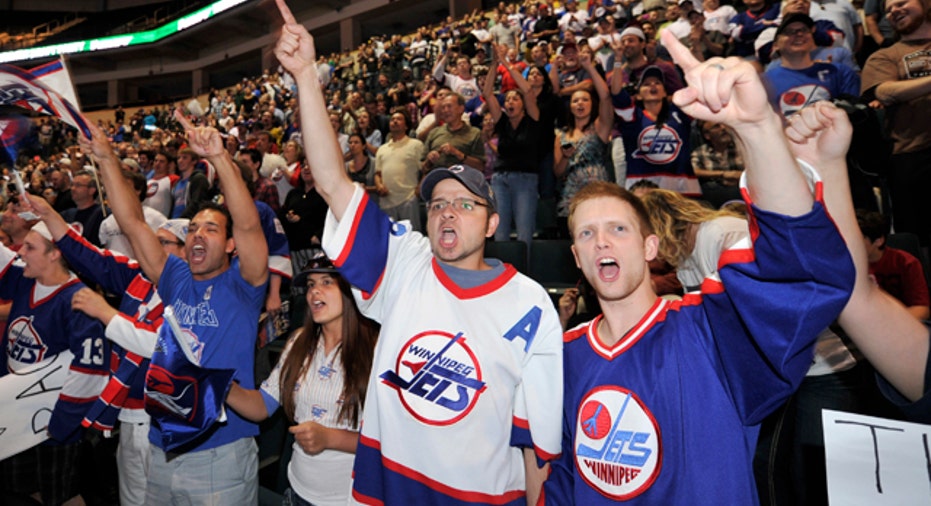 Even before the draft and free agency, the new hockey franchise in Winnipeg had a crucial decision to make last week that is sure to have ripple effects for months, and even years, to come: what to call itself.
The franchise, which earlier this month relocated from Atlanta, decided on the Jets, adopting the name of its predecessor that skipped town 15 years earlier. By choosing a name with history and rejecting an alliterative alternative like the Manitoba Moose, the team is hoping to resonate with hockey-starved fans in the region.
The Winnipeg name change underscores an often overlooked process in pro sports that can have a lasting impact on franchise value, drive buzz and boost revenue for tickets and merchandise.
It may seem like a throwaway decision, but its a huge decision -- one you will have to live with in perpetuity, said Marshall Glickman, a former president of the aptly-named Portland Trail Blazers.
Fan Involvement is Key
Thats because a great name like the Miami Heat or New Orleans Saints can help drive interest in the new community, while questionable monikers like the Washington Wizards or Utah Jazz often leave fans scratching their heads.
So how do recently-relocated or expansion teams in pro sports decide on a name?
While team owners make the ultimate decision and sports leagues usually need to sign off on new names, teams often ask residents and local businesses are asked to participate in a naming contest.
We think getting all of your constituencies involved in a decision makes a lot of sense, said Diane Prange, chief linguistics officer at brand-naming firm Strategic Name Development. They have to own it, they have to love it and you want to make them feel good about the process.
Prange said the process works best when the franchise, sometimes with the help of outside consultants working behind the scenes, gives fans parameters to work within.
Teams Strive for Marketable, Memorable Names
Michael Cramer went through this process when he helped former Texas Rangers owner Tom Hicks bring a minor league affiliate of the baseball team to Frisco, Texas in 2003.
We went through a long process trying to figure out what it was that would be indicative of the Dallas area of Texas, what would help us market the team and yes, sell stuff, said Cramer, a former president of the Rangers and Dallas Stars.
After considering many names, the ownership group decided on the Frisco RoughRiders, a name that alludes to Northern Texass history and plays off the parent ballclubs name.
It gave us this great latitude to do something that was Wild West and something we could really market, said Cramer.
Marketability is one of several crucial factors teams must consider when deciding on a name. While the RoughRiders and Colorado Avalanche conjure up clear images teams can paint on billboards, build a mascot from and place on merchandise, others like the Indiana Pacers and Los Angeles Clippers are far murkier.
Teams must also try to quantify the memorability of a name. This can often boil down to how short it is, what the nickname will be and whether or not it is alliterative. Good examples include the Buffalo Bills, the Washington Nationals, or Nats and Pittsburgh Penguins, or Pens.
They tend to be more memorable because alliteration is the oldest form of poetry in the English language, said Prange
At the same time, good team names need to be visually interesting and should even hint at an emotional bond. Can the name tell a story and is that story really going to bring the community together? said Prange, pointing to the Chicago Fire and San Jose Earthquakes, a pair of Major League Soccer franchises.
Appealing to Nostalgia in Manitoba
Further, team names should be unique when compared with other teams in their market and other teams in the same sport.
Strategic Name said the Winnipeg selection of Jets fails the uniqueness test because it estimates there are 932 active trademarks for that word, including the New York football team, comic books, lawn sprinklers, and hand dryers.
As a way to build on the history of its predecessor and take a step forward, Prange said Winnipeg could have chosen Jetstream, which comes from Canada, just like hockey does.
Cramer isnt a fan of that idea, saying it could create controversy and spoil the good feelings in the resurgent Winnipeg market.
Youre not trying to alienate people, said Cramer. Teams want a name that people latch on to and gives you a marketing pop.
True North, which earlier this month relocated the Atlanta Thrashers to Winnipeg after acquiring the struggling franchise for a reported $170 million, is certainly hoping to take advantage of rising demand for hockey paraphernalia. Last season the NHL saw overall merchandise sales jump 10%, in-arena cap sales grow by 10% and sales at the NHLs Web site climb 9% to a new record.
Utah...Jazz?
Because the new teams logos and jerseys have yet to be unveiled, its too early to tell how well received the name change will be from a merchandising perspective.  True North also declined to comment for this story.
Still, Glickman applauded Winnipeg for going back to the Jet name, saying, Theres an historic value to that. I think thats very smart.
There are a number of examples of questionable team names. For example, when the Jazz moved to Salt Lake City in 1979 after five years in New Orleans, they kept the team name rather than selecting something unique to the Utah market. So did the Dodgers, which were named for dodging trolleycars, when they moved from Brooklyn to L.A.
Likewise, the Lakers name seems much more appropriate for the basketball team that played in Minnesota, rather than the current one winning championships in L.A. While the Washington Bullets changed their name due to concerns about evoking images of violence, the newer name of Wizards doesnt seem special to the market. Perhaps the D.C. Lobbyists would have been more suitable.
At the end of the day, Cramer said name changes come down to the bottom line.
You want to publicize your name, you want a great slogan, a great logo and marketing opportunities, he said. Really, youre looking to sell stuff and create a good feeling [that makes] people want to buy tickets to this team.