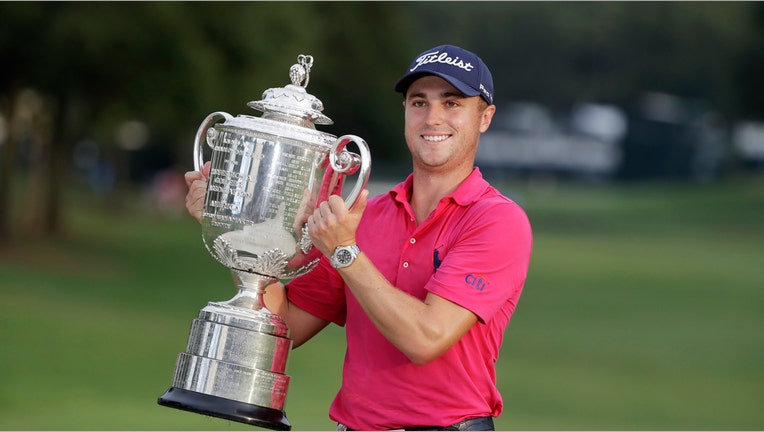 Golfer Justin Thomas' star is on the rise Monday after his win at the PGA Championship in Charlotte, North Carolina, but the 24-year-old still has a long way to go to catch up with Jordan Spieth and the rest of the sport's top endorsers.
Thomas shot 8-under to secure his first-ever major title and PGA Tour-leading fourth win of the year. With the victory, Thomas is now sixth in the world golf rankings, behind superstars like Dustin Johnson, Jordan Spieth, Rory McIlroy and Sergio Garcia.
While a first-ever major win can only add to Thomas' visibility, it may not be enough on its own to bring him to the sport's top echelon in terms of marketability, according to Jonathan Jensen, a sports marketing consultant and assistant professor of sports administration at the University of Noth Carolina at Chapel Hill.
"While becoming a first-time Major champion is a big deal, I actually don't expect it to have a big impact for Thomas," Jensen told FOX Business. "For sponsors endemic to golf and those within the sport, Thomas has been a known quantity and everyone was aware of his talent and potential."
Thomas already had endorsement deals with several top brands before the PGA Championship, including golf brand Titleist, Ralph Lauren Polo, Citi, FootJoy and NetJets. He raked in $2 million off the course in 2016 and ranked 40th among the world's highest-paid golfers, according to Golf Digest's annual ranking. By comparison, Spieth, one of Thomas' top rivals, earned $24 million off the course over the same period.
While Thomas has gained national prominence within the golf world for his recent run of strong play, he has yet to match players like Johnson or Spieth in terms of crossover appeal. However, a PGA Championship can only help his cause, according to Tamara Jacobs, a senior vice president at Ketchum Sports & Entertainment.
"A win at a major in golf is always going to escalate your value in the eyes of endorsers. Golf still struggles amongst the major professional sports in popularity and following, so it's really those major wins that not only set you apart within the sport of golf itself but also get you on the radar of Americans," Jacobs said.