What Grads Should Do During their Student Loan Grace Period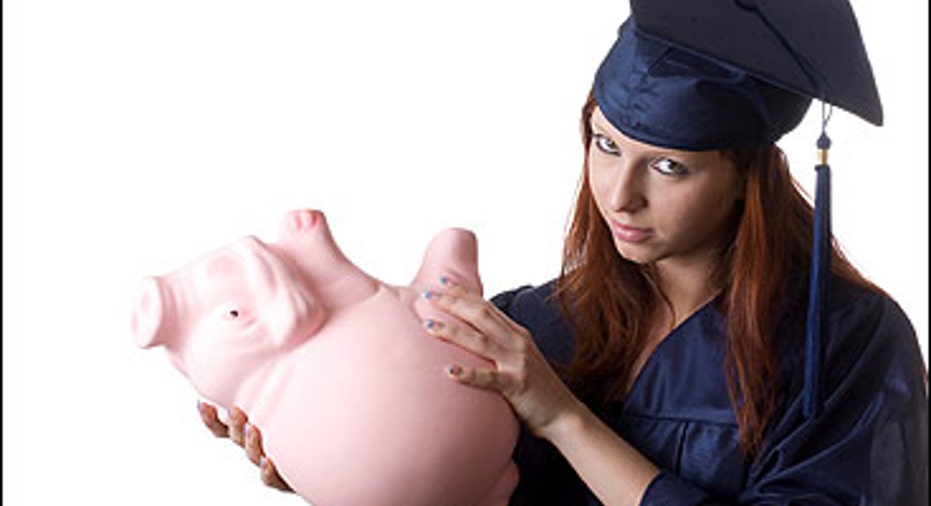 For many members of the Class of 2014, the clock is ticking on their student loan grace period.
Most federal loans come with a six-month grace period, but the length and terms vary depending on loan type.  Many private loans tend to also come with an interim period to allow borrowers to get settled into the real world.
Recent reports show the most recent college grads have an average student loan debt of more than $30,000, a record high.
"Having this much debt hanging around your neck is pretty daunting," says Antwone Harris, senior financial consultant at Schwab. "It should become a high priority for grads because it's not going to go away. Even if they file for bankruptcy later in life, this debt doesn't get forgiven. And if they miss one payment, it can impact their credit score, which can hurt them later in life."
While six months may seem like a long time, Jodi Okun, founder of College Financial Aid Advisors, warns students the time will go by faster than expected. "You go from school mode and then all of a sudden you are thrown into a different world with all sorts of new demands and responsibilities."
To help get a handle on their student loan payments and make the most of the grace period, experts offered the following tips to debt-laden recent grads:
Check Your Mail. According to Okun, lenders will send borrowers statements of what they owe as soon as they graduate, if not before.
"The minute you graduate they will mail you a statement to the address you used to sign up for the loan. Most likely they won't be emailing so expect to go old school and snail mail at first and then change to electronic communication."
Take Inventory. College students often take out so many loans that it's be easy to overlook or forget about an outstanding debt.
Harris recommends students take a comprehensive inventory of what and who they owe. "They need to make a chart that shows how much they owe each lender, the interest rates, the deadlines and payment schedule, and when they submit a payment."
Okun adds that grads should create two folders: one for private loan statements and one for federal loan paperwork. "This way you know exactly where to look if you need to find repayment dates and loan terms."
Budget and Prioritize. New grads should set up an overall budget that includes and prioritizes their expenses, and Harris says student loan payments should rank as high as rent.
"Every time you make a dent in what you owe to a lender is less you pay in the long run."
Students with a hefty amount of debt might want to consider prioritizing them by interest rate. "Find out the implications if you put off one debt item in favor of another one and the potential for a tax deduction," says Harris.
Set Up and Automate Payments. Harris advises graduates create a repayment schedule and if possible, automate the outflow.
"This takes them out of the equation and removes the temptation to put repayment on the back burner for things like a vacation or new clothes and avoid impairing the credit score and creating long-term damage."
Call Lenders. Graduates that can't afford payment shouldn't be afraid to call lenders to discuss options.
"They are patient and will work with you to create a plan that works with your budget and financial situations. They are calm and informative—they want to get their money eventually and will work with you to make that happen."
She advises students have copies of their bills, tax returns, paycheck stubs (if applicable) readily on hand to make the phone call as efficient and productive as possible. "If you have federal loans, there are five different repayment options."
Harris says the government tends to be more flexible with repayment options, but warns creating a plan of smaller payments over a longer period of time can mean paying more. "The faster you pay off your loan, the less you pay in interest over the life of the loan." He recalls having to defer his own student loan payments when he lost a job early in his career and ended up starting all over. "The amount I had paid down was replenished with the increased amount of interest I had to pay."
Consolidate. After graduates know how much they owe, experts say consolidation tends to make financial sense.
"With federal loans, it's usually in graduates' best interest to wrap them into one loan to make all the payments easier to deal with, and often the interest rate is reduced," says Harris.
He adds that students should verify that consolidating is advantageous as some benefits specific to a type of loan might go away. "The structure of some of the benefits associated with loans, like repayment terms or leniency, might disappear."
Don't Wait. Okun urges grads who are financially able not to wait for the first bill to come to make a payment. "Make payments as soon as possible—even if you are still in school."  She adds they should plan to put any unexpected money like tax refunds or graduation money toward paying off their loans.