Wash Up and Do Good – With the Proper Soap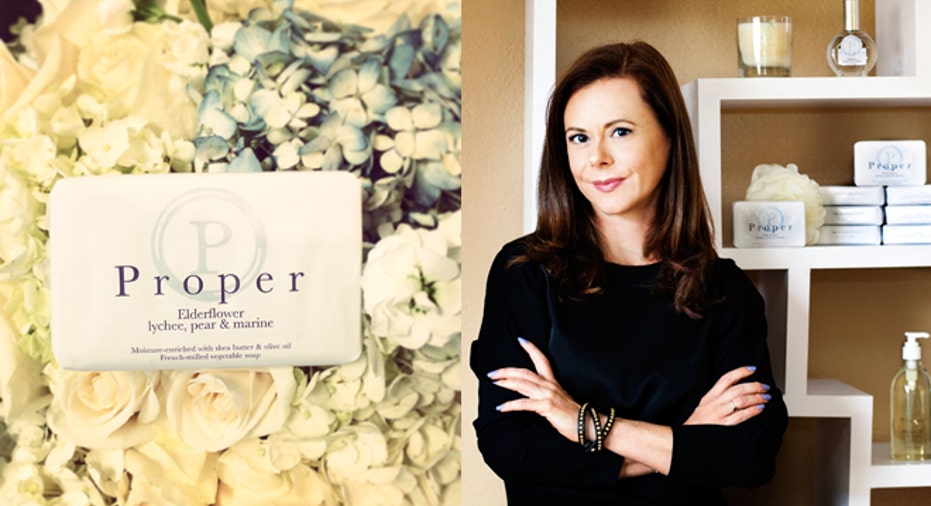 Social Business of the Day: A Look at Entrepreneurs With Heart
Business: Proper, @ProperSoap
Who: Gentry Lane, Proper founder
What: A consumer-facing finance, social good platform that harnesses consumer spending power for social change by connecting shoppers to high-impact products.
When: The platform launched in March 2014, put out the first product line in June 2014
Where: West Hollywood, CA
How: After working for years in the fashion industry in Paris, Gentry Lane had somewhat of a midlife crisis.
"You ask yourself, what is it all for?" the Proper founder said. So what did she do? She started a(nother) business.
For a while she'd been noticing a conscious capital trend and began thinking about what the next generation of social good companies would look like. Using her experience in fashion, she mined her rolodex for possible colleagues that could help bring her vision for Proper to fruition.
"I had my own lingerie company in Paris, and worked for LVMH … and started with bath and body [as my continuity product] based on my relationships with these people," she said.
Proper is set up as a finance platform for socially conscious companies that is built to be elastic both in terms of number and kinds of products, as well as number and kinds of causes. Her logic for going with soap is that it's a continuity product -- a regular-purchase consumer good, or things you have to buy each month.
"Other (Consumer Packaged Goods) CPG companies sell products that you might buy once or twice a year (like shoes or glasses), or as an occasional treat (ice cream or cookies). Every person buys soap every month," she explained.
Lane's company is thoroughly social good oriented, and even the payment processor they use, Care Financial, is high-impact focused. The social enterprise has a unique business model. Proper doesn't pay a percentage of profits, but builds charitable annuity into their manufacturing cost, so their charity partner, iDE, receives a perpetuity. Since Proper treats their NGO like a shareholder, it runs like any other corporation with the goal of yielding the highest-possible returns to all vested parties.
"Any investor knows this is a sweet, sweet deal," Lane said. "It also solves the "B-corp dilemma" of serving two masters (cause and shareholder)."
In picking sanitation as her main social cause, she realized she would need to make sanitation sexy so consumers would shop the cause. "People constantly ask about other topics like hunger and poverty, but when you step back and really break it down, sanitation is where we need to start," she said.
As a bootstrapped business, Lane's goal for Proper was to startup with a minimum viable product, though she is currently "doing the VC tap dance, trying to raise money," as she describes it.
Biggest challenge: The hardest part about starting Proper, Lane said, was finding the right charity partner.
"I interviewed a lot of charities and chose to partner with iDE for their 30-year-track record of highly effective programs for establishing sanitation infrastructure," Lane said, adding that she was attracted by their "marketplace approach" to solving the sanitation and clean water problem in underdeveloped communities. "They're a non-government organization (not a charity) who see disadvantaged communities not as charity cases, but as resources to be invested in."
Looking ahead: Lane's goal is to get a whole suite of products, services and goods on the marketplace, expanding into other consumer categories and other social causes. In a sense, Proper is poised to become the "Amazon" of social enterprise.