Want a Better Business Meeting? Be More Prepared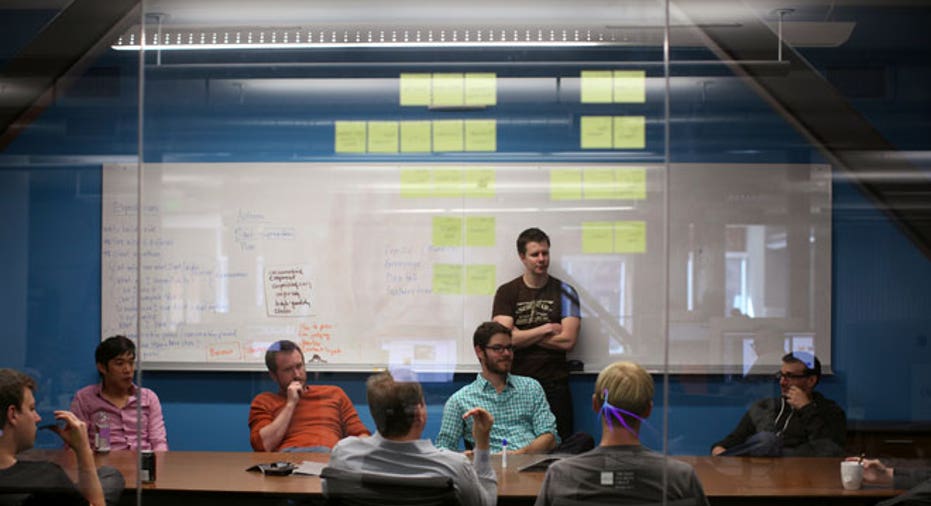 Let's face it: Business meetings are boring. Nobody likes going to them, and you rarely accomplish everything you want to do in the allotted time. Even if you have a strict agenda, it's still unlikely that everyone will be focused — a recent survey by cloud-based presentation platform Prezi found that 46 percent of American workers admit to texting, checking email or social media, browsing the Web, or even falling asleep during a co-worker's presentation.
Why are business meetings so detested across the board? More often than not, it's the way the meeting is run. According to the Prezi survey, which was conducted in collaboration with the Harris Poll and business coach Carmine Gallo, 63 percent of presenters know that slideshow presentations — arguably the most common format for business meetings — can be ineffective and boring to their audience, and yet they continue to throw together slide decks and take a haphazard, unprepared approach when it's time to stand up and present.
"Part of the reason people aren't paying attention is related to presenters 'winging it' and not taking the time to make their content relevant for their audience," said Peter Arvai, CEO of Prezi. "Thinking through the presentation beforehand enables you to connect the dots and make sure the presentation is as succinct as possible."
"People who host meetings don't spend enough time up front preparing," added Larry Dorie, CEO of Web conferencing solutions provider RHUB Communications. "When you schedule the meeting and send the agenda, you have to provide a guideline of what people should contribute [and the desired] outcome. If people know what's expected of them when they come to a meeting, it'll be more productive."
Pre-meeting preparation also includes ensuring that your team agrees upon the ideas and topics to be discussed before anyone walks through the door. [5 Important Words to Say in Every Business Meeting]
"Collaborating in advance brings a spirit of cooperation to a meeting," Dorie said. "If people have spent time [beforehand] vetting ideas and needs, there's less contention in the meeting. It makes it more efficient."
But thoroughly preparing for a meeting is only half the battle. The other challenge lies in keeping people focused once the meeting begins.
"Meetings that are too long challenge people's ability to stay engaged," said Joel Levitt, president of management consulting firm Springfield Resources and author of "10 Minutes a Week to Great Meetings" (CreateSpace Independent Publishing Platform, 2013). "Straying too far from the agenda will cause attentions to wander. Exercise leadership by stopping people who repeat themselves, wander, talk about other things or are rude or disruptive."
Making your meeting more conversational by asking for feedback on subjects you know your audience cares about can also lead to better engagement, if you stay on-topic.
"People are programmed to engage, not only to listen," Arvai told Business News Daily. "An overly long data list and bullet point-heavy presentation will put an audience to sleep and will be hard for everyone to get through. Instead, create an overarching story and a few main points that back it up. Be attuned to your audience's responses and adjust your presentation accordingly."
When you decide to make changes or adjustments to your meeting strategies, Levitt advised observing the impact of those changes to learn what's working and what isn't so you can focus on the most effective tactics.
Business meetings are sometimes necessary, and following the above advice can certainly help make them more productive. But the right work environment and attitude may actually allow you to accomplish more by not having meetings at all.
"Meetings take up a lot of time, and many topics that might be discussed in a meeting could instead be handled with quick one-on-one conversations," said Zach Supalla, founder and CEO of open-source IoT toolkit Spark. "By creating a culture where people feel empowered to make their own decisions, you can dramatically reduce the overhead on the team and increase what you and your team can get done."
Originally published on Business News Daily.