Wall Street Execs Take Aim at O'Malley Campaign Hypocrisy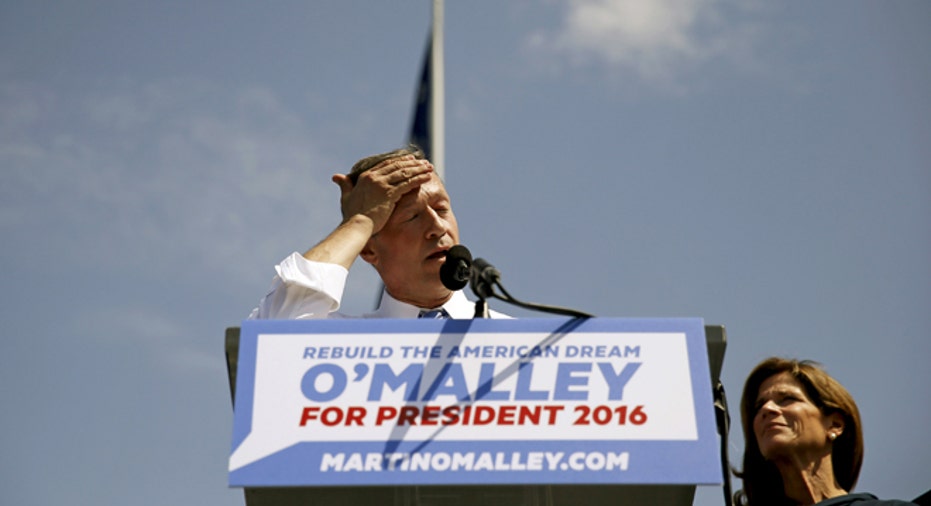 Wall Street executives are fighting back against Martin O'Malley, branding the former Maryland governor and 2016 Democratic presidential candidate a hypocrite for attacking the big banks after what they say is a largely unsuccessful attempt to collect fat-cat campaign contributions, the FOX Business Network has learned.
O'Malley, who announced Saturday that he is challenging former Secretary of State Hillary Clinton for the Democratic nomination, has made his opponent's ties to the big banks the center piece of his nascent campaign. But since at least the beginning of the year, O'Malley himself has eyed contributions from executives at several major Wall Street banks, according to people with direct knowledge of O'Malley's fundraising.
These people say in recent months, O'Malley met key officials from Morgan Stanley (NYSE:MS), and, according to O'Malley campaign officials, he is looking for contributions from what he considers "reformed minded bankers" at other firms such as JP Morgan (NYSE:JPM) and even Goldman Sachs (NYSE:GS), whose chief executive Lloyd Blankfein was singled out by O'Malley in his announcement speech for having too much influence with Clinton.
It's unclear how much—if any money – O'Malley has or will receive from the big banks; both his political action committee and his campaign have until July 15 to file contribution disclosures. While governor of Maryland, O'Malley received $559,000 from people and entities labeled "securities, investments" and "commercial banks," according to disclosure forms.
Many Wall Street executives have branded O'Malley as "public enemy No. 1" for his recent spate of attacks on their influence on public policy. Some of those execs are now calling him a hypocrite for  making class warfare and bank bashing a central theme of his campaign against Clinton after meeting with financiers.    "O'Malley has not been shy about meeting with the big banks for money," one senior Wall Street executive with direct knowledge of the matter said. "That doesn't mean he will be successful; in fact no one I know has given him anything."
Morgan Stanley, Goldman Sachs and JP Morgan had no comment.
"They can try to leak as many meaningless tidbits as they want, but Governor O'Malley has shown he will stand up to his own party to call for real structural and accountability reforms of Wall Street. His message is the same everywhere - Wall Street must be held accountable once and for all," O'Malley spokeswoman Halley Morris said in a statement.
An O'Malley campaign official speaking on a not for attribution basis added that a recent meeting between the candidate and Morgan Stanley Vice Chairman Tom Nides  was a "political meeting," and was not with the sole purpose of benefiting the O'Malley campaign.
"Obviously [Nides is] a close confidante of the Clintons given his relationship with the Clintons," the source said. Nides served as deputy secretary of state under Clinton before he took the post at Morgan Stanley.
Two Candidates Go Head-to-Head
Clinton, the former Obama Secretary of State and first lady, has received millions of dollars in speaking fees from corporations, such as Goldman and is expected to raise millions of dollars from the finance industry given her close relationships with major player such as Blankfein and Larry Fink, the chief executive of money-management powerhouse BlackRock (NYSE:BLK). Cheryl Mills, a key Clinton adviser and Clinton Foundation board member, is also a board member of Blackrock. Wall Street executives say Fink is interested in a cabinet spot – like Treasury Secretary -- in a Clinton Administration .
A Blackrock spokesman had no comment on the matter.
O'Malley ignited a firestorm among Clinton's vast army of Wall Street supporters on Saturday when he announced his candidacy by attacking her ties and those of Republican presidential front runner and former Florida Governor Jeb Bush to major players in the finance industry.
"Let's be honest, they were the ones who turned our economy upside-down in the first place. And they are the only ones who are benefiting from it," O'Malley said in his speech. "Goldman Sachs is one of the biggest repeat-offending investment banks in America. Recently, the CEO of Goldman Sachs let his employees know that he'd be just fine with either Bush or Clinton. Well, I've got news for the bullies of Wall Street --the presidency is not a crown to be passed back and forth by you between two royal families."
FBN has previously reported that the heads of the big Wall Street firms believe either a Clinton or Bush presidency would further their goals of weakening recent financial regulations such as Dodd Frank.
Clinton leads O'Malley by wide margins in recent polls, but her operatives are said to be worried about O'Malley's line of attack and that her relationships with Wall Street firms at the center of the 2008 financial collapse could have resonance particularly among progressive Democratic Party voters.