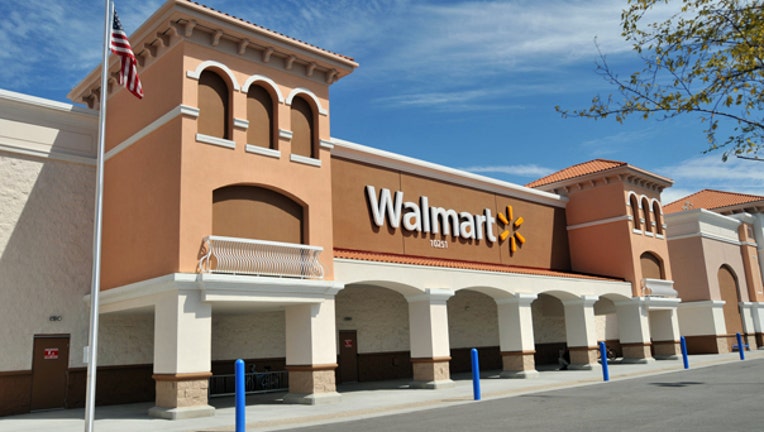 A Wal-Mart activist group is saying that the New York Police Dept. has arrested three Wal-Mart (NYSE:WMT) protesters in midtown New York today.
The arrests came amid a nationwide protest, says Making Change at Wal-Mart, a coalition of Wal-Mart worker activists. The group says protests will be rolling out throughout the day in 15 cities from coast to coast, including Los Angeles, Sacramento, Chicago, Boston, Dallas, Miami and New York. The demonstrators are demanding a hike in pay at the nation's biggest retailer to a minimum $25,000 annually, and the reversal of disciplinary actions allegedly filed against 80 workers due to their involvement in Wal-Mart protests last Black Friday, the day after Thanksgiving.
Wal-Mart tells FOX Business that the average pay of its workers already is $25,000 annually, that its workers get benefits, unlike other retailers, and that the protests are "a handful of union-orchestrated media stunts,  made of up of primarily union members and activists." For its full response, see bottom.
The reported New York arrests came after protesters attempted to deliver a petition to Wal-Mart board member Christopher Williams. Currently, there are no Wal-Marts in Manhattan.
The NYPD did not return calls for comment on the matter.
The Wal-Mart protests come on the heels of last week's protests against fast-food chains, including McDonald's and Burger King, where worker groups also demanded a hike in pay.
Activist groups cite Wal-Mart profit data -- the company makes about $448 billion in annual revenues and $15.8 billion in annual profits -- plus data that purports to show numerous Wal-Mart workers must get government benefits to supplement their low income.
Wal-Mart long has been the focus of unions, who have sought to unionize its 1.3 million U.S. workers. Doing so would let unions like the AFL-CIO avoid having to make the recent, extraordinary push to unionize  nonprofits like the NAACP or the Sierra Club.
The problem for workers is, the poor economic recovery has forced workers, many of whom are their family's chief breadwinners, to accept low-paying jobs as full-time work, when much of these jobs are meant to be part-time positions or to supplement a spouse's income.
City officials in places like Washington, D.C. have also blocked the retailer's efforts to build stores, via "living wage" laws. Residents and other city officials in D.C. have argued in favor of Wal-Mart stores there, as Wal-Mart stores often become anchor stores for other retailers, and create economic growth and jobs. Poor residents of D.C. also have been quoted in the media as being in favor of Wal-Mart stores, as they can buy groceries and other goods much more cheaply there. In addition, workers face the threat of technology, where companies can replace positions with self-checkout or food ordering kiosks. If unionization does occur, workers would typically have to pay dues out of their wages.
Wal-Mart tells FOX Business that it "will continue to serve our customers in over 4,600 locations. A handful of union orchestrated media stunts,  made of up of primarily union members and activists, don't represent the views of the vast majority of the 1.3 million associates who do work for Wal-Mart."
A Wal-Mart official also tells FOX Business in an emailed statement that:
"This is just like what this union group has been doing on and off since last year  – it's just a show and, with very few exceptions, the cast members don't work at Wal-Mart nor are they affiliated with the company in any way.
"The protest they mention from Black Friday last year consisted of only 100 Wal-Mart associates out of 1.3 million who work for Wal-Mart in the US – so you can do the math that they don't represent the vast majority of our associates.
"You see so few current associates participating because they know the truth: "Nearly 1 in 4 of Wal-Mart's one million hourly associates have been with the company 10 year or more. "More than 75 percent of our store management teams started as hourly associates. "The average full-time hourly wage at Wal-Mart is $12.83/hour – more than $25,000 a year. We have more than 85,000 associates at Wal-Mart that earn $18 an hour or more. "All hourly store associates, both full- and part-time, are eligible for a quarterly bonus based on the performance of their store ($770 million last year). "All associates receive a discount card, providing them a 10 percent discount on general merchandise items and fresh fruits and vegetables. ($550 million last year)."
"Nearly 1 in 4 of Wal-Mart's one million hourly associates have been with the company 10 year or more.
"More than 75 percent of our store management teams started as hourly associates.
"The average full-time hourly wage at Wal-Mart is $12.83/hour – more than $25,000 a year. We have more than 85,000 associates at Wal-Mart that earn $18 an hour or more.
"All hourly store associates, both full- and part-time, are eligible for a quarterly bonus based on the performance of their store ($770 million last year).
"All associates receive a discount card, providing them a 10 percent discount on general merchandise items and fresh fruits and vegetables. ($550 million last year)."