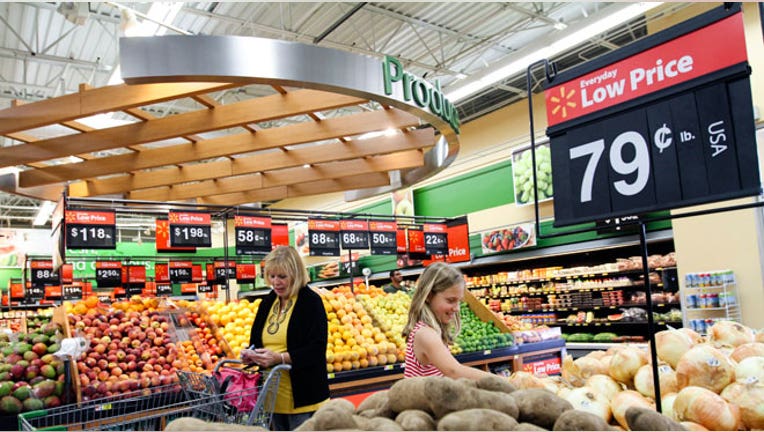 Wal-Mart (NYSE:WMT) narrowly topped forecasts on Thursday with a 5.7% rise in second-quarter profits and boosted its full-year outlook, but the world's largest retailer came under pressure as its revenue failed to impress.
Shares of the blue-chip retailer retreated over 2% in the wake of the mixed results.
Wal-Mart said it earned $4.02 billion, or $1.18 a share, last quarter, compared with a profit of $3.8 billion, or $1.09 a share, a year earlier. Analysts had been calling for EPS of $1.17.
Revenue increased 4.5% to $114.3 billion, significantly trailing the Street's view of $115.75 billion. The company said negative currency impact hurt sales by about $2.2 billion. Operating margins slipped to 5.6% from 5.8%.
"We had positive comp sales in Walmart U.S. and Sam's Club, as well as each of our International markets, reinforcing that customers rely on Walmart to help them save money and live better," CEO Mike Duke said in a statement.
Wal-Mart said its U.S. revenue rose 3.8% last quarter to $67.4 billion, while international sales jumped 6.4% to $32 billion. Sam's Club reported a 3.8% rise in revenue to $14.2 billion.
Looking ahead, Wal-Mart upgraded its earnings targets for the full year, projecting EPS of $4.83 to $4.93, compared with $4.72 to $4.92 previously. Only the optimistic end of that new range would meet full-year EPS forecasts from analysts for $4.93.
Wall Street punished Wal-Mart for the revenue miss, sending the Bentonville, Ark.-based company's shares declining 2.55% to $72.55 ahead of the opening bell. The losses are set to curb Wal-Mart's 2012 rally of about 24.5%.