Vietnam vet's vette a $675,000 inheritance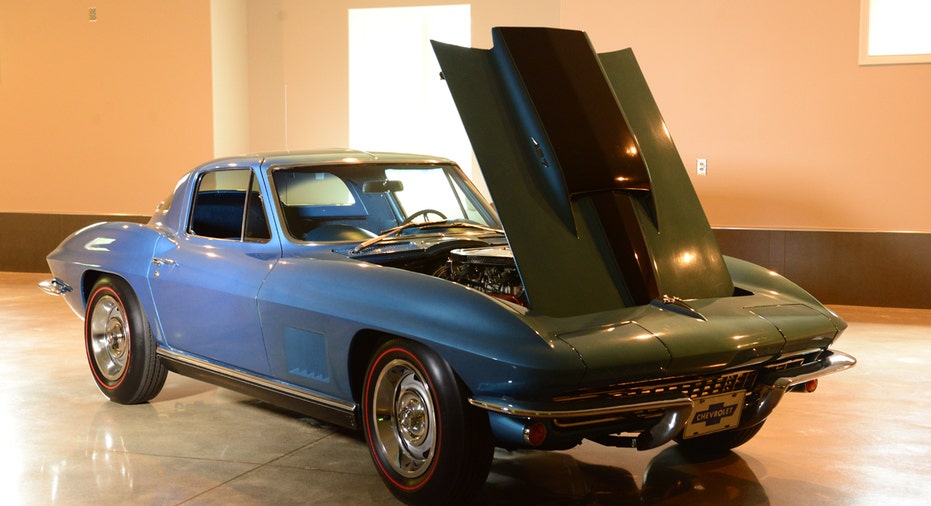 Call it the mystery of the missing dimple. It was a $600,000 question for an Illinois man who inherited his father's 1967 marina blue Corvette Stingray.
The mystery is solved in the latest installment of the FOX Business Network series Strange Inheritance with Jamie Colby. The episode premieres Monday, Jan. 29, at 9 p.m. ET.
Corvettes made in 1967 are especially coveted by collectors, because Chevrolet changed the car's body style in 1968. A fiberglass dimple, about the size of the tip of a ballpoint pen, is found under the hood.
Original mint condition '67 Vettes can fetch $500,000 or more at auction. But if the dimple is gone, it suggests the car has undergone major body work, said David Burroughs, an automobile authentication expert.
"When you restore the car, that dimple often gets all sanded off," Burroughs told Colby in the program.
Matt Litavsky, however, knew his father's Corvette, with only 8,000 miles on it, was truly in mint condition – a "vault find" in car collecting parlance. Because there was a story behind his strange inheritance.
Turns out, his father Keith loved Corvettes, and when he went to fight in Vietnam, he made himself a deal: If he got back alive, he'd buy himself his dream car. So he banked his combat pay, and when he did come home, the marina blue Stingray awaited him.
Then life happened: In what seemed like an instant, he found himself married, with five step kids.
The vet garaged his Corvette with only a few thousand miles, hardly driving it for the rest of his life. He kept meticulous records of every spin around the block, every oil change, every time he buffed the hood.
"I knew what I had, and I knew everything I had was genuine and real," Litavsky told Colby.
But he also knew his inheritance was more than an automobile to him.
"It was years of prayers saying, 'Hey, God, what do you want me to do this with car?'" he told Colby.
Litavsky drove it only 30 more miles in 20 years -- just enough to keep it in good running condition -- then decided it was time to sell. That was the only way he could split up the valuable inheritance among his own children.
It fell to Burroughs and the team at Mecum Auctions to authenticate the car for sale, and they quickly found what appeared to be a very costly problem: That tell-tale dimple was missing from Litavsky's Stingray. The Mecum Auctions staff scrambled and were able to collect photos of unrestored Vettes in the VIN range of Litavsky's car. They discovered that in fact a small stretch of the 1967 production run did not have the dot.
Burroughs says he's authenticated some 10,000 Corvettes, and Litavsky's is one of the best he's ever seen.
But that wasn't the only reason collectors Gary and Jackie Runyon bought the vet's Corvette last May for a staggering $675,000 at auction at the Indiana state fairgrounds in Indianapolis. They loved the story behind it, too.
And so Matt Litavsky's most deeply held wish for the car came true.
"I didn't pray for money, I prayed for it to go to a good home," he says.