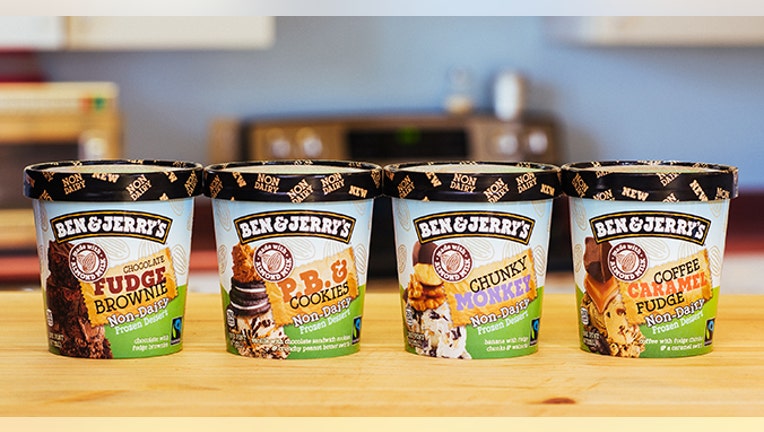 Iconic American ice cream maker Ben & Jerry's is foregoing dairy in its new vegan line.
The four frozen dessert flavors are made without animal products of any kind in order to appeal to customers who are either vegan or dairy-free.
Kirsten Schimoler, principal food scientist at Ben & Jerry's, said the project began about three years ago.
"We saw growth and demand for alternative milks, and we were up for the challenge," she said.
The South Burlington, Vermont-based company settled on almond milk as a base for the non-dairy desserts after months of testing different recipes.
The timing of the release is fortuitous for Jenny and Doug Reed, who started a Change.org petition about a year-and-a-half ago calling on Ben & Jerry's to produce non-dairy options, which garnered over 28,000 signatures.
"One day we were driving past our local scoop shop and said it's so odd that Ben & Jerry's, which is focused on an agenda of sustainability and is very conscious about the impact it has on the world, doesn't have a non-dairy ice cream," Jenny said.
Ben & Jerry's ice cream is made with non-genetically modified organisms (GMOs) and fairtrade certified ingredients, and the company has been vocal about supporting the growing GMO labeling movement.
"We thought that if we just helped them [Ben & Jerry's] see how many people would be interested in [vegan ice cream], then they would be open to it," Doug added.
The Reeds circulated the petition among family, friends and on social media. With some help from Change.org Senior Campaigner Pulin Modi, they were able to shape the language of the petition in a positive and persuasive way.
They say two turning points in their journey were when New Jersey U.S. Sen. Cory Booker, who is vegan, signed and tweeted out a link to the petition, and when the Farm Animal Rights Movement (FARM) asked to partner with them.
Ben & Jerry's says that while its vegan line was in the works prior to the petition, it certainly validated the initiative.
"We've had a huge influx of positive response. We're a value-led, social mission driven kind of company. To share that mission with even more customers is awesome," said spokeswoman Lindsay Bumps.
Two of the flavors -- P.B. & Cookies and Coffee Caramel Fudge -- are exclusive to the vegan line, while Chunky Monkey and Chocolate Fudge Brownie are non-dairy versions of Ben & Jerry's classics. All four flavors can be purchased by the pint at various grocers, with P.B. & Cookies also available by cup or cone at Ben & Jerry's scoop shops.
The FOXBusiness.com team conducted a blind taste test of the vegan Chunky Monkey and Chocolate Fudge Brownie against their dairy counterparts. While several people could not correctly determine which spoonfuls contained dairy and which did not, those who could, claimed the vegan versions had a blander taste and texture. Overall, though, the team felt the four vegan flavors were comparable to dairy ice cream.
According to the 2015 Nutrition Business Journal Special Diets Report, the vegan product category is expected to grow at an average rate of 13.4% through 2020 "as more and more mainstream consumers re-evaluate their diets and their relationships to the food industry."
When it comes to dairy specifically, the report said milk alternatives generated $1.6 billion in sales in 2014, an 18.8% increase over 2013.
The Reeds said they hope vegan products continue to become more mainstream.
"I think people are starting to see that there are really good options and you can get vegan stuff from brands that you are affiliated with, that you feel loyal to and that you want to support," Jenny said.
Schimoler and Bumps said Ben & Jerry's plans to roll out more non-dairy options in the future.