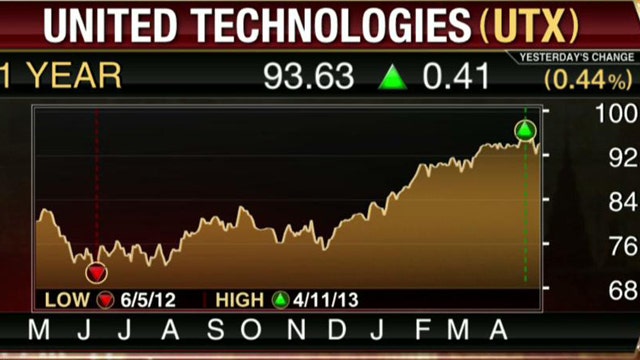 United Technologies (NYSE:UTX) said Tuesday its profit soared in the first quarter amid higher sales in its defense and aerospace businesses, but the company missed Wall Street's estimates.
The maker of Pratt & Whitney aircraft engines and Otis elevators reported a profit of $1.27 billion, or $1.39 a share, well above the $330 million, or 36 cents a share, in the year-ago period that was weighed down by discontinued operations.
Revenue leapt 16% to $14.4 billion.
Analysts expected per-share earnings of $1.29 and revenue of $14.94 billion.
United Technologies has seen its profits climb recently, aided by its $16.5 billion acquisition of aircraft-component maker Goodrich Corp. UTC Aerospace Systems, the company's new unit comprised of Goodrich businesses and Hamilton Sundstrand, saw its revenue surge to $3.26 billion from $1.24 billion.
Pratt & Whitney's revenue rose 11%, while Otis posted a 1.6% increase.
United Technologies also backed its full-year outlook, calling for per-share earnings of $5.85 to $6.15 and sales of $64 billion to $65 billion. The company said its strong cash position will allow it to pay down $2 billion of debt this year.
"Macroeconomic indicators coupled with order improvement in our commercial businesses point towards a gradual resumption of organic growth during the course of the year," Chief Executive Louis Chenevert said in a statement, adding that the company remains focused on cost reduction.
Shares of United Technologies were down 63 cents to $93 in pre-market trading.