Under Armour's Plank Caving to anti-Trump Pressure?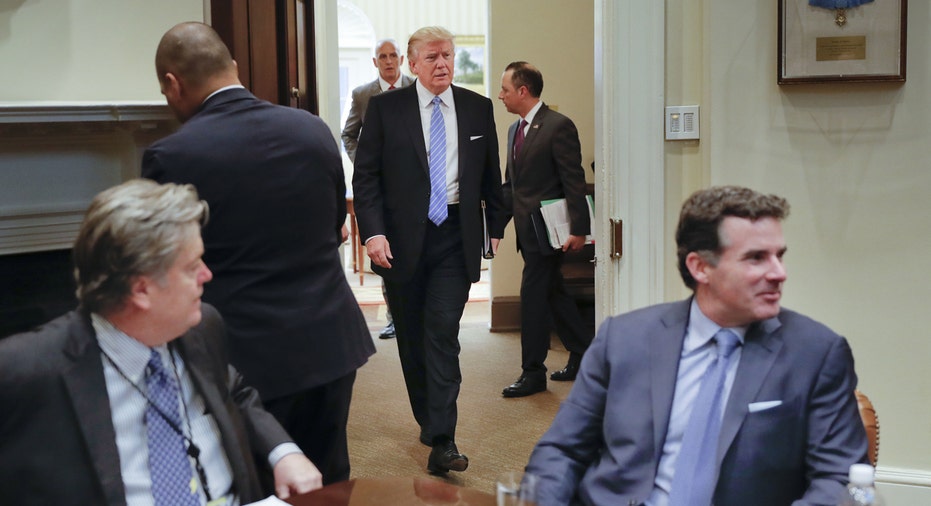 Amid social-media shaming and calls for a boycott, Under Armour CEO Kevin Plank appeared to distance himself Wednesday from bullish comments he made last week about President Trump's economic agenda, addressing the company's hometown of Baltimore in an open letter.
"In a business television interview last week, I answered a question with a choice of words that did not accurately reflect my intent. … We are publicly opposing the travel ban. With an anticipated new executive order on immigration set to come out, we will join a coalition of companies in opposition to any new actions that negatively impact our team, their families or our community," Plank said in the letter, which ran as a full-page advertisement in the Baltimore Sun.
The sports apparel giant last week became the latest big brand – joining the ranks of companies such as L.L. Bean, Macy's, Amazon, New Balance and Uber – to face the wrath of the anti-Trump "#grabyourwallet" campaign. While the group did not add Under Armour to its running boycott list, it did add the company to its "FYI list of companies" after Plank, while being interviewed on a business-news program, described Trump as "a real asset for the country" and added "people can really grab that opportunity."
After two press releases from the company last week that aimed at "clarifying" the CEO's comments, Plank's own effort on Wednesday highlights a key struggle still facing many major companies in the wake of a highly-polarizing election, as they search for the right balance between best business practices and calls to weigh in on hot-button political issues, said Matt Powell, a sports industry analyst for NPD Group.
"The difficulty today is that the consumer – especially the millennial consumer – is really demanding that companies take a stand on political and social issues," Powell told FOX Business. "I think this is new territory for a lot of the brands who have really never spoken out on these topics before. They're all trying to figure out what's the right lane here and what's the right tone to set."
But experts also say it is too early to tell if any of the calls for an anti-Trump boycott – which continue to draw the media spotlight -- will impact a targeted company's bottom line.
"I've yet to see reports of any Trump-related boycott having a significant impact on the bottom line," said Scott Farrell, a crisis management expert and president of Golin Corporate Communications. "In the hyper-polarized environment we're operating in now, it's possible that those who boycott a business or brand that aligns with Trump or his policies could be offset or even outnumbered by those who increase their support for the opposite reason. When it comes to boycotts and just about everything else in this space, very little of what could be called traditional thinking applies."
Under Armour-sponsored NBA star Stephen Curry also took issue with Plank's comments, telling the Mercury News that he agreed with Plank – "if you remove the 'et'" from asset. Brand ambassadors Dwayne "The Rock" Johnson and ballerina Misty Copeland also publicly expressed disappointment with Plank's comments.
Before the media storm, Under Armour stock was already having a rough start to 2017 – with shares plummeting late last month after the company reported disappointing holiday sales and the news that its CFO would step down due to personal reasons. This week, in reaction to Plank's comments and calls for a boycott, Susquehanna downgraded its rating for Under Armour shares to negative from neutral.
The company tried to calm critics immediately following Plank's statements last week by issuing two press releases aimed at clarifying the CEO's comments. The company noted that Plank is one of several business leaders that Trump has asked to serve on the American Manufacturing Council.
"We engage in policy, not politics. We believe in advocating for fair trade, an inclusive immigration policy that welcomes the best and the brightest and those seeking opportunity in the great tradition of our country, and tax reform that drives hiring to help create new jobs globally, across America and in Baltimore," the brand said last week in a press release.