Uber Races Ahead to Get Self-Driving Cars on the Road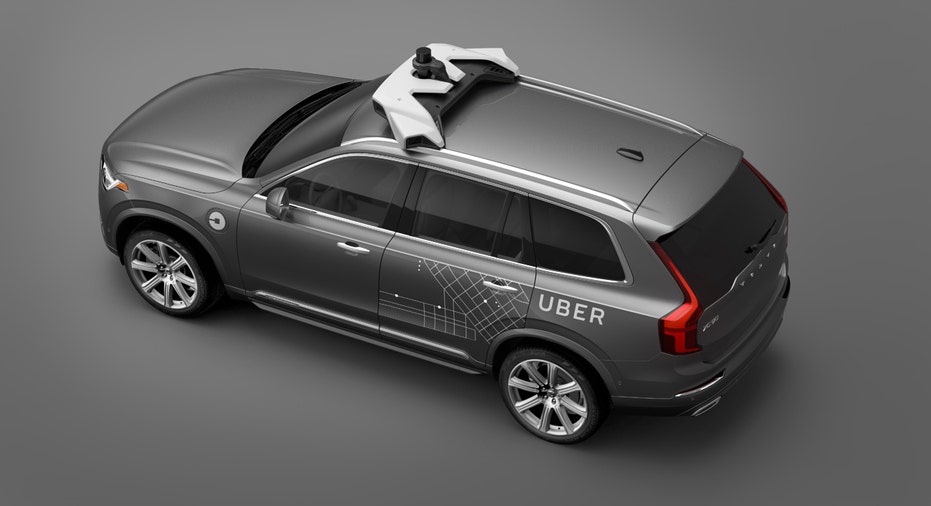 Uber is ready to start putting customers inside self-driving cars, as the ride-hailing company accelerates real-world testing of the new technology.
The news comes on the same day that Uber announced its acquisition of Otto, a Silicon Valley tech startup focused on the development of autonomous heavy-duty trucks, and a partnership with Volvo to create self-driving SUVs.
Uber said Thursday an undisclosed number of self-driving Ford (NYSE:F) Fusion sedans will hit the road in the Pittsburgh area within a month, albeit with a driver still behind for safety. The Uber app will allow riders to opt in if they want to participate in the program. Customers who opt in will get a free Uber ride.
For now, the self-driving taxis will be limited to Pittsburgh, the home of Uber's self-driving research lab.
Uber and its chief rival, Lyft, are working with automakers and tech firms to create an autonomous fleet of vehicles that users can summon on demand. One of the primary motivations for Uber and Lyft is eliminating their top expense: drivers.
Uber's deal to acquire Otto creates a "dream team" of engineers, said Uber CEO and co-founder Travis Kalanick. Anthony Levandowski, Otto's co-founder, will take charge of Uber's self-driving efforts in personal transportation, delivery and trucking.
"When people can push a button and reliably get an affordable ride across town, things change for the better—and quickly," Levandowski wrote in an announcement on Uber's website.
Uber is also working with Volvo to build high-tech XC90 SUVs that drive themselves using a combination of GPS data, cameras and lasers. Uber and the Swedish car maker signed a deal agreeing to spend a combined $300 million on the project. They plan to eventually get the XC90s on the road in Pittsburgh to join the self-driving taxi fleet there.
Volvo said it will manufacture base vehicles that can be equipped with autonomous driving systems. The two companies will continue to research technologies separately.
"Volvo is a world leader in the development of active safety and autonomous drive technology and possesses an unrivaled safety credibility," said Hakan Samuelsson, president and CEO of Volvo Cars. "This alliance places Volvo at the heart of the current technological revolution in the automotive industry."
Kalanick noted that partnerships with manufacturers like Volvo are "crucial to our self-driving strategy because Uber has no experience making cars."
"By combining Uber's self-driving technology with Volvo's state-of-the art vehicles and safety technology, we'll get to the future faster than going it alone," he added.
Lyft has taken the same approach. It partnered with General Motors (NYSE:GM) at the start of 2016, entering a deal that called for GM to make a $500 million investment in the ride-hailing company. Like Uber, Lyft has revealed plans to launch a test program for autonomous rides, although Lyft has yet to reveal the location or timing. Reports indicate that Lyft's service will utilize the all-electric Chevrolet Bolt, which is scheduled to arrive at dealerships later this year.
When the partnership was announced in January, GM said it would work with Lyft to create an "autonomous on-demand network" of vehicles. GM has already opened rental hubs under a program called Express Drive, which is available to Lyft drivers.
Meanwhile, Ford accelerated its own plans this week, saying it will double its workforce in Silicon Valley. The automaker now expects to have fully autonomous Fords ready for a commercial ride-sharing or ride-hailing service by 2021.
Autonomous vehicle systems have come under a microscope after an accident involving a Tesla (NASDAQ:TSLA) Model S. The May 7 accident was the first fatal crash to occur with Autopilot activated. Autopilot is Tesla's semi-autonomous driving function launched last fall.
The Department of Transportation is considering a new set of federal rules for the deployment of autonomous driving technologies. According to the Wall Street Journal, regulators may seek to require automakers to submit their technologies for approval before releasing them to the public.