U.S. Postal Service Finally Gets Its Tech On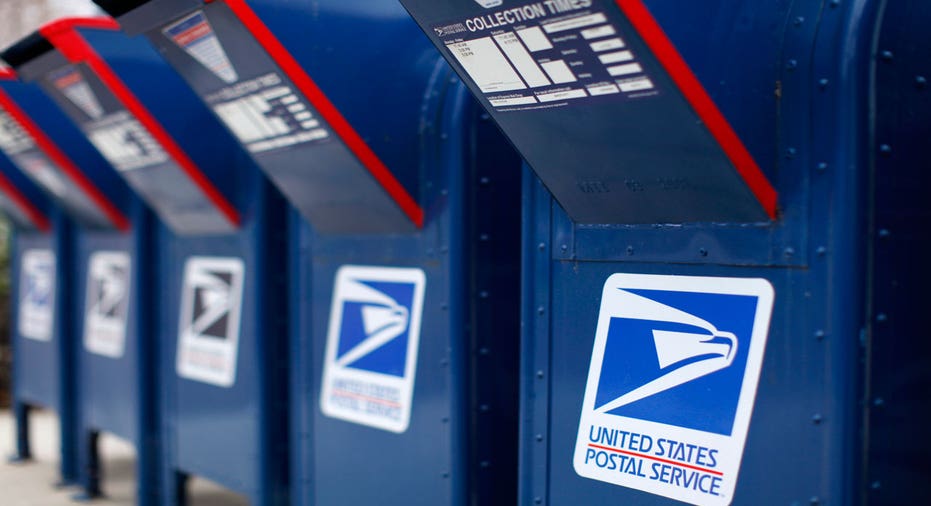 What do you do when you've been in business since the birth of the United States and for the first time, your business is shrinking? If you're the United States Postal Service, you look to the Internet.
The wakeup call for the Postal Service came in about 2010, as FedEx (NYSE:FDX) and United Parcel Service (NYSE:UPS) gobbled up the package delivery business, while e-mail and the Internet all but wiped out personal first-class mail and replaced much of the lucrative catalogue delivery business. But all those online shoppers still needed to get their goods home from the online stores.
"We saw a huge opportunity," said Gary Reblin, the Postal Service's vice president for new products and innovation. "We are very different from FedEx and UPS because we deliver to every house in America every day, which fits perfectly with the demands of e-commerce."
The problem was that the Postal Service's technology was not up to the task. It was the last of the big carriers to introduce package tracking, and it didn't have the technology in place to take advantage of the Internet. That meant it was missing out on remote tracking and sensing technologies can come together to pinpoint a package and its delivery time, increasing efficiencies - and profits - for shippers and their customers.
"The Postal Service recognized that you're going to have to change with the changing times or you become obsolete," Reblin said. That led in 2010 to a multi-year investment under then-Postmaster General Jack Potter of hundreds of millions of dollars to link America's 30,000 Post Offices and postal service centers through computer hubs in Egan, Minnesota and San Mateo, California.
Many people don't realize the Postal Service is a government-owned corporation, and while Congress has a say on its budget and spending priorities, it has to make a profit.  Coming late to the game actually gave the Postal Service an advantage - it could build a fresh platform using the latest technology and make it centered around the consumer.
That's led to a boom in the package and shipping business. Despite a net loss of $5.1 billion for fiscal 2015 (October 1, 2014 — September 30, 2015), largely due to pension and other fixed costs which are described as "statutorily mandated payments", shipping and package revenue was $68.9 billion, up $1.1. from the year-ago period. Additionally controllable income for 2015 was $1.2 billion compared to $1.4 billion last year.
"Our every thought is how can we differentiate and be more convenient for  the end customer, that's our mantra,'" said Reblin.
That's even led to an odd partnership, called the Parcel Select service, where the Postal Service isn't competing with chief rivals FedEx and UPS but working with them. Shippers send packages via FedEx or UPS to local Post Offices or USPS sorting centers, and then the Postal Service delivers them the last mile.
To get such a huge operation online quickly, the Postal service has built most of its applications in-house, from the web-based Click-and-Ship portal that lets customers buy mailing labels and print them out on their home computers, to the software that manages sorting and delivery inside Post Offices and distribution centers. And it's all been recently optimized for mobile, so customers can now print labels or know of an impending delivery right on their smart phones or tablets.
That means a lot less time spent going to the local post office to pick up missed packages and certified letters. In fact, the apps let you request a redelivery, letting the Postal Service know when you'll be home, or which neighbor can accept your package.
The current Postmaster general, Megan Brennan, has been overseeing the rollout of a new app, called my.usps.com, that lets customers go online, create and print a mailing label, pay for it and schedule a pickup at about 10 percent off the price they'd pay at the brock-and-mortar, and often for less than UPS or FedEx would charge a customer for the same route.
Competitors add fuel charges and extra fees for addresses that are farther than average from a distribution center or off in the countryside. These addresses are already on the Postal Service's daily routes so there's no extra charge for shipping that bowling ball to your uncle in rural Wyoming.
In 2016, the Postal Service will finish playing catch-up, and begin rolling out handheld scanners for all package and letter carriers that will enable two-way GPS communication to track packages. The system will even integrate data from on-line traffic programs similar to Google Maps (NASDAQ:GOOG), to give customers a targeted one-hour window for their delivery.
If all this technology seems miles away from the old fashioned Post Office, where you licked a stamp to stick it to an envelope that you dropped in the corner mailbox, don't fret. The latest Postal Service app, lets you order old fashioned stamps online, and have them delivered free to your old-fashioned mailbox - the one you open with a key, not a keystroke.